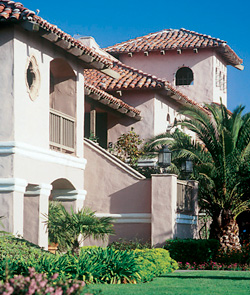 I'm an obsessive travel planner. I leave nothing to chance when venturing far away from my home. I need a lay of the new land to feel safe and happy. I don't always do everything or go to every place I research, but the last thing I want is to be bored when I'm away from home sitting in a generic hotel room. Since I've also been, at least until the last year, a fairly picky-eater I like to know my dining options. I will only eat fast-food in an emergency, i.e. when there is absolutely no other choice. As a result, my pre-trip planning involves many sessions on the Internet, trying to find the best and cheapest restaurants that also have a decent wine list and cuisine that isn't too ethnic (the Man won't eat Indian, Thai or Chinese that doesn't come from a container). This is not an easy task.
Our most recent road trip to Sonoma county meant an endlessly boring drive up the I-5 from L.A. We could have flown, but we wanted to spend our money on wine and since we needed a car anyway, we bit the bullet and hit the highway. Once you cross the Grapevine, Central California is mostly flat desert with nothing to see except the occasional gigantic farm or mass-producing vineyard. I hate this stretch of road more than the road to Las Vegas and believe me that's saying something because I hate Las Vegas. (Only the I-10 to Phoenix is worse.)
I wanted to find a "pit stop" on the way that didn't involve sticky booths, mediocre burgers and flimsy french fries. I was stunned to discover the Harris Ranch Inn, featuring 153 Deluxe Guest Rooms, an Olympic Style Pool, 3 Spas and it's own private airstrip, along with three restaurants. (Why anyone would want to stay in Coalinga, CA is still a mystery to me, but if you had to, this desert oasis has a great deal to offer.) Unless you're a vegetarian. The Harris family has been farming and growing cattle in California since the 1930s, so needless to say, their menus are heavily meat focused. Even most of their salads include some form of "protein". Being meat lovers we were intrigued and once we arrived, highly amused.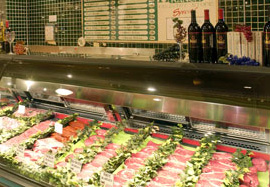 When we pulled into the enormous parking lot, I was reminded of my trip to Hearst Castle. Not because it was overly grand, though the facility is large and well-appointed, but because it was full of more people than one would expect for such an out of the way place. There was no one on the highway and yet Harris Ranch was so busy you'd think it had a casino in it. Living in LA, we forget that eating meat is still an everyday occurance in most of the country. Clearly, we were in one of the meccas of beef.
We decided to eat lunch in the Horseshoe Bar, mostly because of the TVs, but, also, because no one under 21 was allowed. Sorry, but that's a selling point to us. Eyeing the portions of other guests on the way to our seats, I knew that we were going to have to "split" something since we had nowhere to store leftovers. The three gentlemen sitting next to us clearly did not have that same problem. They started out with the beef nachos, which would have satisfied an entire high school track team after a race, moved onto Caesar salads, and finished with an 8oz. filet, dinner roll, baked potato and side of vegetables. We were awestruck. It was Noon. I don't eat that much at Thanksgiving. What was more astonishing is that they weren't big guys. Just average Joe's out for a decent nibble.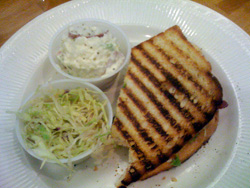 With a weekend of eating and wine tasting ahead of us, I wanted to be somewhat good, since the only exercise I would be getting was walking from our car to the tasting room bars and lifting my glass to my lips. Perhaps if the wine glasses were weighted I would feel better about my indulgence. We ordered the West Coast Panini, which was a choice of chicken or flank steak with bacon, avocado, Provolone and basil mayonnaise pressed between Italian bread, along with potato salad and cole slaw. We also couldn't resist a side of sweet potato fries in case it wasn't enough food. It was and it was good, except for the fact that we forgot the most important thing – to order the beef. We forgot to specify and I guess since we were splitting the sandwich our waitress assumed we were "chicken" people. As we ate our sandwich we found ourselves looking lovingly at our neighbor's thick and juicy burger. We soothed our disappointment with a fresh chocolate chip walnut cookie from their on-site bakery, which was so good we now have two reasons to go back.
Harris Ranch Inn & Restaurant
24505 West Dorris Avenue
Coalinga, CA. 93210
1.800.942.2333
Lisa Dinsmore is an amateur writer, web programmer, movie and wine lover. She currently runs two review websites to share her passions: www.crazy4cinema.com and www.dailywinedispatch.com.