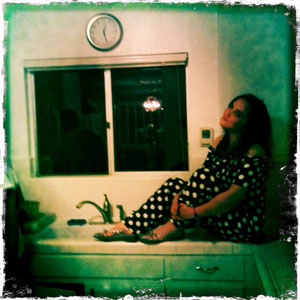 "Can I get real milk?"
"Honey, you're not in LA, it's creamers or black coffee for you."
He must have been expecting a brat face back because my smile caught him off guard. He had no idea that he had said the magic words and black diner coffee was exactly what I was after.
Thom and I had both woken up at 4am to work on set on different commercials, he is a stylist and I was working as a wardrobe assistant. After our respective jobs wrapped we met up at the Bootleg Theater to see Buffy Sainte Marie, who gave everyone in the audience an out of body experience. By 12:30am we were on the road to Palm Desert, picking up our friend Merrick on the way. We got to the desert by 3am, went straight to sleep, and woke up the next day to enter Coachella.
Nightmare upon nightmare it took us three hours to get into the festival (those con artists woudn't sell single day tickets this year and it's the only year the festival has sold out) so we waited in traffic and line upon line to enter a post apocalyptic like field filled with hipsters and, well, l.a. But it was all worth it for the music and by the end of the day we had seen She & Him (so fun but don't tell the boy I have a crush on because he'll think I'm cheesy), The Specials, Gil Scott-Heron (on another level), Passion Pit (such a good live show), Pretty Lights, Little Dragon (killed it), and Thom and Merrick saw Jay-Z while I partied with the kids in the Sahara tent and saw Deadmau5.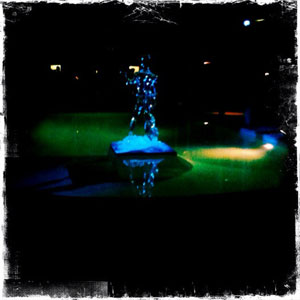 Leaving the festival at the end of Day 1 we had no idea where we parked the car, so we set off the car alarm button every few feet until we found it. Everyone else must have done the same thing because car alarms were going off every ten cars, making it even harder to find a dark grey prius among the lot. That took half an hour then another three hours in traffic getting home, which was only an 8 mile drive.
Day 2 we decided to get smart and take bikes to the festival. We found two sort of working bikes in the garage and my friend Remy rented us 2 more. The four of us took a heavenly bike ride through the desert, passing the traffic and parking right next to the festival gates. That night we went to the party at Cougars that a New York magazine was throwing, to one at the Ace Hotel, and another at the Frank Sinatra house.
By the next morning, we just needed a perfect cup of coffee. We just needed something normal. We needed a break from the endless summer like vibe that is Coachella so we went to Keedy's Fountain & Grill, a diner in Palm Desert that's been open 60 years. We sat at the counter to be quick and had huevos rancheros and chilaquiles with hash browns and bacon. We were sitting right next to the warming coffee pots so I warned the waiter if he was slow to refill I'd pour it myself and he told me he'd break my fingers. By the end of the meal it was true love.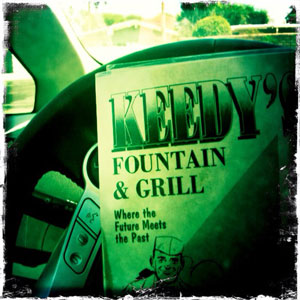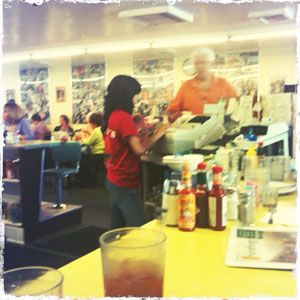 Keedy's Fountain & Grill, 73633 Highway 111, Palm Desert, CA 92260, (760) 346-6492