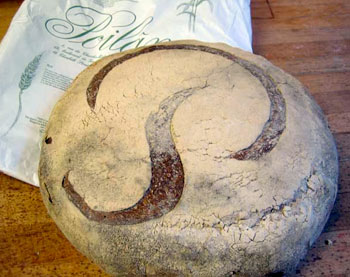 Our excitement builds as our tiny Peugeot navigates the streets of Paris heading for rue du Cherche-Midi and my mecca, Poilane. Poilane is an extrordinary bakery that I had been reading about and I knew well ahead of time exactly what I was going to buy. It was early morning in Paris and the streets were not bustling yet. Just a gentle calm with only the sparse activity of a few Parisians heading to market. We parked the car within sight of Poilane and got out.
The classic storefront is natural finished wood with a large polished brass door handle, I pushed the door open to a heavenly scent of baking butter. The store was starting to be filled with their famous large round pain au levain breads, pastries and only two other customers. I spin around taking it all in – the large rounds of bread with the big P cut into the dough before it is baked, the tarte de pomme are lined up like little soldiers, cello bags of round butter cookies known as sables and the smell of the chasson de pomme fill the air as they are baking.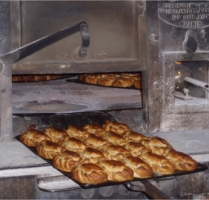 I want it all and when it is my turn to be waited on I order it all! The tarte de pomme are still hot from the oven, oh my... I pay and head back to our car for a much awaited gastronomic feast. The car becomes perfumed like the bakery. I open my bag and slowly unwrap my apple tart appreciating how the tissue paper is folded around our two tarts with the ends twisted to hold these magical pastries safely together. I break off a crisp corner as they are too hot to bite into – steam pours out and the smell of the best Brittany butter wafes up my nose. I can't believe how many layers the pastry has and the large chunks of apples from Normandy. Shear perfection!
I blow gently trying to hasten the cooling as I can't wait much longer. My first bite is sublime, perfection – the best of the best ingredients. I am mystified by each ingredient – the fleur de sel in the puff pastry not overwhelming but there in perfect balance. The chunks of apple – not too small not too large with a dry intense flavor, a hint of cinnamon. The taste lingers in my mouth, my heart and in my mind to this day.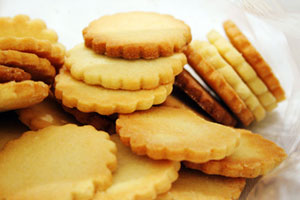 I try the cookies and they are just as incrediable. I hear my mother's voice in my ear saying, "Is it good? Have another one, why not?" Something she always said to my sister and I when we were eating something that silenced us. I gathered myself up and my francs and got back out of the car. Once inside I was giddy with delight again! I ordered 2 chasson de pomme, 2 tarte de pomme, 2 walnut rolls, and 2 bags of cookies, one for each of us. The clerk told me something in French, but I was lost in thought about what I was going to eat first and which one was the hottest. I was so lost in thought making my "Big" decisions when suddenly the cashier asked me how much? How much, me...she is talking to me?
So that is what the clerk had said to me when I wasn't really paying much attention to anyone in this world. The store was completely filled with busy Parisians buying their daily bread with 4 clerks servicing the patrons, a sharp contrast from a half hour ago when I had the store completely to myself. The cashier started yelling at me, the clerks started yelling at me and all the customers turned and stared at me, no one was pleased with me! The tiny older clerk came around the small counter, ripped my bags of morsels from my hands, reweighed them and handed me a written slip with the amount I needed to pay. Still no one moved, just me as I went back to the cashier. I handed her the money and grabbed my bags not waiting for the change and left quickly.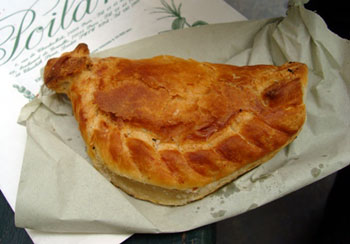 All eyes were watching me depart as I closed the door behind me. Once safely back in the car I told my story and started eating again now more slowly because I sure wasn't going back again...at least in the near future! Making my way through the chasson I looked up when I heard someone tapping on our car window. It was her, the mean clerk from Poilane! The doors were locked but why would she be tapping on the car window? I slowly lowered the window now aware that I was covered with shards of flaky pastry – I was a total mess. Was she here to yell at me again? No, she wasn't. She handed me the change that I had left behind and a small bag of hot sugar cookies and sort of smiled at me, something that the muscles in her face were not accustomed to doing.
I avoided a return to the bakery for the remainder of that trip but the following year enough time had passed without eating a Chasson that I headed back to face my fear. I would go early in the morning and my plan was to ask the clerk to write down the amount so I could hand it to the cashier since I lose all sense of presense with the smell of that place. Well guess who waited on me...the Poilane witch and she remembered me! She could not have been nicer! After walking me to the cashier she asked if I would like to see the ovens down in the basement. YES, YES!!! We walked down the narrow spiral stairs to the ovens and had the pleasure of meeting and talking with Lionel Poilane. How utterly perfect!
Brenda Athanus runs a small gourmet food shop in Belgrade Lakes, Maine with her sister Tanya called the Green Spot.
The Green Spot
This email address is being protected from spambots. You need JavaScript enabled to view it.
207.441.9327