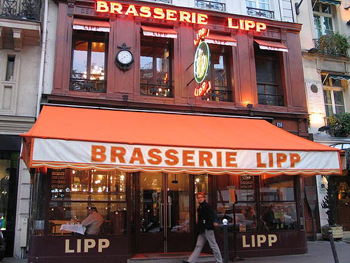 Brasserie Lipp is a magical place to me that has maintained its integrity for well over 131 years. Not much has changed with the decor, food or with the waitstaff since I was a small child. There are waiters that have been there every day for 40 years, rapidly shuffling along, flat feet and all, with huge trays of covered dishes. I love this place, period!
They have a thick Parisian attitude which means that it could take years for them to notice or acknowledge you, but when they finally do they never forget you no matter how far back in line you may be standing. The waters parts and you are summoned to the head of the line like royalty has arrived as everyone moves quickly out of the way with a confused look on their face as they try to figure out "who you are" that they are making such a fanfare over.
I love the oldfashionedness of this restaurant. As large as it is, it's just a neighborhood Brasserie. The staff includes a coat check person, as well as someone who still circulates with a cigarette/cigar tray with a leather strap draped around their neck; however, my favorite is the person with bunches of purple violets – they always make my heart skip a beat. Oh, and their cliental is so interesting that it takes all your concentration not to stare as the revolving wooden door spins in the who's who of the world into this protected place for a quiet classic meal.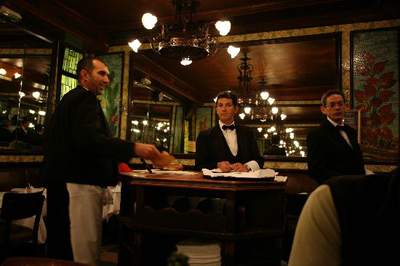 No matter how often I get to eat here, lunch is my preference. To me this is the most enjoyable meal out and it must be at 2 o'clock or later. That is when the show of well known patrons start arriving. They don't have to wait at the door as the matre d' quickly escorts them to their waiting table – a table with a view and a mirrored wall just in case they should want to glance at who might be arriving behind them.
Before I forget – I love the Maitre D'! He is handsome as all get-out with his beautifully hand tailored silk suits in a fashionable blue pinstripe or a solid gray flannel, Italian silk tie, gorgeous Italian shoes and a head of think hair. He rarely smiles except when he greets someone that he recognizes. Then he transforms into a gregarious host and a real charmer. He knows everyone and they are all thrilled to see him as kisses are flying. He always remembers what has been happening in their busy lives and they are as charmed by him as he is charmed by them. He leads them to a "good" table as they talk, pulls the table and seats them, winks and retreats back to greet the next diner with a smile on his face...or not.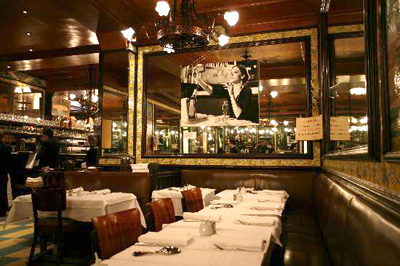 We tried for years to get a "good" table even asking the woman that owns our Hotel to call for reservations for us for a downstairs table. When we would arrive we were always banished to the second floor with no one anywhere that spoke French and handed an English menu. Then one day several years ago something magical happened finally. When we were at the head of the line he looked at us, I gave him our name and he stared at us.
I said "You don't recognize us?" "No," he quickly replied.
Then I said "We remember you" and to that he more quickly replied, "Everyone remembers me".
That was the end of the icy greeting at Lipp for us forever... We get the "best table" for viewing all the wild customers, he regularly comes to our table to check on us or winks at us when there is someone arriving that he thinks we should notice. He is poetry in motion to watch with his soft leather shoes and as skilled at his occupation as anyone anywhere. He is so much a part of what makes this restaurant so real and lovely but that is just half the story.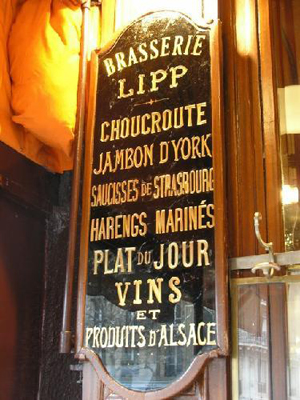 The other half is the classic food served properly with things on the menu that have long disappeared from most menus long ago. Baltic herring, rich and fatty served in oil with steamed potatoes or vintage sardines serves in the can, egg mayonnaise served with a handmade mayonnaise with a good bite of fresh dijon mustard. The list goes on including the daily special of French comfort that the local clientele tucks their oversized napkins into their shirt collars and never look up until the waiter comes with a dessert of Mile-feuille or Baba au Rhum. That's what the regulars order and they announce it as they get to the table.
Not me, I always order the same things. We start with egg mayonnaise because they always have it even if it isn't listed and it makes me very happy. Next the haricot verts salad with a heady mustard vinaigrette and a beet and endive salad because how can one eat too many endives or beets when they are this sweet? Of course the main event is the choucroute – one of each kind (the Lipp version and garnie) because it is so good if the kitchen staff doesn't over do the juniper berries. The snappy cumin sausage makes me sad when I place the final morsel in my mouth but I have a pile of sauerkraut that distracts me from my sadness. I venture on as dessert awaits me. Oh is that Leslie Caron and Lee Radziwill arriving...ah,yes...she looks like she won't be ordering the choucroute. Perhaps the Dover sole without the butter sauce, but I bet the waiter already knew that!
Brenda Athanus runs a small gourmet food shop in Belgrade Lakes, Maine with her sister Tanya called the Green Spot.
The Green Spot
This email address is being protected from spambots. You need JavaScript enabled to view it.This e-mail address is being protected from spam bots, you need JavaScript enabled to view it
207.441.9327