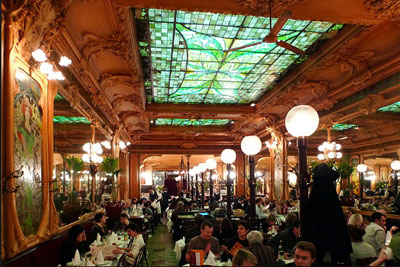 It's hard not to find great food when visiting Paris, but if you're looking for a truly authentic French experience, book a reservation at Julien Brasserie on your next visit. Located a bit "out of the way" in the 10th arrondissement, it's totally worth the trek. Rue du Faubourg Saint-Denis is rather unassuming, but once you step through the ornate brasserie doors, you feel transported through time – to the days of Hemingway, Dali and Picasso – greeted by the restaurant's Art Nouveau charm. It's just a beautiful room, with magnificently carved mirrors, a grand mahogany topped bar and an ornately designed mosaic floor.
I was first introduced to the restaurant by designer Jean Paul Gaultier, who said it was one of his favorite places and after eating there I can certainly understand his loyalty. The restaurant offers a reasonable prix-fixe menu (about 42 euros) which features several options – including starters like traditional onion soup au gratin, duck Foie Gras with seasonal fruit chutney and brioche bread, or scallops tartar and pink shrimps from Madagascar in lime and ginger; and main courses like Charolais beef tartar, Sole meunière, roasted duck breast from South-West France with Provencal vegetables, or Grilled Chateaubriand in béarnaise sauce.
Desserts are included, but don't bother with cheese plate, Crème brûlée, or even the Crepes Suzette; there is only one option - Profiteroles with warm Valrhona Chocolate sauce.
The puffs arrive at the table filled with a round ball of vanilla ice cream, and the server then covers them with the warm chocolate sauce poured from a silver pitcher.
These are nearly identical to Julien's and the cream puffs recipe from Cook's Illustrated is pretty easy to follow.
You can use store bought chocolate sauce, but homemade is so much better, and only takes a few minutes to make. Bon Appetit!
Classic French Profiteroles
1 recipe Pâte à Choux (cream puffs)
1 recipe Bittersweet Chocolate Sauce
1 quart Vanilla Ice Cream (Ben & Jerry's or Homemade)
Pâte à Choux:
(Makes about 24 two-inch puffs)
2 large eggs
1 large egg white
5 tablespoons unsalted butter, cut into 10 pieces
2 tablespoons whole milk
6 tablespoons water
1 1/2 teaspoons granulated sugar
1/4 teaspoon table salt
1/2 cup (2 1/2 ounces) unbleached all-purpose flour, sifted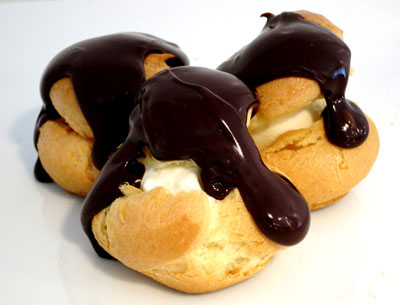 1. Heat oven to 425 degrees F and place the oven rack in the middle position and. Spray a large (12-by 18-inch) baking sheet with nonstick cooking spray and line with parchment paper; set aside. Beat eggs and egg white in measuring cup or small bowl; you should have 1/2 cup (discard excess). Set aside.
2. Bring butter, milk, water, sugar, and salt to boil in small saucepan over medium heat, stirring once or twice. When mixture reaches full boil (butter should be fully melted), immediately remove saucepan from heat and stir in flour with heatproof spatula or wooden spoon until combined and mixture clears sides of pan. Return saucepan to low heat and cook, stirring constantly, using smearing motion, for 3 minutes, until mixture is slightly shiny with wet-sand appearance and tiny beads of fat appear on bottom of saucepan (temperature of paste should register 175 to 180 degrees on instant-read thermometer).
3. Immediately transfer mixture to food processor and process with feed tube open for 10 seconds to cool slightly. With machine running, gradually add eggs in steady stream. When all eggs have been added, scrape down sides of bowl, then process for 30 seconds until smooth, thick, sticky paste forms. (If not using immediately, transfer paste to medium bowl, cover surface flush with sheet of plastic wrap sprayed lightly with nonstick cooking spray, and store at room temperature for up to 2 hours.)
4. Fold down top 3 or 4 inches of 14- or 16-inch pastry bag fitted with 1/2-inch plain tip to form a cuff. Hold bag open with one hand in cuff and fill bag with paste. Unfold cuff, lay bag on work surface, and, using hands or bench scraper, push paste into lower portion of pastry bag. Twist top of bag and pipe paste into 1 1/4- to 1 1/2-inch mounds on prepared baking sheet, spacing them about 1 to 1 1/4 inches apart (you should be able to fit about 24 mounds on baking sheet).
5. Use dampened fingertip or the back of teaspoon dipped in bowl of cold water to smooth shape and surface of piped mounds. Bake 15 minutes (do not open oven door), then reduce oven temperature to 375 degrees and continue to bake until golden brown and fairly firm (puffs should not be soft and squishy), 8 to 10 minutes longer. Remove baking sheet from oven. With paring knife, cut 3/4-inch slit into side of each puff to release steam; return puffs to oven, turn off oven, and prop oven door open with handle of wooden spoon. Dry puffs in turned-off oven until centers are just moist (not wet) and puffs are crisp, about 45 minutes. Transfer puffs to wire rack to cool. (Cooled puffs can be stored at room temperature for up to 24 hours or frozen in zipper-lock plastic bag for up to 1 month. Before serving, crisp room temperature puffs in 300-degree oven 5 to 8 minutes, or 8 to 10 minutes for frozen puffs.)
Best Bittersweet Chocolate Sauce
(Makes about 1 cup)
1 tablespoon butter
1/4 cup heavy cream
1/4 cup milk
1 tablespoon sugar
Pinch of salt
4 ounces Valrhona, Callebaut, or Ghirardelli Bittersweet chocolate, finely chopped
1 teaspoon vanilla extract
1. Place butter, cream, milk, sugar and salt in a pan over medium high heat. Stir mixture until it comes to a rolling boil. Remove from heat and add chocolate and allow to sit for 1 minute. Whisk until smooth and then whisk in vanilla.
2. Can be cooled to room temperature, placed in airtight container, and refrigerated for up to 3 weeks. To reheat, transfer sauce to heatproof bowl set over saucepan of simmering water. Alternatively, microwave the sauce at 50 percent power, stirring once or twice, 1 to 3 minutes.
ASSEMBLE PROFITEROLES
1. Line baking sheet with parchment paper; freeze until cold, about 20 minutes. Using 2-inch ice cream scoop (about same diameter as puffs), scoop ice cream onto cold baking sheet and freeze until firm, then cover with plastic wrap; keep frozen until ready to serve. (Ice cream can be scooped and frozen for up to 1 week.)
2. When ready to serve, use paring knife to split open puffs about 3/8 inch from bottom; set 3 bottoms on each dessert plate. Place scoop of ice cream on each bottom and gently press tops into ice cream. Pour sauce over profiteroles and serve immediately.
James Moore has been a cooking enthusiast since childhood and started blogging as a way to share favorite recipes with friends and family. His site, Cook Like James has grown to include restaurants, cookbooks, wines, and favorite places.