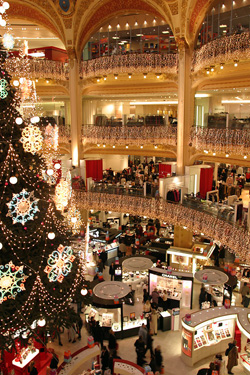 A few decades ago, my sister and I went to Paris at Christmas to see the legendary holiday decorations. Galleria Lafayette was near the top of our not-to-miss list. On the top floor was a collection of Kiosks set up just for the 30 days before Christmas that offered food for shoppers that were hungry and tired. The room was loud, too warm, and packed full of holiday shoppers but Petrossian's smoked salmon looked too good to miss so, we sat down at a tall stool and preceded to order 2 plates of salmon and 2 coupes of Champagne. We planned on just having the salmon and continuing on with our day...We sure were wrong! The smoked salmon arrived, completely covering the large 10-inch Limoge plate, hand-sliced, surprisingly thick, a pot of creme fraiche, and a plate of blinis and two coupes.
I remember taking that first bite – the room around me disappeared in a fog. I no longer was aware of the sound of the holiday shoppers, it was just those blissful mouthfuls of smoked salmon and sips of Bollinger Champagne. Our food had stopped the movement of time – looking at my Sister when the plate was empty we didn't need to say anything because we both knew we had to find the "Mother Store." We had to find the source! What else awaited us?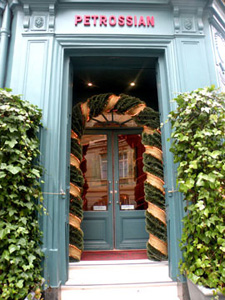 Taking out my worn copy of Patricia Well's Food Lover's Guide to Paris
book we wrote down the address, How lucky! Petrossian was in our neighborhood. No more than an 8 minute walk. We arrived around 11 the next morning all dressed up for the occasion. We stood outside taking in all three beautifully decorated windows filled with sparkling crystal caviar holders, caviar containers and Faberge eggs. Our eyes were then drawn into what seemed like a beautiful jewel box, filled with floor to ceiling mahogany shelves with the rarest goodies and curved glass and brass refrigerator cases filled with mounds and mounds of smoked salmon, (they prefer to use a large salmon that gives them a 18 to 20 pound finished side). We entered.
Once inside, we were graciously greeted by the impeccably dressed and jeweled Madame Petrossian herself. The store has 8 small wooden tables where they serve lunch or tastings of anything in the cases. We took our seats and studied the menu. I had to try the Bering Sea smoked herring preserved in oil with carrots and onions (which only they import) and my sister had the Russian salmon roe, large and so fresh. And, of course, we split a plate of smoked salmon and 2 coupes of Champagne. Incredible became a hollow word!
The more we smiled the more the two women at the counter smiled back, they knew the pleasure that was on our plates and they knew we got it. We talked with them about what the different things were in the cases and they would cut off a sample (gout) for each of us, speared on wooden toothpicks. Near the end of our lunch Mrs. Petrossian sent us over a sample of the Czar Golden Caviar with a fresh glass of Champagne and a wink. We left that day with our lives changed and promised to see them again tomorrow. There were so many more things to try!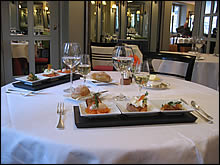 For the rest of our stay, we had lunch there every day until we left and it is always the first stop after we drop our bags at our hotel. We can rest later. We must go to visit our friends, give and get hugs. As we catch up on our past year, we enjoy our tasting of the world's best smoked salmon, all the different herring that they make, salmon roe, foie gras, tarama, and once in a while caviar and Vodka.
This store is so old world, Madame and her staff know their customers by name and a tidbit of gossip about them. They know what they like and what they don't. The phone is ringing constantly with large orders that only Madame Petrossian takes. The couriers are dispatched or the private cars come and pick up the orders. Their customers are famous actors, politicians, mistresses (some famous), Russian royalty and my sister and me. We are all treated the same, greeted with a large smiles like they were expecting you and they already know what we are going to order.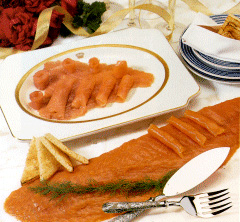 This past weekend my sister and I went to NYC and our first stop was Petrossian's Manhattan branch for lunch, which we had never been to before. Oh my goodness, it was just as heavenly! We were given the best table in the house and a menu that made it difficult to choose because everything was so tempting! We split the smoked salmon starter-melt in your mouth, not too smoky that it masked the delicate salmon flavor and just enough of a fat content to give it the perfect Petrossian mouth feel. I decided on the lobster risotto with Royal Transmontanus caviar that "filled" the large, curled lobster tail in the middle of the bowl and my sister had the Petrossian club with layers of the same caviar, smoked sturgeon, smoked sable and smoked salmon served between two blinis.
Where do I start? Let's me just say there wasn't much table conversation over that lunch! It was as good as Paris and just as restorative and a lot closer to where we live. It lacks the robust greeting at the door but I am sure that could change in time as they can count me as a content repeat customer. I can't wait to try the famous Petrossian steak sandwich at the LA restaurant, next!
Brenda Athanus runs a small gourmet food shop in Belgrade Lakes, Maine with her sister Tanya called the Green Spot.
The Green Spot
This email address is being protected from spambots. You need JavaScript enabled to view it.
207.441.9327