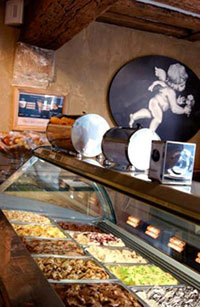 When was the last time you ate something that made time stop and took you back to your childhood? Berthillon in Paris is a dreamy ice cream shop on the Isle St Louis that will do just that...They make the World's best hot fudge sundae, period!
There are so many choices of ice cream and sorbets, that are all freshly made in-house. The ice cream case is filled with colors and texture like a Tiffany's jewelry case without the armed guard. Most well-heeled patrons can hardly decide, pointing, discussing and trying small spoonfuls. Not me.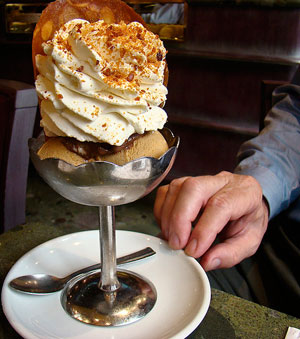 I always have Tahitian Vanilla, full of tiny crunchy seeds and I always have three "boules." Next comes the chocolate sauce, Valhrona of course, just the right temperature, not too hot just perfectly warm, served with a small pot filled with extra sauce.
The whipped cream is from Normandy and piped onto the sundae by a bright red, hand-operated, vintage cream dispenser that makes a perfect but not too perfect rosette on the top.
Yes, I will have nuts, why would anyone miss the beautiful fragrant, lightly toasted walnuts from Perigord, so fresh and intense in flavor? The crowning jewel to top this magical creation is a sour cherry (gironde) that they preserve "in house" when they are in season from the South of France.
As I sit in the middle of a swirlingly busy salon I feel like I am on a deserted island surround by a quiet morning fog, just me and this incredibly perfect hot fudge sundae.
Oh sure, they make other toppings, sour cherry sauce and caramel sauce but I can't get past the chocolate, I mean to, but I haven't yet....
Brenda Athanus runs a small gourmet food shop in Belgrade Lakes, Maine with her sister Tanya called the Green Spot.
The Green Spot
This email address is being protected from spambots. You need JavaScript enabled to view it. This e-mail address is being protected from spam bots, you need JavaScript enabled to view it
207.465.2921