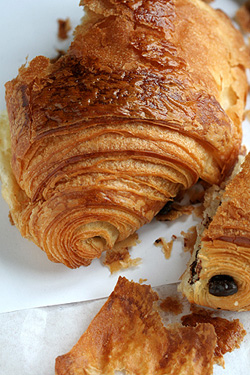 My father has a way of making everything unforgettable. He's loud, temperamental, incredibly passionate, and a romantic to the core. So it seemed completely natural to me when he took me to Paris for my 14th birthday so that I "would see Paris for the first time with a man who truly loved me". He showed me the sights, took me out to fantastic meals, and I left Paris with two promises to myself – that I would find pain au chocolat (chocolate croissant) as delicious as the ones we devoured for breakfast every morning in Paris and that I would one day return to Paris with the person I was madly in love with. My father was absolutely right about Paris being a city to only share with those you love.

It took me 16 years and many pain au chocolat experiences to finally discover what I'd encountered on my birthday trip to Paris. In the midst of Manhattan, in the Upper East Side at Payard's, a charming French patisserie and bistro, was the perfect buttery flaky croissant filled with rich chocolate. Who was making such delectable pain au chocolat? Only a French man, of course!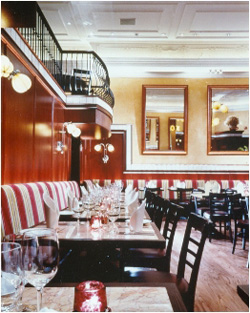 Turns out that chef and owner Francois Payard is one of the top 85 pastry chefs in the world and his pastry displays are truly pastry art. I had to resist the urge to buy one of each dessert the first time I walked in there. Instead, I called my dad and promptly scheduled a father and daughter date for lunch and dessert at this bistro which looked like it was straight out of Paris. A few days later, we indulged in homemade duck terrine with pistachios, walnuts, and toasted bread and a warm chicken salad with seasonal greens and potatoes.
But it was the dessert that we went all out for. An order of crème brulee, a napoleon of roasted apricot and rosemary and vanilla ice cream, and a dark bittersweet chocolate soufflé was worth the sugar induced food coma we soon entered. Before we left, I ordered us two pain au chocolat to go. We spent the rest of the day strolling and stumbling (we had our fair share of wine with lunch) through the Met and Central Park. Finally, we sat down by the pond in the park and my father and I broke our Paris inspired pain au chocolat together. It was hands down the best pain au chocolat on both sides of the Atlantic and it gives the romantic in me hope. I figure if I finally managed to find this tiny slice of bliss, my next trip to Paris shouldn't be that far off. Thankfully, I have Payard's until I get there.

You too can have some truly unforgettable dessert (and lunch or dinner!) at www.payard.com. Locations, hours, and menus are available on the site.