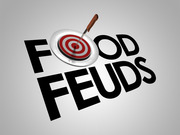 I recently saw a new show on the Food Network called "Food Feuds". I like it – I get it. It's a simple premise: in towns all across the country there are passionate disagreements about "the best" – the best burger, the best fried chicken, the best barbecue ribs, the best ice cream. Disagreements of this kind can be fun, unlike political disagreements, which can be fraught with pain and suffering. On Food Feuds, chef Michael Symon heads to a town where rival food joints vie for supremacy; he listens to local fans make their case, samples the foods, and then declares a winner. But "the winner", of course, is only that for some of the people, not all. And if Michael Symon came to LA and crowned In-N-Out Burger over Fatburger, I would think he was certifiable.
So let's agree that good people can disagree.
My friend Dean, for example, is a very good person, a brilliant entrepreneur, patron of the arts and devoted family man, but when it comes to one of my favorite foods, Chinese soup dumplings, Dean and I are on opposite sides of the fence, not to mention the country.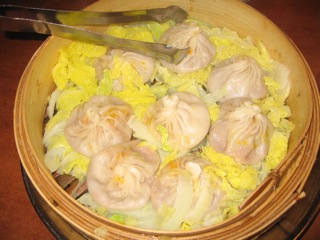 Some background: whenever I'm in NYC, I always beat a path to Joe's Shanghai in Chinatown for soup dumplings. I love their salt and pepper shrimp and their whole chicken with ginger and garlic. Their sautéed pea sprouts intoxicate me. But nothing thrills me like a basket of their steamed crab and pork soup dumplings. These are not your average, ordinary, crescent-shaped Chinese dumplings or potstickers, and they're not easy to find. A Shanghai specialty, soup dumplings are shaped like old-fashioned ice packs or little round money bags, twisted closed at the top, and filled with delicious broth. You lift one carefully out of the steamer basket, place it on your soupspoon, gently poke a hole near the top with your chopstick, and suck out the hot liquid. Then you proceed to eat the minced meat inside. Joe's offers two fillings, pork only or crab and pork, which is the one that drives me wild. A basket of 8 of these scrumptious, little treasures is $6.65, making them The Berger Queen's Best-Bang-for-the-Buck in NYC.
So, back to Dean: when I mentioned to him that I could not find decent soup dumplings in LA, even though I go often to the San Gabriel Valley for Chinese food, he told me that he loved the dumplings at a place called Din Tai Fung. "Have you ever had the soup dumplings at Joe's Shanghai?" I asked. "Yes," he said, "and these are better." I had two simultaneous reactions: "not a freaking chance" and "how could there be great soup dumplings in Southern California that I don't know about?" Skeptical as I was, I was equally excited, and I would have jumped in the car at that moment if we hadn't been at an event in Dean's honor. The next day I called my foodie buddy Howard and made a date to go on a soup dumpling safari.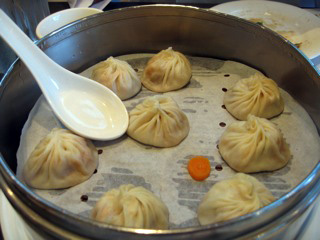 A week later, we drove out to Arcadia, home of the Santa Anita Racetrack and the LA Arboretum. We walked into the crowded, no-frills Din Tai Fung and ordered their crab and pork soup dumplings with great expectation. They arrived in a utilitarian metal steamer basket with paper (Joe's basket is bamboo with lettuce), and we each put one in our soupspoon, gingerly poked a hole in it, and began to suck out the hot broth. Hmm…not much broth, not much taste, not very hot. Then we bit into the dumpling with its ground filling of pork and crab, and we instantly had the same reaction: bad. So we tried again, each ate half and didn't want to eat any more. Rating: F. Deeply disappointed, we saw that many tables were eating the shrimp and pork shiaomai, so we placed an order for those more traditional dumplings. These were definitely better, but they were not the unique, hot and juicy dumpling for which we had made the long trek.
On my next trip to NYC, I headed to Chinatown for my mandatory fix at Joe's, and something very peculiar happened: for the first time in a dozen years, the crab and pork soup dumplings did not hit it out of the park. Shockingly for such a groupie, I'd rate them a B. They were almost always A+, with the rare slip to A-. I turned to look over my shoulder to see if Dean were hiding behind the curtain, manipulating the dials to make his case!
When I got back to LA, I felt it was only fair to make a second trip to Din Tai Fung. This time I went with my friend Julie, and the place was so crowded that they sent us around the corner to the back of the building – literally, a 2-minute walk - where there is a much more attractive and upscale branch of the restaurant. We ordered the crab and pork soup dumplings. I cannot tell you why (different day? different chef? lingering disappointment in Joe's last basket?), but this time they were good, a respectable B-, and a massive improvement over that unfinished basket months before. The rest of the meal was quite good too, though I was so fixated on the soup dumplings that I failed to write down what we ate. Mea culpa.
I've concluded that if you hit Din Tai Fung on a good day, their soup dumplings can almost go basket to basket with Joe's Shanghai soup dumplings…on a bad day. I'm sure Dean would disagree, but as I said, good people can agree to disagree. At the very least, now I know that if I get a serious dumpling craving, I don't have to get on plane to satisfy it.
As of this writing in March 2011, 1681 Yelpers give Din Tai Fung a total of 4 stars, and 1159 gave Joe's Shanghai the exact same rating. Perhaps we NY and LA soup dumpling devotées can all meet in Lawrence, Kansas and duke it out. Or maybe chef Michael Symon will be willing to take on this cross-country food feud and arbitrate the great dumpling debate.
Joe's Shanghai
9 Pell Street
New York, NY 10013
(212) 233-8888
Din Tai Fung
1108 S Baldwin Avenue
Arcadia, CA 91007-7508
(626) 574-7068
Ilene Amy Berg (aka The Berger Queen) is an Emmy-nominated television producer, antiques hunter, New York and London lover, and James Beard Foundation Awards judge.