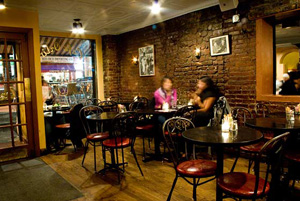 There are many foods I will not miss about New York City: street cart hot dogs dressed in a syrupy mess called "onions," over-priced dry pasta from ancient red sauce joints in Little Italy, the thousand dairy-free sugar-free fat-free ice cream substitute Tasti-Delite variants, which taste like glue after the first lick. But I long for Cafe Orlin, the Middle Eastern-inflected diner on Saint Mark's Place where I think I spent a quarter of my income the past two years.
My standby meal in college was Diana's Breakfast, hummus drizzled with olive oil, chopped tomato, and onion; tabouli; and two eggs any style (I had mine sunny-side up). I ordered extra pita and a side of homemade harissa and I constructed two little Middle Eastern tacos of the various ingredients and nibble at them slowly. My then-boyfriend and I ate this meal almost every day, with coffee (Americano with milk in undergrad, skim cappuccino during the pursuit of my Master's degree). Once, when I was home in Chicago, he called me during breakfast. My mother told him I was eating "hummus with eggs and tabouli," then passed the phone to me.
"Are you having Diana's Breakfast?" he asked, a smile rising in his voice. He was gentle and kind, and over four years we ate many breakfasts together. His favorite dish was steak and eggs, the rare beef glazed over with runny yolk. Over our four years together he taught me to enjoy copious amounts of coffee and long afternoon breakfasts. Unfortunately, just like morning, the most hopeful part of the day, has to give way to afternoon and evening, our relationship met its end a year after we graduated college.
After we broke up, my new roommate, Farah, a beautiful Palestinian MIT grad who had left science to pursue a Master's in Creative Writing, became my regular Café Orlin companion. The first time I took her to Café Orlin she wrinkled her nose at the menu, skeptical from her previous experience of Middle Eastern food in the United States. But when our Diana's Breakfasts arrived – (she ordered her eggs scrambled) – she exclaimed over the tabouli. "They made it the right way – almost all parsley!" We had the following conversation almost every morning:
"Would you like to get some food?" Farah would ask.
"Sure," I'd say. "Where would you like to go?"
"Orlin," she'd say, rolling her eyes, a smile growing on her face.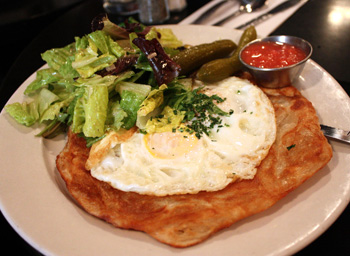 That year I discovered my other favorite Orlin dish, Malawach, which the menu described as "Two eggs any style over Yemeni fried dough with fresh tomato sauce and pickles." I was intrigued by the reference to Yemen, a country so mysterious that my Middle Eastern studies teacher in undergrad had answered a question about it with a mute shrug, so I ordered the Malawach with eggs over medium.
The fried dough had a crispy, buttery crust which gave way to a deliciously chewy and yeasty interior. It was dressed with a thimbleful of tomato puree, egg yolk and little briny pickle. The Malawach was a transcendent combination, a shining example of the idea of breakfast, available only on Saturdays and Sundays.
Café Orlin is large and dark, with low ceilings and round dark wood tables. In the morning, it can be noisy and chaotic but in the afternoon and evening it is quiet and intimate. I ate there with Farah in the morning and afternoon, sunlight streaming in over our table from the wide windows looking out on St. Mark's Place. In the afternoon I would come there alone to write. The Café offers free wifi and the slow afternoon hours were made for quiet laptop use. For lunch, my favorites were the fava bean soup, almost a puree, redolent with olive oil, crushed garlic, and tomato cooked down to a fine sweet paste, and the massive Roasted Halloumi Cheese Salad, a pile of romaine lettuce, tomatoes, cucumbers, red onions, mint and parsley leaves dressed in lemon juice and olive oil and topped by hearty chunks of halloumi on toasted pieces of pita.
Farah, watching me devour the umpteenth iteration of this dish, said, "You know, growing up in Jordan I got sick of eating halloumi. It was just what you always had for lunch at school. Like a peanut butter and jelly sandwich."
"Really?" I asked, assembling a little skewer of tomato, onion, mint and cheese on my fork.
Cafe Orlin – 41 Saint Marks Place New York, NY 10003 – (212) 777-1447
"Yeah," she said in her musical accent. "It's funny, the things you miss."