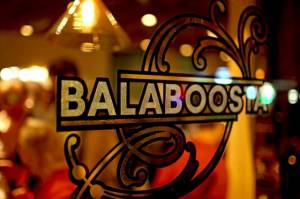 I had one of the top ten dishes of the year today in the middle of what could have been a dreary day. It was raining and I was limping around puddles on my way to a lunch meeting in Soho.
I had just come from the podiatrist, my throbbing foot wrapped to within an inch of its life to protect the plantar fascia, the ligament that goes along my arch to my heel.
I had injured it, as athletes will do, in some moment of extreme competitive zeal, which I cannot at this moment recall. It only hurts when I walk, Mother.
So, I was in pain, I was late, I was wet, I was peckish. Not a good potential lunch partner.
I was meeting two fine fellows who work for my book publisher, so they know their way around a lunch table. They had chosen Balaboosta on Mulberry Street and I'm glad they did.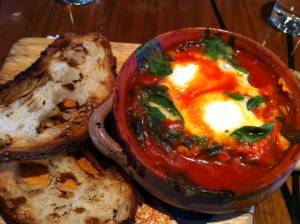 Einat Admony is the chef/partner at Balaboosta. She grew up in Israel but she seems to seek out flavors from the whole Mediterranean region – especially those that drift over from North Africa.
I ordered the shakshouka – a Morroccan baked egg dish in a spicy tomato sauce redolent with North African spices. Add some spinach, some generous morsels of Merguez sausage and two healthy slices of grilled bread napped with olive oil. The bread is for sopping up the sauce, of course. Sopping up being one of my favorite mealtime endeavors.
On a cold, blustery day — and there are going to be a lot of them coming up — head down to Balaboosta and order a bowl of this spicy tomato-ey, baked-eggy, sausage-ey treat. It'll make your week.
BALABOOSTA - 214 Mulberry Street, New York, NY 10012 - (212) 966-7366
Michael Tucker is an actor and author whose third book is the recently published Family Meals: Coming Together to Care for an Aging Parent
. He writes about his love of food on his blog Notes from a Culinary Wasteland.