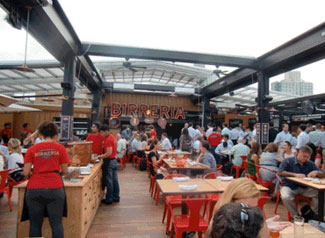 We finally got up on the roof at Eataly for a German-Italian- American-style lunch at Birreria.
Like most things at Eataly it did not disappoint. Birreria is a stunner — a wide open rooftop with views of the Flatiron Building to the Southwest and the Empire State Building looming over the campanile-style Metropolitan Life Building to the North.
The inner visuals satisfy as well — the eye gets stimulated as well as the appetite. There's a retractable vaulted ceiling that gives you that German-beer-hall-we're-all-going-to-get loaded-together feeling, but then there's this red motif with the chairs and a lot of natural wood that makes you think you're in … I don't know … California? Anyway, it's good. You want to be there.
They're making their own beer, of course — that's on one side behind a glass wall with serious-looking copper vats with pipes coming out of them. On the other side of the room they have wines coming out of spigots from big barrels. Mario, I love you.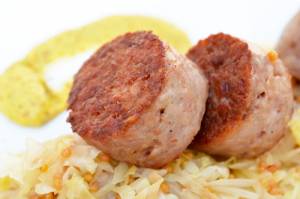 The food is very good as is always the case at Eataly. I had the Cotechino, a dish of pork sausage patties sitting on fragrantly spiced house-made kraut and mustard seed. I inhaled it. Our friend, Ben, had the Probusto, a plate of Trentino-inspired sausages with potato salad. He had no problem getting that down either.
The ladies — Jill and Merrill – went the veggie route with Jill trying desperately to hold onto her vegan principles. But one salad had anchovies in the dressing (delicious, by the way) and the grilled Portobello had some pancetta bits on top (also quite good) — so it was more like she was a vegan with an explanation.
Our waiter was top-notch; he took his time with his explanations; he was knowledgeable about the beers and generously offered various tastes. I ordered one of their homemade brews, a thyme pale ale, which was exactly that — and quite tasty. Ben sipped a Belgian style blond, which he was very happy with. The girls drank water – no ice.
We'll be back to Birreria.
Michael Tucker is an actor and author whose third book is the recently published Family Meals: Coming Together to Care for an Aging Parent
. You can read more about his food adventures on his blog Notes from a Culinary Wasteland.