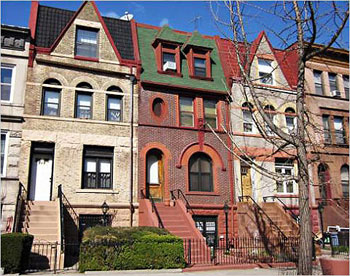 I went to New York recently to visit my daughter Lena, see her apartment and meet her dog, Fabio, a rescued Mexican Hairless. She lives in an area of Brooklyn known as Crown Heights? That's supposed to be said with a bewildered Southern California interrogative lilt.
Frankly I'm appalled that my daughter has chosen to stay in New York after college. When I did my 5-year stint in New York as a Not Ready For Prime Time Player, that Trade Winds' lyric "New York's a lonely town, when you're the only surfer-girl around" often played in my head. I suppose the writing was on the wall when Lena, a third generation Southern Californian, never learned to drive.
Naturally I'm proud of my daughter for countless reasons but one in particular is that she's actually making a living in New York with little financial help. I have to admit to being a little suspicious and having frightening fantasies of her being a pot messenger amongst other morbid scenarios that say more about me than anything else. She lives in a gorgeous but admittedly run-down, vintage 4-story walk up which explains why the rent is so cheap but the apartment is big by any standard. A few of its tenants sit out front all day playing the dozens. Some are drunk, some are dentally challenged, but they all know her and they all look out for her.
When she gave me a culinary tour of her neighborhood, I got the second clue as to how she managed to live so frugally.
The first place she took me to was Royal Cuisine Yard Food. The term 'yard food' intrigued me. It conjured up a story in my mind about the generations of 'yard food cooks' with relatives and friends constantly saying "Desmond, Badda, disya chicken, I got big upps!" (Desmond, my brother, this here chicken I got big praise for!")
They specialize in jerk chicken but things like mac n' cheese (Rasta Pasta) oxtail stew and sweet fried plantain are some of the other menu staples that were calling my name. The jerk chicken, which I don't normally like because of how thyme can dominate it, made me realize I'd never really tasted authentic jerk chicken. The balance of the allspice, cinnamon, garlic and cloves was divine. There are lines of customers constantly running down the street but the owners know Lena by name and Marcia always gives her extra. I don't even want to tell you how much of a bang you get for your buck. I don't want to jinx it.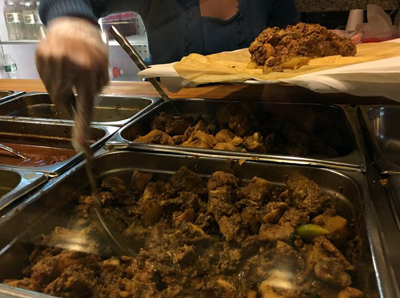 The next great meal she took me to was Ali's Original Roti, another place where she's beloved by management. Makes me wonder if redheads are considered lucky or magical or something because she can't be the only charming and hysterical customer they've ever met? Natasha knows Lena's order and also gives her extra, which Lena accepts with modest chagrin.
If you ever wished upon a star that somewhere in the world there could be vegetarian 'fast food' set up like a Chipotle assembly line, with deliciously prepared and seasoned vegetables, well, this is it! And the portion sizes! Wow. And all for approximately ….not a lot. Also, don't believe the few negative reviews online. Some of them remind me of things Yogi Berra was famous for saying. Famous for quotes like the one he uttered when he encountered a crowded restaurant; "No wonder nobody comes here. It's too crowded." The reviews complain about the lines being too long and them running out of food. Ahem. Think about it, you millennial Einsteins.
BUT let's get on to BrisketTown. (Aka Delaney Barbecue) located in Williamsburg.
The first time I went, it was simply to meet Lena's boyfriend's dad Robert, master chef at BrisketTown and a really cool dude and the one responsible for the miracles I eventually enjoyed twice while I was there. The place was packed, even at midnight so I was sitting outside on the benches they provide, getting to know Robert, who, even if he wasn't my daughter's boyfriend's dad, would hands down, be someone I'd want to know. I later met Nik's mom as well and got to see why we all love him. There was a young girl next to me digging into a sliced brisket sandwich on potato bread. I HAD TO HAVE KNOWLEDGE OF THAT SANDWICH!!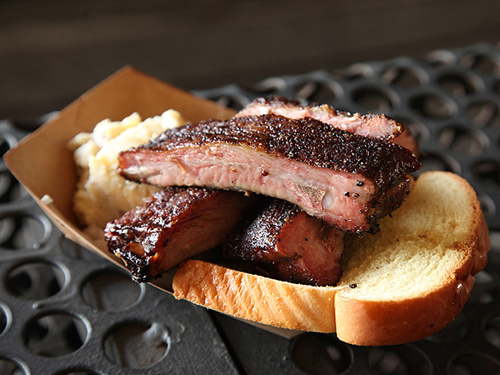 We all made plans to meet for dinner the next day at the restaurant but I hinted shamelessly that I would love to take something home with me that night. Once I was alone in the cab with "my precious"…..I..I mean my sandwich. I dug into it. It was still warm, moist with an honest and direct flavor. It's brilliant to put this meat on potato bread. Oh, and I should mention they were out of bar-b-que sauce because it was midnight and I didn't want any of the other condiments but I tell you people, it didn't need no stinkin' condiments! It was THAT good! The whole experience of that sandwich was like a warm hug from a big fat mommy.
The next day at the restaurant, we really got 'the treatment'. My first time inside, I realized this was a millennial joint. Of course. Williamsburg? Duh. In fact, somewhere online it's described as: Counter BBQ spot with hipster-roadhouse décor, smoking Texas-style brisket that frequently sells out. Nik's dad Robert gave us everything on the menu brought to us by a large Zack Galifanakis type character. One of their sides is macaroni and cheese. If the brisket weren't enough to have me dreaming about this place and wishing there was one in LA, the mac n' cheese sealed it for me because, and I'm not exaggerating, it is the BEST MACARONI AND CHEESE I've ever had in my entire long long long long life!!!!
Now, I know saying a piece of brisket was 'honest and direct' sounds a bit douchey but I saw on the menu that it's simply hormone and antibiotic free beef brisket rubbed with salt and pepper. Huh? What'd I say? Pulled pork, hot links and pork ribs round out the meat menu and everything was divine but really "the brisket is the thing" to quote Shakespeare. I can't think of a better way of getting to know your daughter's boyfriend's parents. Good food. Good people.
DELANY BARBECUE a.k.a. BRISKET TOWN: 359 Bedford Avenue, Brooklyn, NY 11211
ROYAL CUISINE YARD FOOD: 324 Utica Avenue, Brooklyn, NY 11213
ALI'S ROTI SHOP: 337 Utica Avenue, Brooklyn, NY 11213