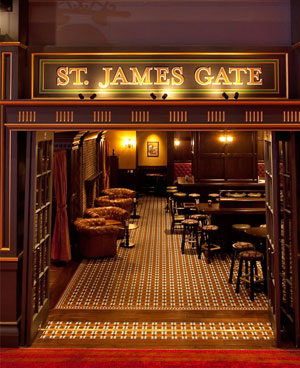 To reach the St. James Gate of Bethlehem, PA, you must thread your way through what seems like one of the last circles of Dante's inferno: the lights and sounds of the casino are overwhelming. Outside, it's noon on Sunday; here, however, in this windowless, arching cavern, this casino built on what was once a piece of the Bethlehem Steel Works, there is no sense of time.
But this is where we've come to pass some time before our film at the new neighboring ArtsQuest building begins. The pub, one of a number of restaurants ringing the casino floor, is beautiful, with thick carpeting and heavy dark wood; it's almost possible to forget what we just traversed, until, from a table of seven, one voice rises querulously, "We're not here to drink; we're here to gamble." Now her companions' voices rise up. "Do we look like drinkers?" Watching the chastened waitress back away, I say, sotto voice, to my husband, "It's a pub." The waitress tells us that this happens often; she also tells us that she has a headache. We assure her that we have come to drink. When I ask what she recommends, I'm expecting her to say something like Guinness Extra Stout, but she tells me that Yuengling Light is the best. I agree to buy local, thinking that there is a fitting parallel here after all. Yuengling is the oldest brewery in this county; the Pottsville, PA company is the American equivalent of the original St. James Gate.
While I wait for the waitress to come back with my beer, I study the menu. There's a kind of mash-up of Irish/UK/American fantasy-of-Irish fare, the sorts of things detectives are always ordering for lunch in the mystery novels I like to read on the sly: there's fish and chips, bangers and mash, corned beef and cabbage, steak and mushroom pie. There's also Yorkshire pudding and "The Fry." I'm familiar with the last two: my Irish grandmother made the best Yorkshire pudding I've ever had, and I've read a considerable number of police procedurals solved over a fry-up, which consists of Irish bacon, Irish sausage, black and white pudding, baked beans, grilled tomatoes, and mushrooms—topped with a fried egg, sunny side up. I choose the chicken salad club, with Irish bacon, which falls somewhere between bacon and ham. My husband orders the lunch-size portion of Shepherd's Pie.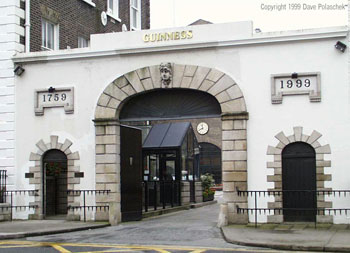 While we wait, I sip my Yuengling Light, and continue to study the menu. I've moved on to the photographs of the original St. James Gate of Dublin and their accompanying text. In 1759, Arthur Guinness took out a 9,000-year (!) lease on St. James Gate to house his brewery. By 1838, the Guinness Company had become Ireland's largest beer maker, and by 1914, the 64-acre site was the world's largest brewery. It "featured a spacious employees' dining room" and "positions were prized for job security and higher-than-average wages." In other words, the Guinness brewery of St. James Gate was to Dublin what the steel mill once was to the inhabitants of Bethlehem, PA.
I study the table of noisy self-professed gamblers who've taken the bus here for the day. They're quieter now, scarfing down their diet sodas and "Irish [ham]burgers," anxious, I suppose, to get back to the floor, and it strikes me that this place is the site of the confluence of dreams in all their variety—dreams of entrepreneurship, big business, the lucky spin. The waitress brings our orders and asks how I like her recommendation. "Not bad," I say, and she tells us it's on the house, since we were so kind about her headache. Then she tells us about the back way out; with a gesture toward the casino that lies beyond the darkened windows of the pub's thick front doors, she explains that she never goes out there if she can avoid it.
By then it's almost time for our movie—in which Paul Giamatti's character is a good man who discovers the downside of the American Dream; it's called Win Win—and we take the back stairs, walking around the outside of the complex in the brisk April wind.
St. James Gate Pub, Sands Casino Resort, 77 Sands Boulevard, Bethlehem, PA 18015 – 1-877-Sands77
Carolyn Foster Segal is an essayist and a professor of English at Cedar Crest College, in Allentown, PA, where she teaches creative writing and women's film.