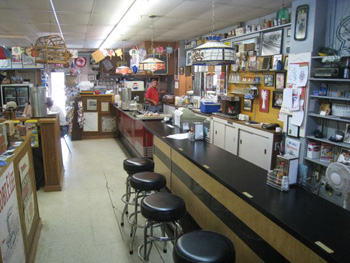 The Northgate Soda Shop in Greenville, South Carolina proved an elusive target for a burger. But one can never keep a good burger seeker down.

Our trip across South Carolina continued as we headed east. In Columbia, we decided to call ahead to Greenville to make sure the Northgate Soda Shop would be open. "We are open until 8 o'clock", said the voice on the other end. So we diverted our trip from Charlotte to Greenville specifically to hit Northgate. I had read this was one of the classic burger joints of all time in Hamburger America.

We arrived at seven o'clock only to find a closed Northgate. Walking next door to The Other Side Bar, owned by the same people, we were told the cook had gone home sick. Miffed, we left and headed to downtown Greenville for pizza.

The next morning we tried again for breakfast. Walking into Northgate one can travel back to 1947 when the place opened. Jim DeYoung had bought the place in the 60's. Over the years he filled it with memorabilia he had been collecting. Old soda bottles, model boats, photos and traffic lights were arranged neatly on the shelves. Jim himself was there having coffee with his buddies. We were introduced to Jim by Tom Carr, the cook and host in the morning at Northgate. Tom's sister Catherine Christophillis bought the shop a few years ago.

Tom gave us the nine-item breakfast menu consisting of various biscuits and eggs, but no burgers. I asked Tom if he would mind making me a burger for breakfast since I had driven all this way. Of course he would. Tom fried me up a Chris Evans Burger with bacon, American cheese and a fried egg ($4.15). Mom had an egg biscuit ($1.25).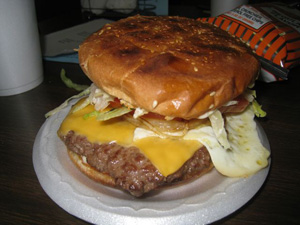 While Tom was cooking up the grubb, Mom and I took in the museum that doubles as a soda shop. There is a long old counter with black Naugahyde stools. Various faux wood tables and chairs sit among shelf after shelf of memorabilia. Brass nameplates grace tables. Each plate holds the name of a patron who has passed to the burger joint in the sky. Jim pointed to the end of the counter and said only one nameplate has a name of a patron still alive. "He has been in a few times." Jim said.

Tom brought over the breakfast and it was just as good as advertised. The burger meat was thick and juicy, old-fashioned burger style. The white sesame bun was grilled inside and out. American cheese melted down the sides. I bit in and the yolk from the egg ran out the side, a great breakfast sandwich. Why hasn't McDonald's tried this? Mom's biscuit was buttery and tasty, like you would expect in the south.

We paid our bill and said our good-byes. As I was walking out I remembered to take a peak at the nameplate at the end of the bar. Elvis Pressley [sic] was the name.

Burger 5 spatulas out of 5

Northgate Soda Shop
918 North Main Street
Greenville, SC 29609
864-235-6770
- Also published on Hoosier Burger Boy