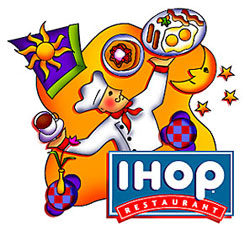 Before there was IHOP, there was Gwynn's.

When I was a kid in suburban Teaneck, New Jersey, it was always a treat to go for Sunday brunch with my family at Gwynn's on Teaneck Road. Gwynn's seemed swanky and grown-up to me. Outside, it was painted white brick, and inside it was cool and darkish, with comfy booths. My mother would order her coffee, and the cream came in tiny, glass pitchers with little round cardboard pull-tabs on top. She only used a drop and then gave me the supreme pleasure of letting me drink the rest of the cream from its miniature jar. Sometimes, if she had a second cup, I got another taste of the thick, heavenly liquid that would contribute to the need for Lipitor years later. Compared to my very picky little sister, who ate only cream cheese and jelly, I was "a good eater" with a passion for pancakes, waffles and French toast.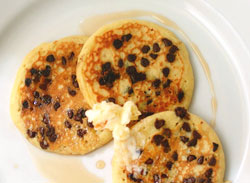 Then, in the mid 60's, across town on Cedar Lane, a new place opened up, part of a chain that seemed to be popping up all over America: the International House of Pancakes. People were talking about it, and my cousins three towns away had already been to another one and were jazzed. It didn't have Gwynn's sophistication or my beloved mini-pots of cream, but on our first visit, I discovered silver dollar pancakes – a plateful of glorious, child-sized, golden ducats. I was hooked! Soon thereafter, chocolate chip pancakes appeared on the menu, and I became an under-age chocoholic.

One Saturday night when I was 17, my parents told us to dress up, because they were taking us to dinner in Manhattan at a favorite of theirs, Le Perigord Park. This became the day that my personal Rubicon was crossed (okay, it was the Hudson). My head spun from the experience, my tastes and desires irrevocably transformed. I suddenly understood that there were stunning, exciting, and unimagined flavors and combinations to be tried. IHOP's chocolate chip pancakes and French toast would no longer do – now it had to be pain au chocolat or pain perdu!

So IHOP was history for the next decades. Instead, I pursued scrumptious dining adventures, aided and abetted by a well-paid job that sent me to fabulous places on an expense account or per diem. No one enjoyed shooting a movie in Paris or Rome or Toronto or New York more than I did, because it afforded me the opportunity to eat like the gourmand I was. Who needs silver dollar pancakes when you can have a sublime chocolate and coconut crepe made on a hot griddle in the Place de L'Odeon? How much fun was it to discover a glorious bottle of Poggerino chianti classico in Vancouver and then visit the vineyard the next year in Tuscany? The pleasures of lobster aigre-doux from Arpège, foie gras from L'Ami Louis, Dover sole from J Sheekey, roasted porcini from La Lampada, risotto primavera from (name forgotten, piazza remembered), fresh figs with wild strawberries from Dodici Apostoli, still play in my mouth and my mind. I've been told that saying this makes me sound like a snob, but I wasn't; I was equally thrilled to troll far-flung ethnic neighborhoods and markets in search of stands and dives and holes-in-the-wall that offered unique culinary treasures. Let me put it this way: I graduated cum laude from the school that believes there is no reason to ever eat a bad meal. Our motto is "if we're going to consume calories, then dammit, we want them to be worth it!"

But something surprising happened last year. I had a lunch date scheduled with a friend, a very well off executive vice-president of ABC. The Valley, I thought, where shall we go? Pinot Bistro? Mistral? Katsu-ya? He called and said, "Let's go to IHOP". I was gob-smacked. When I finally could, I croaked, "You're kidding, right?" "No," he said, "I love it, trust me." Since I do, I went. And thus began my reacquaintance with a long-forgotten friend.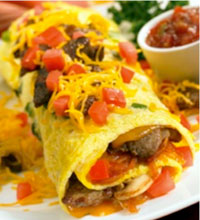 Today, I no longer have a job or an expense account – or even an unemployment check. But I do need a social life, which in this town usually means meeting friends for meals out. I have been surprised by their responses when I suggest IHOP. Many know it and love it, others are game to try it, no one has ever balked. Everyone recognizes the bang-for-the-buck of it, especially in today's economy – big portions, small prices. When you order a cup of coffee, which is smooth and delicious, you get a large carafe and as many refills as you want. Same goes for the iced tea, lemonade and sodas. There are menu options tailored to those watching their carbs, calories or fat intake. There are senior deals and lots of white-haired couples eating the Rise 'N Shine. There's a kid's menu and loads of raucous 7-year-olds eating those irresistible silver dollar pancakes.

One reason why friends join me is that Americans love breakfast, even for lunch and dinner. And IHOP's breakfasts are a terrific, all-day affair. Scrambles, omelettes, French Toast, crepes, waffles, combos of every stripe. I've never met a less than pleasant server, and they seem determined to make sure you have it your way. You want your eggs runny, your onions well done, your bacon extra crispy, without peppers, with different pancakes? No request is denied or prepared with less conviction. Egg whites only? No problem, and get this: no charge.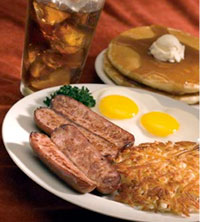 Is it the most elegant breakfast I've ever had? Nah, they don't even have real maple syrup. But the difference between an IHOP breakfast and some $40 chic hotel breakfasts I've had is far smaller than the difference between McDonald's and The Palm. It's good, reliable, reasonable. Not fast-food/$1.00-menu-items reasonable, but well-priced: two eggs, 2 strips of bacon, 2 sausage links, 2 buttermilk pancakes and 2 triangles of French toast cost $9.59. I haven't had any of their lunch or dinner entrées, but my friend Olivia hallucinates about the patty melt.
Though they still have chocolate chip pancakes, I am currently in a serious, long-term relationship with the corn cake pancakes. I love them and am even willing to consider letting them move in with me. I'll admit to being skeptical about their non-breakfast items, but eventually I'll get over that and try them. Maybe I won't be brave enough to order the T-bone steak, but I will try the tuna sandwich or pot roast or herb-crusted chicken. I will come hungry and will hope to leave as happy as I did when the big-time VP first suggested we go there.

By the way, I went back to lush, leafy Teaneck in May for a trip through my childhood. Gwynn's is now a real estate office. The International House of Pancakes is still on Cedar Lane.