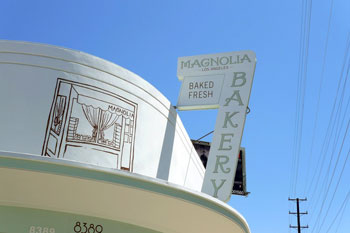 Food in New York. I used to know it so well. When I lived there during the '80s and '90s, and worked in the food business I knew every place there was to know, and I went to most all of them. It's been a very long spell since I lived there, and too long since I've been able to really visit. A big void has been left in my New York City food knowledge. So when I first heard about Magnolia Bakery and how everyone was raving about it, I had no frame of reference. It was just food-iverse white noise. (I apparently missed its appearance in both 'Sex and the City' and in an SNL sketch.) I quickly got up to speed when they announced they were opening a shop in Los Angeles on one of the busiest streets in L.A.: West 3rd Street. With everything that had been written I understood that this was a very popular place. I wanted to go check it out. Some of the stories (in the L.A. Times and on the Internet) were about how owner, Steve Abrams, was met with complaints from the neighborhood and other businesses about how his business would impact parking. The area was already saturated. Parking places were impossible to find. I knew this to be very true. So instead of driving, and battling parking: let's take the bus!
I've always loved a good field trip. Like most Angelenos I live in my car. This is not a good thing. Planning and taking the bus was fun, educational and in a small way helped the environment. We jumped onto the #201 at Brunswick and Los Feliz Blvd., changed to the #316 at 3rd St. and Vermont, and arrived at Magnolia a little over an hour later.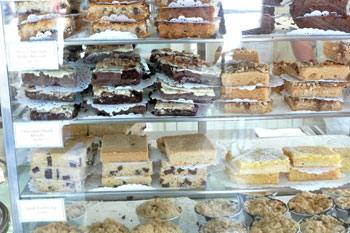 Magnolia Bakery has a new old-fashioned feel to it; a bit soda counter with some southern cafe thrown in. I was surprised that there were no tables and chairs to sit and eat one's sweets. In reading other posts on the Internet it seems that they may add them at some point? There is plenty of room to have a handful of tables. Right now this is a straight up bakery. Stand in line at the counter, choose your items, take them home or outside to eat. A dearth of public spaces and benches forced us down the street to the Beverly Center where we ate our goodies.
I realized as I was writing this that I was expecting Sweet Lady Jane's. SLJ is a favorite Los Angeles bakery that has a counter full of cakes, cookies, and other goodies, as well as tables for seating. You can order a slice of cake, coffee or tea, and sit and enjoy them. SLJ seems a likely competitor to Magnolia. I, apparently, was mistaken when I assumed it would be the same set up. Then again, maybe it will be someday. Magnolia sits on a corner, tables and chairs out on the sidewalk would be a lovely thing. We enjoyed what we had, and when in the neighborhood will go again. Now I know what all the fuss was about.
Magnolia Bakery
8389 West 3rd Street
Los Angeles, CA 90048-4312
(323) 951-0636
Charles G. Thompson is a Los Angeles-based freelance food writer, whose reviews and stories can be found at his blog 100 Miles, an exploration of local sustainibility.