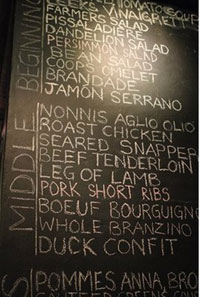 A canelé is a specialty of the Bordeaux region of France. A small pastry with a soft custard center and a dark caramelized crust. They are eaten for breakfast, as a snack, and for dessert. Canelé is also a favorite neighborhood restaurant. Just a few walkable blocks from home. Robert and I were there on a recent Friday night. We have often wondered how the recession is affecting restaurants. It didn't seem to be having much of an affect on Canelé this particular night. The restaurant was full and people were still waiting for tables when we left around 9:15 or so.
It's great to see this place doing so well. The food has been called French-California-Mediterranean. And it is, but some of the menu items are classic French. Those are the ones I like the most. Like the bouef Bourguignon with buttered noodles I had on my first visit, and the pissaladiere with herb salad. They also have sides like pommes Anna, a very old-fashioned potato dish of layered potatoes and butter; starters like leeks vinaigrette, and brandade, a salt cod dish originating in the Languedoc and Provence regions of France.
On our most recent visit we both had the bistro steak with sauce bordelaise, pommes Anna, and creamed spinach. Prepared perfectly. We were quite content at the end of the meal. They also offer a starter of Spanish ham, an Italian pasta dish in honor of the restaurant that was in the space for many years: Osteria Nonni, and a simple roast chicken. All less than classic French but equally good. Both the chef-owner, Corina Weibel, and general manager-owner, Jane Choi, come from other celebrated American restaurants: Campanile, and Lucques for Corina, and Pastis and Balthazar in New York for Jane.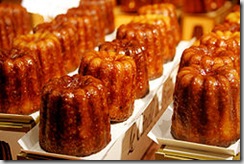 The place has the feel of a Parisian bistro. Once inside it's easy to pretend you are at a back street bistro in Paris. One Parisians living in the outer arrondissements might go to. The kitchen is open and practically in the narrow dining room which is part of the fun. There are a few seats at a counter looking into the kitchen, and a communal table in the front window. The staff is welcoming, attentive and congenial. We were seated near the front door so we watched as people arrived.
It was obvious that a lot of the clientele comes from the neighborhood, and that many are regulars. The hostess knew a lot of the people coming through the door. That is what, after several visits now, I like most about the place. It's unstuffy neighborhood vibe. It's honest cooking. It's not fancy nor does it need to be. And to top the meal off they offer you a warm canelé as you are going out the door.
Canelé
3291 Glendale Blvd.
Los Angeles, CA 90039
323-666-7133
Charles G. Thompson is a Los Angeles-based freelance food writer, whose reviews and stories can be found at his blog 100 Miles, an exploration of local sustainibility.