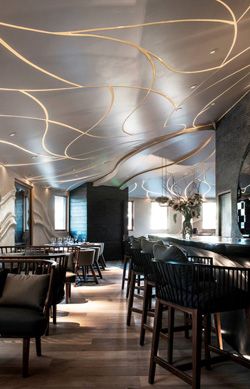 Except for a short stint on the Westside, I've spent over 20 years living in the Valley. And I love it. I really do. Yet, since I became more of a "foodie" a few years ago, I have been consistently disappointed with our lack of finer dining choices. We have excellent Mexican, burgers, pizza and sushi on every block of Ventura Blvd., but it's a wasteland when it comes to trying to find a place with a decent wine list, upscale decor and innovative food that doesn't cater to hipster millennials who are more concerned with being seen than with what's on the plate. Every time I read about a new place opening I held my breath in anticipation that my prayers would be answered…only to have them dashed by another gastro pub or taco joint (no offense).
So imagine my delight when Girasol, helmed by Chef CJ Jacobson, a two-time Top Chef contestant, was moving in to my neighborhood. The space located just outside Tujunga Village has been many different restaurants over the years none of them seemingly able to succeed for very long, so here's hoping his team can make it stick. They certainly transformed the building, pushing the sunflower-theme in a very modern, slick direction with an amazing layered metal ceiling and gray-brick tiled walls. It's like eating inside a metal sculpture. It's super cool, but not in a cold or unwelcoming way. You could really impress a first date by bringing them here.
The food mirrors the atmosphere and tastes as good as it looks. There's no real theme per se, just seasonal, creative fare that showcases the locally-sourced ingredients with a few unusual touches thrown in here and there to keep your palate engaged. Big Ceej is friends with many of the regional farmers, so expect the menu to change pretty regularly with the night's specials being as "in-season" as it gets. Thankfully he's cooking in California so his options are pretty varied.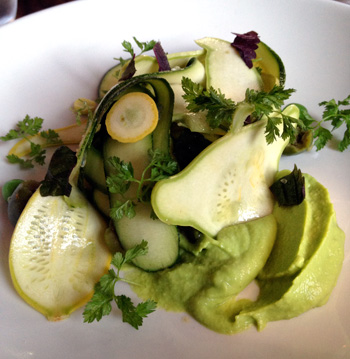 We brought friends along so we were able to indulge in a good portion of the menu. With about 12 appetizers (shared plates) and 6 entrees there's definitely something for everyone. The shared plates were actually quite generous allowing all four of us to get more than one bite to savor. While waiting for our friends to arrive from the other side of the hill, we ordered the Seasoned Raw Summer Squashes with Green Olive, Herbs and English Pea Puree (which made us laugh, Top Chef fans know why).
Blanched briefly to soften the crunch just a bit this was pure summer on the plate. Green and fresh, it hit all the right notes and made the vegetables shine. Squash is usually a throw away veg that is hard to make interesting. Not so here. Too bad more chefs don't take the time to craft dishes like this. I could almost give up meat if they did.
The Apricot and Burrata Salad with Crispy Lentils was an intriguing mix of contrasting textures that we all really liked, however we wished the apricots had been grilled instead of just raw. We know they have one back there. The caramelization would have put it right over the top. The combination of watermelon, cherry tomatoes and avocado puree was a deliciously light and summery accompaniment to the Grilled Hanger Steak, seared on the outside, perfectly pink on the inside.
The first of the appetizers that really stood out for all of us was the Dried Fava Bean Puree with House-made Chorizo and Cherry Tomatoes served with Grilled Flatbread. I would eat this everyday. I hope it never leaves the menu. The smoky charred, chewy bread with the spicy bits of crumbled pork goodness and the acidic zing of the tomatoes on a bed of creamy "hummus". A pure taste explosion. It was a shame to have to share.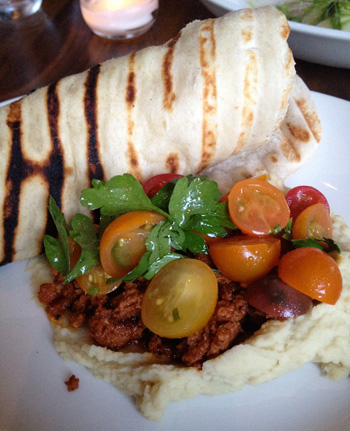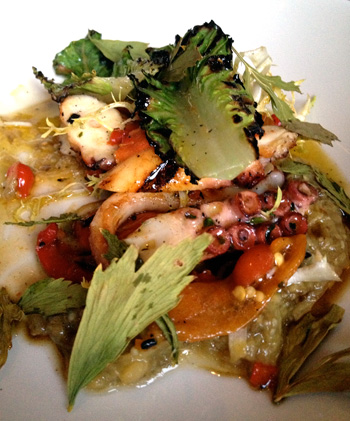 Though the Man is not a fan of octopus, he ate more than his fair share of the Octopus Salad with Long Roasted Eggplant, Rosemary Ash Oil, Sweet & Sour Chili and Toasted Lovage. Grilled lettuce is my new favorite thing. All of the elements worked beautifully together and the octopus was perfectly tender without being chewy. Not an easy thing to pull off. Very original. The sort of thing I expect from a Top Chef. Food that makes me glad I left my house.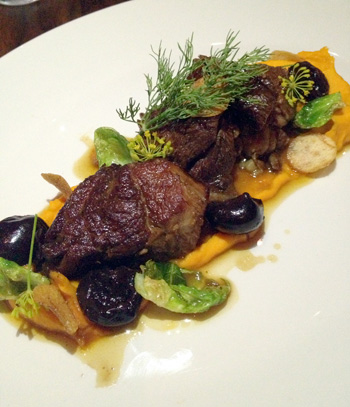 As I said the shared portions are quite generous, so we only ordered two entrees: Roasted Mary's Citrus Chicken and the Braised Leg of Lamb. Both proteins were masterfully cooked. While we loved the chicken and the sauce it needed something more alongside than the baby potatoes and carrots. I wished it had come with the Smashed Potatoes which would have been a delight and given the dish a better contrast. The lamb, however, was just amazing. Fork tender on a bed of Carrot Puree with Crispy Brussels, Rainier Cherries and Dill Flower, every bite was a pleasure. For those of you who don't normally like lamb. This dish will change your mind. I will be ordering it again. I hope he doesn't change a thing.
Since I'm not a big fish fan, we did not order the Whole Fried Red Snapper, but we saw it delivered to the table next to us and the presentation is quite a showstopper. I would give it a go, if you enjoy that sort of thing. We were so full we didn't even look at the dessert menu so I have no idea what is even on it. Something else to look forward to for next time.
The space has a generous bar and some outside seating which will probably fill up quickly during the summer months. The wine list is somewhat small, only 13 selections, but it's well thought out with enough choices to keep most dinners happy. I really loved the rose we started out with. The pours were generous and the prices very affordable for a restaurant like this. Actually everything on the menu was. Even the glassware was spot on. My one complaint is that the red wines were served way, way too warm. I'm not sure if we purchased a full bottle instead of wines by the glass if that would have made a difference, but it's just not cool. Literally. Hopefully they get control of this quickly. The countertop is no place for wine. Especially in a location as notoriously hot as the Valley.
Service in LA is notoriously awful, so I have to give props to the whole staff of Girasol. I have never seen a restaurant in Studio City so packed and non-stop busy. Clearly we aren't the only ones excited they have opened here. This was their third night of full-service and to say our waiter was a bit overworked is an understatement, but he carried on with great aplomb and charm. To see the rest of the staff from the manager to the hostess chipping in to make sure we were all taken care of showed great professionalism and respect for their customers.
Girasol seems to have brought a very competent team to our neck of the woods and I could not be happier. Even our Hollywood friends said they'd gladly make the trek back…and that's a sentiment rarely heard about anything located in the Valley. A very welcome to addition to the neighborhood.
GIRASOL
11334 Moorpark Street Studio City, CA 91602 - Open from 6-10pm daily.