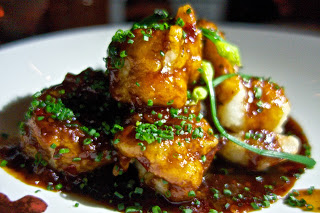 Of course, if you are an omnivore, willing to eat whatever flies, walks and swims on planet Earth, you will be very happy indeed. Shellfish, fish, pork, lamb, beef, chicken and duck are featured ingredients. As befits an upscale restaurant, the plating of the dishes is beautiful. Chi Lin embraces the theatrical in its setting and its dishes in a good way.
Every Tuesday, a sampling of Chi Lin's signature dish, Peking Duck, is offered in two presentations along with a Sparkling Mao vodka cocktail at an affordable $24.00. The mini-tasting gives diners an authentic presentation of a classic Chinese dish, with it's intoxicatingly mix of fatty-crisp-salty-sweetness.
The menu is extensive enough to encourage repeat visits. After a tasting with other food writers, everyone made notes about the menu items to try next time. I definitely want to try the Steamed Char Siu Bao, Fresh Kale and Crispy Shiitake Mushroom Salad, Wok-Fired Manila Clams with Lap Xuong and Xo Sauce and the Charred Haricot Vert with Chinese Flavors.
And, I would order again the 5-Spice Smoked Shaved Beef on Crispy Scallion Pastry, the vegetarian Yu-Shiang Style Eggplant Chips, the pescetarian Peking Prawns, Black Pepper Two Basil Filet Mignon with Crispy Shiso Leaf and a selection of the desserts.
The photographs tell the story. The food at Chi Lin is beautiful to look at, delicious to eat.
David Latt is an Emmy-award winning television producer who turns to cooking to alleviate stress. He shares his experiences with food and his favorite recipes on his blog Men Who Like To Cook.