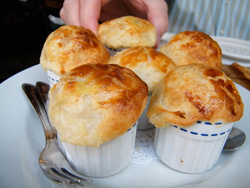 Chef Walter Manzke's smile is infectious. Wait, maybe I shouldn't say "infectious" since we're in the middle of the H1N1 Flu scare (I refuse to call it the OTHER name because I love my bacon).
On my first visit to Church and State, I didn't get to meet the chef until evening's end, when I stole a few seconds of his time to tell him how much Peter and I enjoyed the restaurant. During our entire dinner though, from across the room, I was carefully watching him as he expedited orders and finished off each plate in the open kitchen.
Between bites of the luxurious beef short-rib bordelaise and the perfectly baked (and cute) tiny ramekins of escargot, I would look over and see Chef Manzke's face beaming. It's almost like I could feel his joy drifting through the kitchen, then up above the beautiful, antiquated string of lights, and finally, smack down onto my plate.
Delicious food always makes me happy, but seeing chef Manzke's ear-to-ear grin in the kitchen definitely made me more aware of the joy and care he (and his crew) puts into each dish.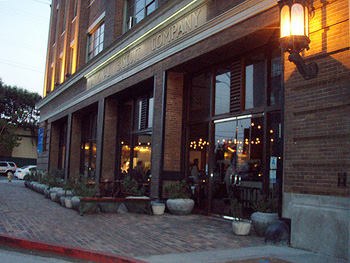 I love everything about this restaurant; the exterior, interior, the decor. It resides in a beautiful, old brick building that used to be the loading dock for the Nabisco Biscuit Company, and the downtown location makes me feel like I'm in New York City, or at least "New York Street" at Universal Studios. I was shocked how nearby it was as well: Door to door (with no traffic), it's only fifteen minutes from our home in Studio City.
The bistro is casual enough for jeans and charming enough for a little, black dress. But personally, it makes me feel like dressing up in a boho-chic skirt, over-sized hoop earrings and chunky, cork platforms (something I imagine Ali MacGraw wore in the seventies, on fabulous trips to Paris).
The bar sits directly across from the kitchen, and we were seated near the large, front windows on our first two visits, with perfect views of both. There's an antique absinthe dispenser on the bar counter which reminded me of the vintage absinthe spoons I started collecting back in 2001, when Peter worked on the marketing campaign for "Moulin Rouge!"
I think Toulouse-Lautrec himself would have loved one of the small tables along the cool, brick wall along the back. And just because I want to try a different view of the gorgeous room, that's where you'll find me on my next visit. Just look for the platform shoes and over-sized hoop earrings.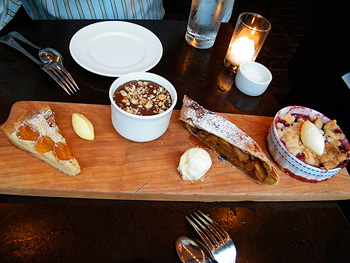 I forgot what dessert we chose TO SHARE. Instead this incredible plank of sweetness was brought to us by Chef Manzke himself!
Apricot Tart, Pot de Crème au Chocolat, I loved the quenelle next to the chocolate (if I remember correctly, there were tiny delicious bits of toasted hazelnuts underneath), Apple Galette (I think), Croustade aux Fraises: Warm strawberry crips, vanilla ice cream.
I didn't have the heart to tell the chef that I'm not really "into dessert" (one bite and I'm good). Luckily, Peter is INTO dessert, so even though we were full from dinner, we finished most of it!
Our perfect dinner was made even better by a chance meeting with Tasting Table's Lesley Balla (former Eater LA editor). We're "friends" on Twitter and Facebook, but it so was nice to say hello in person!
Church and State
1850 Industrial St
Los Angeles, CA 90021
(213) 405-1434
— First published on MyLastBite