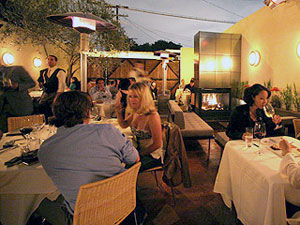 I hold restaurant grudges. Big time. If they take french fries off the menu and replace them with sweet potato fries (ahem, Melrose Bar & Grill), if I get sick from the seaweed salad (ahem, Reel Food Daily), if the take out portions are unreasonably small and unbelievably expensive (ahem, Nook), mark my words, I will never come back. EVER. But what happened the first time I went to the Foundry, might not have been entirely their fault.

I was starving and jet-lagged and I was with my then new, "not-quite-boyfriend" with whom things were getting increasingly awkward. We ordered vodka sodas while we waited for our table that wasn't quite ready, plopped ourselves into bar stools and took a much-needed sip of . . . tonic. I hate tonic. I'm actually allergic to tonic, but no one ever believes me when I say that. It was an honest enough mistake and was quickly corrected. But when we finally sat down, I noticed there were only four things on the menu. Four. Something with duck confit, some kind of lamb situation, veal and chicken. They were out of chicken. So Mr. Wrong left some money on the table, politely explained that I'd just gotten off a plane and we needed something a little less . . . fussy.

We went to the ever-reliable Jones and I added Foundry to my list of places to which I'll never go back. But when my extremely sophisticated, epicurean best friend suggested Foundry for dinner on Sunday night, I decided to swallow my pride and check it out. After all, I hadn't even tasted anything before I wrote it off. And I heard they added tater tots to their menu.



In fact, they'd added a lot of things to their menu. They have a Sunday prix fixe that looked good, but we wanted the grilled cheese so we ordered off the lounge menu. We ate tater tots, which were good but a little boring, potato soup with bacon gruyere bread pudding and a fried egg, which was extremely decadent if a little salty, tuna tartare, which was way too salty, and grilled cheese with short rib, which was completely and totally perfect. And there was a fabulous rock/folk band playing in the front of the restaurant (Brian Wright and the Waco Tragedies--you should really go see them play) and everyone was dancing, including the three year old next to us who'd come with his parents just for dessert. And we had our best celebrity sighting of 2010. Landry from Friday Night Lights. If you don't watch the show, you should. But you should tivo it, so you can go get grilled cheese first.
The Foundry on Melrose
7465 Melrose Ave.
Los Angeles, CA 90046
Phone: (323) 651-0915
Maia Harari is a writer and choreographer, born and raised in Los Angeles. You can follow her on twitter at www.twitter.com/maiacalypso