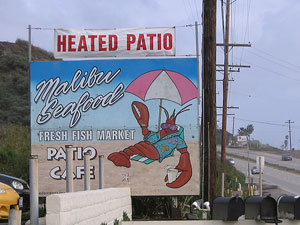 My mother used to tell me she would drive to Malibu several times a week. She wouldn't stop there, just drive there and back. To relax…to write in her head...to figure things out. She doesn't do it anymore, because of the price of gas, it's wasteful...but every once in awhile I'll wake up early and do the drive myself...watching the coastline as I speed by...I'd pay more for a movie...
When my parents first split up they weren't exactly on the best of terms. My time was divided. I spent way more of it with my Mom, and distinct brackets with my dad. My Mom and I had an easier time hanging out, satisfied with doing nothing. One Wednesday, in the middle of the day, she drove me along the coast. 'Where are we going,' I thought to myself, but I didn't dare ask, for one because she wouldn't have told me if I had, but also because she probably didn't know herself. She stopped at one point and we got out of the car. She disappeared up a small trail you would barely notice, and I followed her up the mountain.
Our hike was brief, but relaxed us nonetheless. And all of a sudden we both knew where we were going. Everyone in our family calls it 'The Fish Market,' but the name on the sign reads "Malibu Seafood." The name that sits next to the cartoonish red lobster that waves at you when you drive by, or waves at you to come in. We parked and walked up the gravel driveway. There was a particularly long line for late afternoon on a Wednesday. Despite how crowded it can get it always feels like our little secret. Everyone in the family gets the same thing: fried fish sandwich and a Juice Squeeze.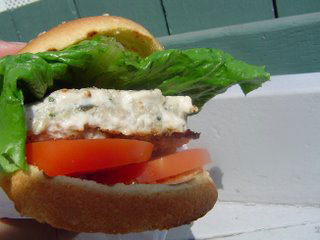 I get it without cheese, since I like the flavor better without. I've tried everything on the menu (all at one time actually because AAA Magazine did a piece on my Mom and she chose them as the location for the photoshoot. That day they brought us one of everything) and we all still go back to that sandwich. I honestly don't even like white fish, and when I was little barely liked fish at all, but the fried fish sandwich is in its own category. It's so good that I was not really pleased with the idea of waiting in a long line for it. But just at the moment that we opened the screen door, we noticed at the front of the line none other than my Dad and my little brother.
My little brother and I looked at each other quickly and I knew we were both thinking: how funny it was that our parents had the exact same craving to drive all the way out there in the middle of the day and how awkward might it be for them to run into each other since it had been over a year since we'd all hung out...my Mother said, without missing a beat "Oh great, free lunch!" And she skipped to the front of the line and added 2 more fried fish sandwiches to my Dad's order.
Malibu Seafood
25653 Pacific Coast Hwy
Malibu, CA 90265-4550
(310) 456-3430