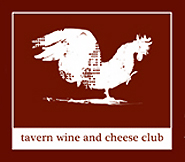 As a devoteé of all things wine, I am on the constant lookout for events that allow me to expand my palate without hurting my pocketbook. It's rare to find me at large "Grand Tastings" because I find it difficult even with pouring/spitting to get my $50-$100 worth and still be able to function or remember what I drank. Living in Los Angeles, "bang for the buck" wine-centered evenings are few and far between so when I heard about the Tavern's bi-weekly Wine and Cheese Club, I made a reservation immediately. The Larder, where the tasting takes place, is the casual cafe attached to Tavern, which is Suzanne Goin's latest restaurant venture. Even though I've never been to her reknowned wine bar A.O.C. – it's horrifying I know, I'll get there, I promise – I knew this was going to be good. It's what she does. Plus, four wines paired with cheese and nibbles for $29? There's nothing wrong with that equation. Except the drive, which thankfully for us was against traffic.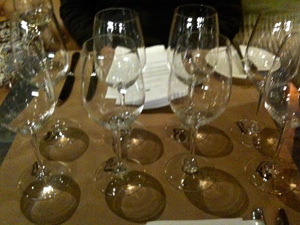 The evening is very casual, though there is some "education" about the wine region being featured, the backstory behind each wine and why it was selected, as well as what they hoped to accomplish with each pairing. It was probably 5 minutes of information before each course, leaving you plenty of time to socialize with your dining companions while savoring the pairings. Questions are encouraged, but not necessary to the enjoyment of the evening.
Since 90% of what I drink at home is California wine, I try to explore other regions when I venture out. Thus, a night of wines from Provence. While I'm a big fan of the Rhone Valley, just up the road from this region, I haven't had a lot of experience tasting Provençal vino, except for the occasional rosé. I was happy to find the pours to be quite substantial (at least 3-4oz), which gave the geeks like me plenty of time to swirl and take notes. I loved that they provided not only a menu of the evenings pairings, but a little booklet which described each wine and cheese and gave ample room to add your own musings. A classy, thoughtful touch and something that I greatly appreciated. I apologize in advance for the quality of some of the pics. I took them with my iPhone. So here's what we had:

Tome de Bordeaux with baguette & Hazelnuts
with 2008 Domaine Gavoty Cuvée Clarenden

Mussels & Clams with Aioli Toast
with 2009 Domaine Gavoty Tradition Rosé

Lamb Meatballs with Feta, Currants & Pinenuts
with 2008 Mas de Gourgonnier

Romao al Romero with Black Olive & Marconas
with 2007 Domaine du Dragon
Cuvée St. Michel
All in all, it was a delightful evening, that definitely delivered a touch of Provence to a cold winter night. The pairings were spot on, adding dimension to the wines – none of which blew me away, but all well-crafted and enjoyable examples of what the region has to offer. The wines and cheeses were also available for purchase after the event. With plenty of snobbery in the wine world, this was a fun and unpretentious way to learn. Now if only they would post their upcoming schedule on their website, so I could plan where I want to "visit" next.
Every first and third Monday of the month from 7–8:30pm. Call the restaurant for reservations and schedule. (310) 806-6464.

Tavern, 11648 San Vincente Blvd., Los Angeles
Lisa Dinsmore is a writer, web programmer, movie and wine lover. She currently runs two review websites to share her passions: www.crazy4cinema.com and www.dailywinedispatch.com. She is also the Managing Editor of One for the Table.