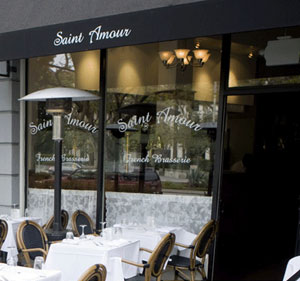 Is there an uptick in the number of French restaurants in Los Angeles? I certainly hope so. French food = comfort food. At least in the case of Le Saint Amour in Culver City. I haven't kept track, and I don't really know actual figures but it seems to me that there are more and more French restaurants opening in Los Angeles. And that's a good thing. We've been so Italian for so long that I'm ready for the return of France. The best recent example of this was my weekend visit to the very French Le Saint Amour, a Culver City restaurant that has been open for a year and a half.
But before I go there, a bit more on French restaurants in Los Angeles, (San Francisco and New York too). I just checked on Open Table and seventy-four French restaurants came up in a search for Los Angeles and Orange counties. A quick cursory glance and I'd remove a number of them because they're not truly French. A secondary search of West Hollywood/Beverly Hills/Mid-Wilshire and the Westside gave me thirty-five results. For those same neighborhoods seventy-three results pop up for Italian.
Not scientific in the least. The reason I say there seem to be more French places: Le Saint Amour, Petrossian, Fraîche Culver City (French chef Benjamin Bailly), RESTAURANT at the Sunset Marquis (French chef Guillaume Burlion), Church & State, Comme Ça, Bistro LQ (French chef Laurent Quenioux), RH at the Andaz (French chef Pierre Gomes), to name a few and not naming the many that have French influenced menus, or American chefs that lean towards cooking French food. And then there's Ludo! French chef Ludovic Lefebvre who cooks French in a way no one has before at his pop up restaurants, Ludo Bites. Café Stella is my favorite neighborhood bistro. Sitting on the outdoor patio feels like being on a back street of Paris.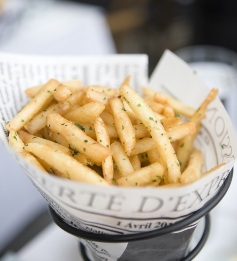 San Francisco has always been more equitable when it comes to French versus Italian, or maybe it's just their natural hybridization of French food — it simply appears as part of the menu on so many Bay Area restaurants. They naturally cook French. They operate their restaurants in the French brasserie/bistro/café way. I'm not sure if Zuni still does it but in my Zuni eating days ('80s to '90s) they had an oyster station outside on Market Street, complete with shucker and all. So very Parisian. New York is the most welcoming to French food and French chefs. Mostly, I'd venture to say, due to its size and numbers: a huge city, millions of mouths to feed. All cuisines get good coverage there. I've always felt that Los Angeles was slighted when it came to French restaurants. They're here, they exist but not in the ways they do in San Francisco and New York.
Over this past weekend Robert and I were returning from a great day with food blogger friend Sean Sullivan (of Spectacularly Delicious)* who was in town from New York. We'd dropped Sean off at his hotel, and were on the 10 Freeway going home and desperately needed gas. Off at Robertson Boulevard and suddenly we were in Culver City. Hunger. Parked and walked along Culver Boulevard. I wanted to find Le Saint Amour as I'd heard about it. We popped in around six forty-five and a kindly French woman promptly sat us. I assume this was Madame Herve-Commereuc. The place felt so French. Café. Bistro. Brass, lace curtains, French café chairs, art deco advertising posters on the wall. The very French waiter sealed the deal. Heavy French accent, no name (thank God), available not intrusive. I knew I was in a French restaurant when I ordered my Steak Frites and he simply said "medium-rare?" as if there was simply no other option. The food was quite good, straight forward, traditional French café/bistro fare. It was just what I wanted.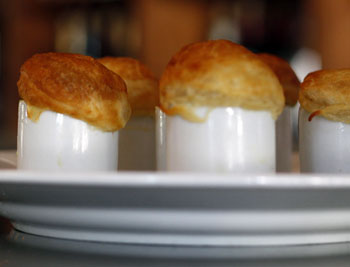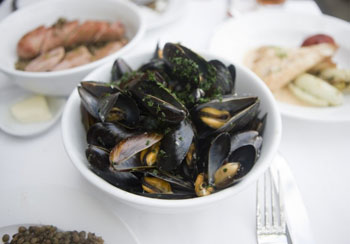 Owned by Florence and Bruno Herve-Commereuc they recently hired chef Walter Manzke to revamp the menu. Chef Manzke introduced a Plats du Jour menu, a different special each night of the week. These are truly French dishes. The night we were in it was Bouillabaisse. Other current dishes include Choux Farci, Bourride Provenςale, and Filet Mignon Bordelaise. Monsieur Herve-Commereuc is a master charcutier and makes house-made charcuterie, and terrines. Oysters, onion soup, escargots, bone marrow are among the many typical French dishes on the regular menu. If I lived in Paris, this is the kind of neighborhood place that would be a second home. I'd pop in on my way home from work, or for a morning café. I wish it was in my Atwater Village neighborhood so I could.
Now then: All you Los Angeles-based French chefs, put the word out to your French brethren to hie their way across the Pond, and our vast continent to our sunny Southern California shores. We need more French restaurants in Los Angeles. And for the rest of you Angeleno readers: Are there more French restaurants opening in Los Angeles?
Le Saint Amour
9725 Culver Blvd.
Culver City, CA 90232
(310) 842-8155
Charles G. Thompson is a Los Angeles-based freelance food writer, whose reviews and stories can be found at his blog 100 Miles, an exploration of local sustainibility.