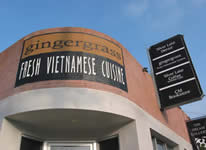 have to do before anything else. Knowing of close-to-home restaurants is of paramount importance to me. Luckily, there's a plethora of places in my Atwater Village-Silver Lake neighborhood to choose from. Gingergrass is one. I know that I can drive over and if it's early enough, get a table and have food in front of me within forty minutes. If it's later and the place is full, I can call an order in and pick it up. There's value in both of these.
The sign in front of Gingergrass, and the menu itself, has these words: "Fresh Vietnamese Cuisine," and in my experience this is absolutely true. I've been eating at Gingergrass for years now and have never had a bad meal. The food always tastes fresh and clean. The dishes are full of interesting, bright flavors. The menu is varied enough to never get boring. Executive Chef Mikel Mark Kim knows his way around a Vietnamese menu while also using local, sustainable, organic, and free-range ingredients: very good things that up the quality and flavor of his food.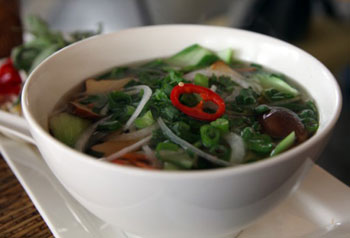 Some favorite dishes include: Bò Saté, Pork Chops, "Gingergrass" Fresh Rolls, Shaking Beef, Coconut Curry Cod, and the Basil-Lime Elixir. I also check the huge chalkboard that lists daily specials, as well as wine and beer, and desserts. I'm not a big phó eater but I see a lot of people eating it whenever I go. The crowds that are always there are a testament to the very affordable prices. Gingergrass keeps amazing hours too: they're open seven days a week for lunch and dinner, and Thursdays through Saturdays they stay open until 11 p.m. (that's late for most any Los Angeles neighborhood).
Gingergrass is a true neighborhood gem, a place I can happily rely on to feed me quick — or slow — depending on my needs.
Gingergrass we love you!
P.S. ~ I just noticed that Jonathan Gold of the L.A. Weekly named Gingergrass as one of "99 Essential Restaurants" which I was unaware of. Very nice! I'll be keeping my eyes peeled for him next time I go in.
Gingergrass, 2369 Glendale Blvd., Los Angeles, CA, 90039, 323-644-1600, http://www.gingergrass.com
Charles G. Thompson is a Los Angeles-based freelance food writer, whose reviews and stories can be found at his blog 100 Miles, an exploration of local sustainibility.