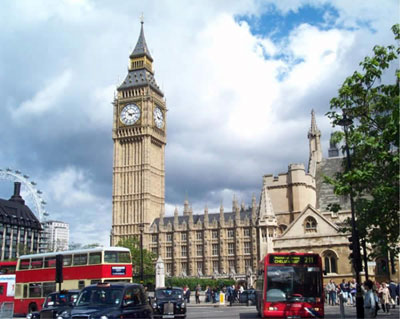 In our effort to downsize but continue to have fun, we scrambled together all our frequent flyer miles and managed to put together two return flights to London and Italy. Then, by making a small investment on a home exchange site, we found a young woman in Prato (twenty minutes from Florence), willing to do a non-simultaneous exchange with our desert house in Joshua Tree.
Our first stop was London, where a kind friend loaned us her house. Although I grew up in London I have not lived there in over 30 years. The minute I walked off the plane, I was surprised by the intense 80-degree heat, a byproduct of global warming, and something I had never encountered in my childhood, where you were lucky if it reached the mid 70's in the summer. After struggling with the new monetary denominations and a new subway system, I began to feel like a stranger in my hometown,
Yet, one area that has vastly improved since I lived in London is the food. But like everything else, it is very expensive. Fortunately, another ex-Brit friend had recently visited London and her sage advice was that bargains could be had at posh restaurants if you went at lunch, rather than dinner. Following her recommendation, backed up by "Time out" – still the best magazine to tell you what is going on in London – I made reservations at Gauthier, a French restaurant in Soho.
Since my husband, Jim, had grown weary of the stuffy undergrounds, and wanted to see a bit of London, we decided to take the 123 bus from Ladbroke Grove, which promised to deliver us right into Soho. Surely there is no pleasanter way to see London then from the top of a double decker bus? Wrong. After an hour spent crawling up Oxford Street, I realized we were never going to make our luncheon appointment unless we took a cab. But once inside the cab, I discovered we were hardly any better off. As our luncheon appointment came and went, and the taximeter kept adding pounds, I desperately tried to call the restaurant but due to an inability to fathom the ever-mysterious London calling codes, I failed to get through. Now I began to panic, we were wasting money on a cab, yet we had missed our reservation, and if we ever did get the restaurant we would probably be turned away. Just as I had given up all hope, my phone rang and it was the dulcet-toned, French-accented maitre d' from Gauthier, calling to inquire whether we would be keeping our reservation. "Oh yes" I sobbed in relief.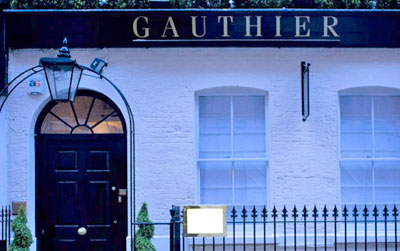 Soon, we were standing outside a small black house, in front of shiny a black door with name, "Gauthier", elegantly printed on a golden plaque. We rang the door bell, and were greeted like long lost relatives "Ah, at last you have arrived!" Cried the friendly, diminutive maitre d', and were ushered upstairs to a small, pristine dining room with tables covered in white tablecloths. There were a smattering of patrons - after all it was past two - and the lunch rush was over. Soon we were being offered a mouth-watering prix fixe menu at a very reasonable price: two courses for eighteen pounds and three courses for twenty-five pounds.
I chose with the cold broad bean pea soup with ricotta and truffle and Jim went the mousserrons mushroom risotto. While we waited, we were served a panoply of tasty little breads and an amuse-guele of chickpeas fries, humus and little tomatoes filled with olive tapenade. All extremely tasty. My soup was a poem; a velvety pea green puree, punctuated with dollops of creamy ricotta and topped with shavings of earthy woody, truffle. (I am always so grateful when someone else, other than me, does the hard work of preparing broad beans) A taste of my husband's creamy risotto proved equally satisfying.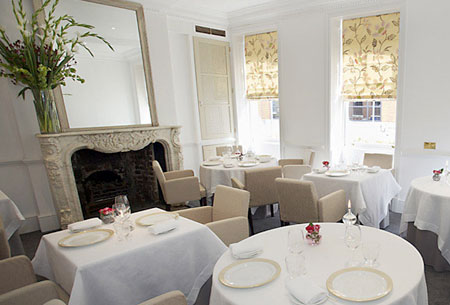 I decided to throw caution to the wind and ordered a glass of white wine, which proved to be a delicious Italian wine from the Veneto with a fragrant floral bouquet, even Jim who doesn't like wine took a sip and pronounced it "tasty". Then came what the menu dubbed our Plats de Resistance, our main courses. I had ordered, poached sea trout and my husband ordered roast quail. The trout arrived – a pretty pink – and precisely cooked: not over, or underdone. Just melt in your mouth perfect. The delicate dill sauce brought out the fresh flavor without overwhelming it. But I have to confess that Jim's dish may have beaten mine – only by a smidge. The Quail had been stuffed and then cut into bite size pieces (saving you the tedious task of cutting through all those little bones) leaving only the legs intact. It was accompanied by slivers of zucchini and mushrooms lightly sautéed. The combination was outstanding and after a brief discussion, we decided, despite the vulgarity, the only efficient way to eat the quail legs was by using one's fingers. And I am glad we did, as anything else would've been wasteful.
As we waited for our final course, we were presented with a refreshing Sangria gratine with a fig puree. The desert continued the high standard that we were learning to expect at this magical spot. Jim, ever the choc-aholic, had been seduced by the 'Golden Louis XV dark chocolate and praline', which turned out to be a small chocolate pie with a praline crust, filled with chocolate ganache and covered in a dark chocolate glaze and topped with a scribble of gold. The combination of chocolates and nutty crunch was sublime. I went for the apricot and almond tart with a lemon thyme sauce. The tart part was two little cookies each topped with half an apricot and the sauce turned out to be a lemon thyme sorbet. And to top it off the bill arrived with a plate of exquisite petit fours, truffles and elderflower marshmallows. Despite being quite stuffed we manage to make room.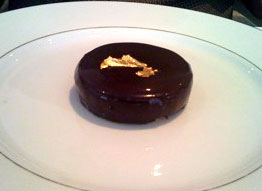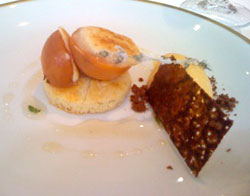 After Jim received the receipt of the bill, realized that they had only charged us for a two-course meal, instead of the three-course meal we had ordered. What to do? He felt since it was their mistake, we should ignore it. But I was torn, while we could certainly use the extra money for other culinary adventures, the meal had been so utterly perfect; it seemed like bad Karma. After a brief debate we decided to call over the Maitre d' and explain the situation. He seemed almost embarrassed. Maybe our young waiter had made a mistake? He suggested. "Would we like a coffee or a cup of tea?" While they tried to sort things out? Of course we would. After he left, Jim worried that we had gotten our waiter into trouble, which would lend credence to that old adage. No good deed goes unpunished. Moments later the maitre d' was back with the good news –for us – the computer had been closed and they were unable to put in the extra amount, "Please enjoy your cups of tea, complimentary of course." So now we were making out like bandits, two free courses and two cups of tea. Jim voiced his concern about our waiter and the Maitre d' assured us "Of course not, we are like family here" And we hoped he was telling the truth.
Graciously they led us back down the stairs, out into the sweltering Soho streets, entreating us to 'Visit again soon!" Unfortunately we won't be able to, but if you are ever in London please don't give up a chance to visit this little piece of gastronomic heaven.
GAUTHIER SOHO
21 Romilly Street
London, W1D 5Af
Phone: 0207.494.3111