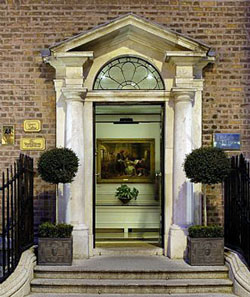 With St. Patrick's Day around the corner, I'm reminded of a spontaneous weekend trip to Ireland last December, where I discovered the warm comfort of authentic Irish cooking.

I'm always watching for weekend getaways to new and interesting places, partly because it's hard for me to be away from home for much longer than that, but more likely due to my slightly obsessive need to accrue airline miles. (I'm saving up for that big free trip around the world). After hours of scouring travel websites and, with a little luck of the Irish, I happened upon a great fare to Dublin on American Airlines and quickly booked the trip.

I arrived on a bitterly cold yet unusually sunny Friday, and headed off to the Merrion Hotel, which had been recommended, indirectly, by ale heir Sebastian Guinness. Although tired after the 14 hour journey from Los Angeles, I resisted the impulse to nap, and instead responded to my pangs of hunger, which were exacerbated by the enticing aroma of freshly baked soda bread wafting throughout the hotel.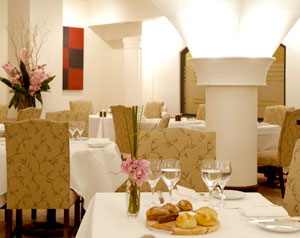 With her Irish eyes smiling, the concierge suggested the hotel's Cellar Restaurant which is known for its dedication "to people who want comfort, atmosphere, superb service, reasonable prices, and most of all, good, simple pleasure." It was here that I discovered the gastronomic magic of Colcannon.

This ancient Irish side dish, still extremely popular today, is made mainly of potato, cabbage or curly kale, and butter, lots of butter. It is the accompaniment of choice for any number of meat, poultry and game dishes, and I enjoyed mine with a new twist on Lamb Stew. The executive chef, Ed Cooney, was kind enough to share the recipe for his interpretation of this Irish classic, which is served with Colcannon on the side.

Though the ingredients in Colcannon are few, there are rarely two recipes that are just alike. I'll share my version, which I'm planning to make this St. Patrick's Day, and no doubt the first bite will transport me back to that chilly but heartwarming weekend adventure to the Emerald Isle. Erin Go Bragh!

Organic Loin of Kerry Mountain Lamb with Spring Cabbage, Leek, Carrots and Limerick Ham and Tarragon Sauce
(Courtesy of the Merrion Hotel)

Ingredients:

1 boneless organic lamb loin, (about 2 pounds)
1/4 Savoy Cabbage, finely sliced (reserve remaining cabbage for Colcannon)
1 leek, cleaned and finely chopped
2 carrots, peeled and finely sliced
2 strips thick slab bacon or Irish Ham, cut and cooked into lardons
1 sprig tarragon, leaves chopped
1/2 cup lamb stock, veal stock, or reduced chicken stock
2 tablespoons unsalted butter
1 sprig thyme
1 clove garlic


Method:
1. Trim Lamb Loin of all sinew and cut into 4 portions. Sear in a hot skillet with some vegetable oil, garlic and thyme until golden brown. Cook in a medium oven for 8 minutes until medium rare (140-150 degrees); set aside to rest.

2. Melt butter in a pan add the cabbage and carrots and cook gently (without browning); when the carrots are nearing cooked, add the leeks cook for another few minutes then add the bacon lardons.

3. When the mixture is cooked, drain off excess liquid, arrange the stew mix in a ring in the centre of the plate. Heat the stock and add the chopped tarragon and allow to infuse for one minute.

Assembly:

Carve the lamb into 5 slices and place on top of the stew mix in the centre of the plate, pour sauce around plate. Serve with Colcannon (recipe follows)


Colcannon (Mashed Potatoes with Cabbage)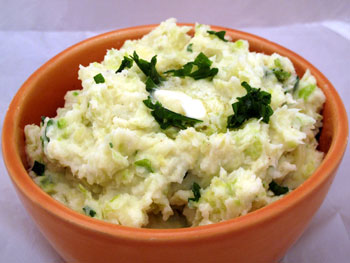 3 pounds Yukon Gold potatoes, peeled and cut into 1-inch chunks
Table salt
12 tablespoons unsalted butter (melted)
1 cup half & half, warmed
Ground black pepper
1 head Savoy cabbage, cored and shredded
2 leeks, cleaned and finely sliced, white and light green parts only
4 tablespoons unsalted butter (to use with cabbage and leeks)
2 scallions, green parts only, chopped

Instructions
1. Place potatoes in large saucepan; add cold water to cover by 1 inch and 1 tablespoon salt. Bring to boil over high heat, then reduce heat to medium and simmer until potatoes break apart when paring knife is inserted, about 18 minutes.

2. Meanwhile, bring 1/2 cup water and 2 tablespoons of the butter to a boil in a large saucepan over medium-high heat. Add cabbage, reduce heat to medium-low, and cook until just tender, about 15 minutes. Drain well, discarding liquid, and set aside.

3. Melt remaining 2 tablespoons of the butter in a medium skillet over medium-high heat. Add leeks and sauté until just softened, about 2 minutes. Add leeks to the cabbage mixture.

4. Combine half & half and butter in small saucepan and keep warm until potatoes are done.

When potatoes are done, turn off burner, drain and return the saucepan to still-hot burner. Using potato masher, mash potatoes until a few small lumps remain. Gently mix in melted butter mixture; using rubber spatula, gently fold in cabbage, leeks and scallion greens until just incorporated. Adjust seasoning with salt and pepper; serve immediately.

James Moore is a producer, publicist and freelance writer. When not traveling the world, he's home in Los Angeles, testing and photographing food to post on his blog Cook Like James