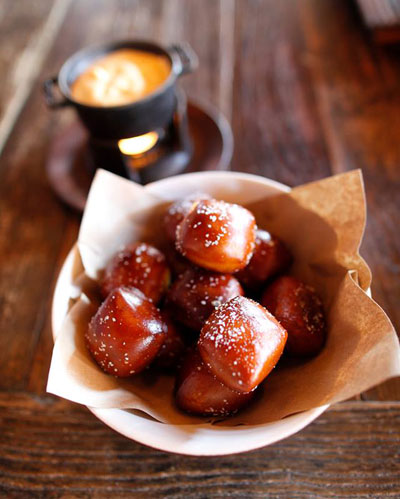 Vegas. While many people find this city to be the adult equivalent of Disneyland - the happiest, most sinful place on Earth - it's not a city I enjoy visiting. Though I have to admit it's changed quite a bit for the better since my first drive across that seemingly endless desert 25 years ago. The fact that it's now one of the best food cities in the world - if you have the money - helps keep my misery at bay. It's also one of the most crowded and widespread places, so driving around isn't really an option for someone trying to escape that particular hell in Los Angeles.
We were in town for a show at the Hard Rock, so eating in the hotel was a must. While they have a decent number of choices, after seeing a picture of the Pretzel Bites & Provolone Fondue from Culinary Dropout, I knew where we would be doing our pre-show dining. I can't resist carbs and cheese. Why would anybody want to? While that appetizer lured me in, I also saw a pic of their Fried Chicken with Honey Biscuit and Mashed Potatoes. That sealed the deal.
I've never actually been to the South and had an "authentic" version of this dish, but I still crave it nonetheless. Comfort food just makes you feel good. And happy. And full. My mouth was drooling in anticipation. With the distance between everything in the hotel - with the obligatory route from your room forcing you through the casino in the most annoying way possible - I was sure to burn off enough calories walking to the restaurant to truly enjoy myself.
Helmed by 5-time James Beard Foundation semi-finalist for Outstanding Restauranteur, owner Sam Fox runs 28 restaurants in five states. That's a lot of seats to fill. There are two other versions of this gastro-pub "chain" in the Phoenix area, so clearly he must be doing something right.
I had wanted to try the 36-hour Ribs as well, but when I caught sight of the actual size of my first two choices, I knew even starving, my husband and I would not be able to eat everything. Something to look forward to for next time. We've already decided that we'll be staying at the Hard Rock from now on whenever we come to Vegas - it's smaller and less-crowded than the other hotels and they play awesome music throughout the casino. It's a little much at 9am when you're desperate for coffee, but otherwise it makes for a super cool vibe.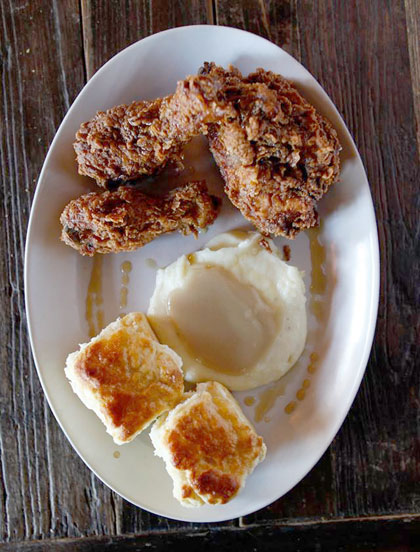 We were at the restaurant with a very large group, but the service was quick and friendly and the staff was amazingly helpful and accommodating. There's nothing very inventive about the Pretzel Bite Fondue, but man, it was soooo satisfying. They were perfectly soft, yet chewy with just the right amount of salt. Add cheese and you're in gastro pub heaven. Everyone ordered them and they disappeared in a flash. They were just what you expect of bar food.
The Fried Chicken was equally as good. Crunchy and super juicy with just the right amount of salt and spice. The plate comes with 3 giant pieces with fluffy, but unmemorable mash. The biscuit on the other hand was lovely. Fluffy with just a hint of honey. I thank God there was only one, I would eaten a whole basket. Usually I slather my biscuits with butter but this didn't need a thing. Plus I didn't need to eat any more calories.
The big surprise of our meal was the Kale & Sweet Potato Salad with Pears, Goat Cheese and Pecans. I was looking for something to combat all the over-indulgence and it certainly hit the spot. Fresh and lively with great texture and flavors that really complemented each other, especially if you got a bit of everything on he fork. Kale salads have become de rigeur these days however, this one was a stand out from the usual crowd.
The beer lists was both interesting and extensive - it made me wish I still drank beer - however, the wine list was sorely lacking. I'm not surprised. People don't come to Vegas to drink wine and if they do they are usually looking for trophy bottles to impress their friends or clients. Bang for the Buck is not a consideration in this town. They may have had a larger list, and probably do at their other locations, but I didn't have the time or inclination to ask.
I'm not sure I would make a special trip from whatever casino you're staying in to visit this restaurant unless you really have a hankering for some kick-ass chicken; however, if you're staying at the Hard Rock and need a place for some comforting food to offset all the booze this is place you want to go.
Hard Rock Hotel & Casino
4455 Paradise Road
Las Vegas, NV 89169