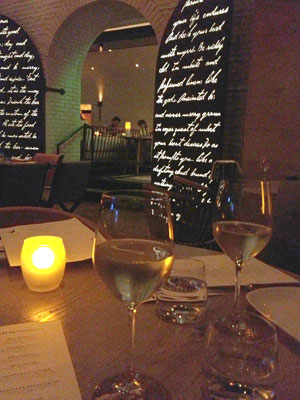 So, I found myself in Vegas again and this time I was determined to find a hang out spot to call my own. As a devoted oenophile this was going to be a challenge. You'd think it would be easy to find a restaurant / bar with an interesting and somewhat affordable wine list in such a high-profile, food-centric city, but you'd be dead wrong. Outside of the steak houses and top chef restaurants that don't list prices on their menus - so clearly I can't afford to drink or eat there - a decent glass of wine is hard to come by in Sin City. I'm sure it's mostly because the bulk of the visitors aren't in town for the ambiance and relaxation. They are here to do things they aren't supposed to talk about when they get home, which is why cocktails are king here. If you're going to pony up more than $12 a drink - and you're going to imbibe a lot - you need to make them count.
Since I don't gamble - not one red cent - I prefer to entertain my palate. Before this trip the Double Helix Wine & Whiskey Bar in the Venetian was my haunt of choice, but since we were seeing a show at the MGM Grand and all of our friends were staying there, it was just way too far to visit. Then I remembered Crush. I made note of it when looking for cool new places to eat last time we were in town and - score! - it was located at the MGM. Granted there is no Wine List posted online (a real pet peeve and a bit ridiculous considering the name of the place), but the menu looked good and was reasonably priced (for Vegas), so I was excited to give it a shot.
I loved it the minute we walked through the door. It was perfectly dim, spacious, comfortable and classy. The ambiance made you feel like you were dining al fresco on the patio of a fancy Italian countryside winery, yet didn't feel over-dressed or snooty. Sort of airy, green and lush even though you're indoors. An oasis in the constant driving noise and pomposity located just outside. The music was vibrant and fun but you didn't have to scream at your companions to be heard.
We were immediately welcomed by our serving team who kept the wine and water flowing at the perfect pace all night. We were thirsty and hungry, but meeting friends, so we started slow, as we wanted to wait for them. Our waitress was happy to oblige and even let us taste our first wine to see if it was to our liking. It's rare to find a Gruner Veltliner by the glass. Points for that. More points for the very generous pour. The evening was starting very well.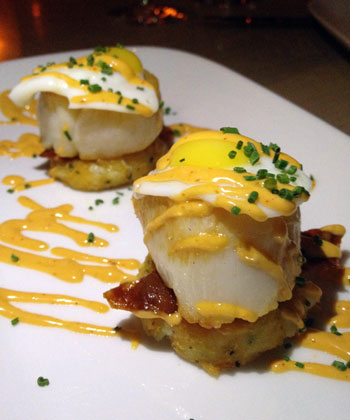 As time ticked on we ordered a few smaller plates to tide us over. It was already quite late for us to be eating dinner (after 9pm), but it was Vegas after all, so we decided to skip the wood-fired pizza and snack on some lighter fare. I know everyone is pretty sick of kale salads, but frankly, they are usually the most interesting ones on the menu and this was no exception. The Crush version came with Crispy Artichokes, Ricotta Salata and a Warm Mushroom Balsamic Vinaigrette, hitting just the right earthy, crunchy, salty, tart balance.
Seafood and I aren't usually dining companions, but I just couldn't resist the Sea Scallop Benny, a play on one of my favorite breakfast dishes. The scallop was served on a little potato pancake with a layer of chorizo in between, a perfectly cooked sunny-side up quail egg on top and surrounded by a swath of chipotle hollandaise. It was almost too cute to eat and as delicious as it sounds, just decadent and spicy enough with the smooth scallop mitigating the heat.
As the night wore on we were beginning to worry about our friends whereabouts - time knows no bounds in Vegas - so we just kept on eating and drinking, quietly joking that our server probably thought we made our friends up so we wouldn't appear sad and lonely as the lone couple amidst all the other larger groups. We moved on to a glass of red - one of our favorite inexpensive CA syrahs from Qupe which was only served by the glass, which was fine by us. We were in the mood to switch it up since they had such interesting choices.
With no word from our friends, we were still hungry and decided to move further down the menu. Perhaps they were eating elsewhere or got stuck in traffic on the Strip…we were having fun and they'd either make it or not. There were two items that I just had to have when I checked them out online. The dishes that caught my eye were the Ricotta Gnocchi with Braised Short-Rib over Pea Puree and the Lamb Meatballs with Lemon Yogurt and Pistachio Chimichurri. Both totally hit our sweet spot, though I would have liked a smidge more sauce on both dishes. The husband bogarted more than his fair share. We just can't resist short rib or meatballs, which is why we're probably still happily married.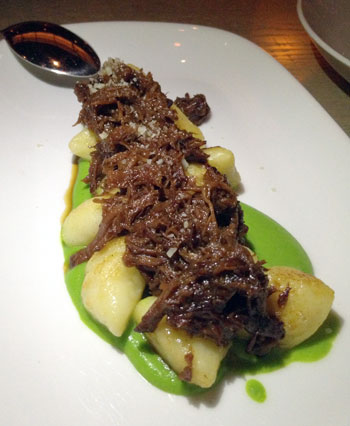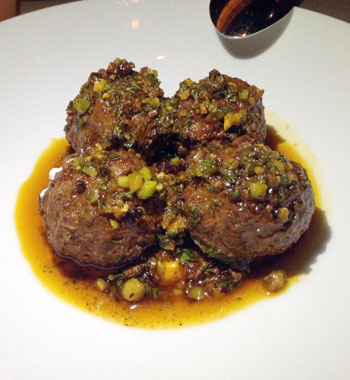 With the kitchen about to close, we shot our friends one more text. Success! They were on their way! Our server was relieved as well and quickly hooked them up with drinks and food. Despite their late arrival, we were never rushed allowed to enjoy each other's company, which is why we didn't even notice that we were the last table still in the place. Kudos to the staff for making us so comfortable, though we did feel a bit guilty the next day. More points to them.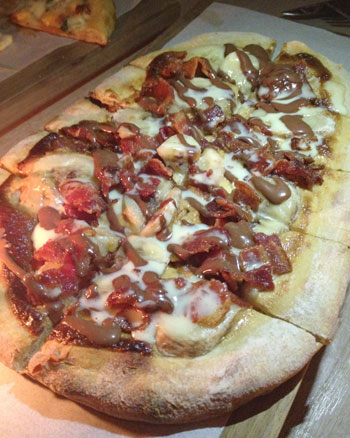 However the best moment of the night was when they brought out a birthday dessert - with a candle on it - for our friend. Our servers must have overheard us talking about it and they just took it upon themselves to deliver her a special treat. How great is that? Talk about amazing service. This would never happen in LA. And the actual dessert, called the Sweet Elvis, just has to be eaten to be believed. A play on The King's favorite peanut butter and banana sandwich with the addition of drizzled chocolate and crispy bacon bits, this dessert flatbread could have easily gone off the rails, but it's over-the-top, culinary genius.
The birthday girl loved it so much we returned the following night for dinner after the show. She just had to have it again. It was so late I was going to resist. I thought it couldn't be as good as I remembered. We HAD been drinking… I mean it's not exactly pretty to look at - and it really shouldn't work - but once you take a bite you will understand and never forget it. Clearly the King was on to something.
There are assuredly more innovative, high profile restaurants in Vegas if you want to indulge in more "foodie" fare, however, Crush's modern twists on traditional fare is more than good enough for me. Chef William DeMarco knows just where to push the culinary envelope and the portion sizes are spot on as well. Their Wine List is filled with thoughtful choices to please every palate at prices that won't make you gasp with horror. It could be a bit deeper, but even dedicated wine lovers will find a bottle or glass to love. Great ambiance and wonderful staff round out the experience. Yep, I have definitely found my Vegas home.
MGM Grand Hotel & Casino
3799 Las Vegas Boulevard South
Las Vegas, Nevada 89109