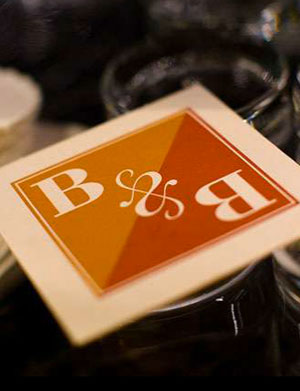 Vegas. Why'd it have to be Vegas? I happily avoided going there for about 8 years. No real point since I don't gamble. Might as well just burn your money, since you're not going to win. What else is there to do there that I can't in LA - another entertainment-rich, overcrowded, traffic-filled city? I wasn't getting out of the trip, so I decided to make the most of it…for me. And that was to eat the best meal possible on our only free night. If our other friends wanted to come along cool, but this one was for me.
Their are innumerable choices with the high-end filled with the fancy outposts of many, many world-renowned celebrity chefs. I just had to decide which one. Being a big Top Chef fan I wanted to eat at Tom Colicchio's place, but there are no prices on the menu, so that was immediately out. Big pet peeve of mine, intentional by them I've no doubt. Emeril's menus didn't overly excite me. Wolfgang I can get in LA if I want, along with Piero Selvaggio's Valentino. Not enough of a seafood fan to drop the coin at Rick Moonen's RM Seafood, though I was tempted. Perhaps he could change my mind about fish. Another time, though.
There was only one place that it could be. One by Mario. I've watched him on TV and read so much about his food over the years, that I just had to see what all the fuss was about. Of course, I've eaten at the various Mozza incarnations, and they are divine, but I think that has more to do with Nancy Silverton than Batali and Bastianich. So I booked a table at B and B Ristorante, which is said to be very similar to the food served at Babbo in NY, to see what the Bs actually brought to the table.
I'm a wine list reader and their's - all Italian - gave me a lot to ponder. It's impressive and covers the entire country of Italy. It even has some relatively affordable options (for Vegas) alongside the trophy Super-Tuscans and Barolos. The staff knows their stuff so if you're not up to trolling for bargains before your dinner (why I love the Internet) put yourself into their very capable hands. Or put yourself in the bartender's hands. They have plenty of cocktail options including my Venetian fave, the Aperol Spritz.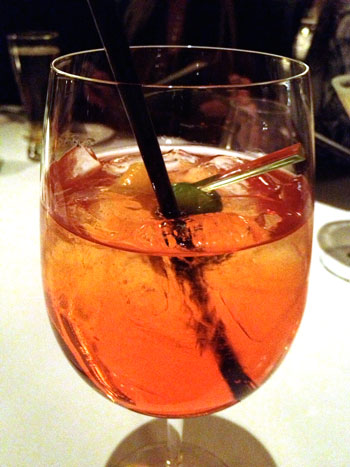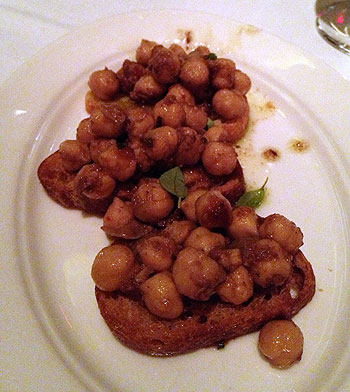 The meal started with an amuse bouche of chickpeas on crostini which was a nice way to wake up the tastebuds. Then the bread arrived. Hearty, chewy, artisan, homemade slices. I had to have one, but didn't want to fill up on simple carbs. Our friends wished it came with EVOO, but I was happy with the butter.
I'm not sure I could have eaten here a few years ago because this is not your usual Italian-American fare. The Antipasti menu runs the gamut from simple field greens and Calamari to more adventurous choices like Crispy Pork Trotter and Warm Lamb's Tongue. We decided to try something a bit out of our comfort zone - Rabbit Confit Crespelle with Rucola and Radishes. Rabbit doesn't show up very often in our dining adventures, but after eating this I wish it would.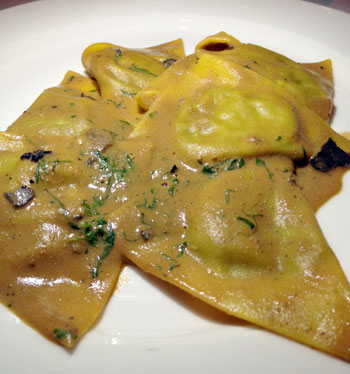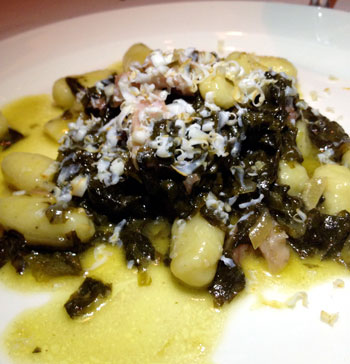 There was only one choice for me for the Primi course. Beef Cheek Ravioli with Black Truffles and Crushed Duck Liver. I cannot resist truffles and this did not disappoint. One of the best pasta dishes I have ever eaten. Earthy and decadent, yet not overly rich. Thankfully I didn't have to share. My husband ordered the Gnocchi special. I can't tell you exactly what was in it because I wasn't really paying attention when the dish was explained, but those little pillows were perfection. As far as pasta is concerned B and B are truly masters. Layers of flavor and delicate textures elevates this simple staple into something more than the sum of its parts.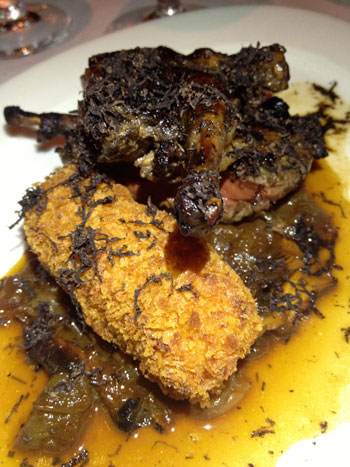 Since I don't cook seafood at home, the Man ordered the Monkfish special which he enjoyed but wasn't wowed by. I, on the other hand chose the Squab "al Mattone" with Truffled Crema Fritta and Chanterelle Ragu. I could not have been happier.
I'm on a little bird kick and though they can sometimes be hard to eat with all the bones, they sure do pack a flavor punch. I did not share a single bite of this meal. Cheese. Chanterelles. Crispy bird. Man did it really come together. I had been thinking about this dish since I saw the menu and after eating it, I wish I could have it every day.
I pushed back from the table knowing I made the right choice. It was one of the most completely satisfying meals I had in a long time. It made me actually happy to be in Las Vegas and that's practically a miracle in my book.
B & B RISTORANTE: The Venetian, 3355 Las Vegas Blvd., Las Vegas
Lisa Dinsmore is a writer, web programmer, movie and wine lover. She currently runs two review websites to share her passions: www.crazy4cinema.com and www.dailywinedispatch.com. She is also the Managing Editor of One for the Table.