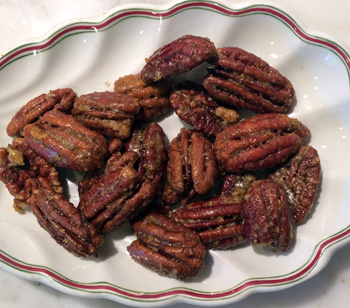 There's lots of good news about these spicy nuts:
1. You can bring them to a party as a hostess gift and they will love them and not really compute how little effort went into making them.
2. You can make them way in advance, as much as two weeks. Just don't do what I have been known to do and forget that you made them two weeks ago and go tearing around on the day of the party making them all over again.
3. Everybody likes them.
4. You can put them on a salad with dried cranberries and feta and everyone will think you are a genius. (Or break them up and put them on top of ginger ice cream—yum.)
Spicy Nuts
(Yield: 2 1/2 cups)
1/4 cup granulated sugar
2 teaspoons curry powder
1 teaspoon ground cumin
1 teaspoon kosher salt
1/4 teaspoon freshly ground black pepper
1/4 teaspoon cayenne pepper
1 egg white
1 10-ounce bag pecan halves
1. Preheat the oven to 250 degrees F. Line a baking sheet with parchment.
2 In a small bowl, combine the sugar, curry powder, cumin, salt and pepper and cayenne. Mix well.
3. Place the egg white in a large bowl and whisk it until foamy. Add the pecans and mix well until they are all coated with egg white. Add the sugar mixture and mix well to coat the pecans with that.
4. Spread the pecans on the baking sheet in a single layer. Bake until the sugar is melted, about 35 minutes. Cool completely on the baking sheet before serving.
Jessica Harper is an actor/author who lives in Los Angeles and New York. Her latest book is "The Crabby Cook Cookbook," and she also blogs at http://www.jessicaharper.com and at http://www.thecrabbycook.com.