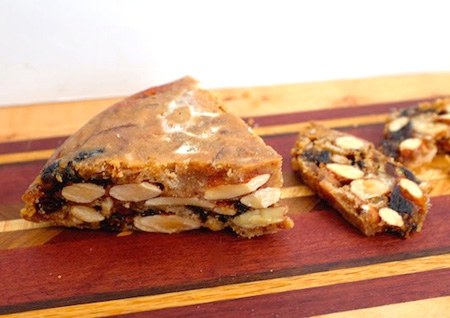 When I worked in a gourmet retail store as a teenager, I got a chance to try many delectable things. I sampled high quality chocolates imported from Europe, pistachios from Iran, Alice Medrich's mammoth truffles, and panforte made by Margaret Fox of Cafe Beaujolais. I'll never forget those heavy round thick loaves, wrapped in dark red or green cellophane. Thin chewy slices served with or tea or alongside cheese seemed so sophisticated. It was definitely the best fruitcake I ever tasted.
My parents made panforte too and last year I realized it would be the perfect thing to make with a surplus of candied lemon peel. My recipe uses rice flour instead of wheat flour, which means it is gluten free! If you have nuts in your freezer, and they weren't bought this season, they are probably from last season and now is a good time to finish them off.
This recipe is very adaptable, you can switch out the cranberries and use dried cherries or berries if you prefer or swap out about 1/4 of candied ginger for some of the citrus peel. I imagine if you wanted to make it vegan you could also use coconut oil instead of butter. It makes a really nice gift, even just a wedge of it.
Cut the loaves with a heavy knife and wrap wedges in parchment paper, and then in colored cellophane if you have it and seal with a sticker. Otherwise fasten the parchment using tape or twine.
Panforte
Makes 1 - 2 loaves
2 cups toasted nuts, preferably almonds and hazelnuts
1 1/3 cups candied citrus peel, preferably homemade lemon
3/4 cup coarsely chopped dried figs, such as Mission or Calimyrna
1/4 cup dried cranberries
1/2 cup sweet rice flour
1/2 teaspoon ground cinnamon
1/2 teaspoon freshly grated nutmeg
1/8 teaspoon ground cloves
1/4 teaspoon ground ginger
2/3 cup sugar
1/4 cup honey
2 Tablespoons unsalted butter
Rice flour for the pan
Preheat the oven to 350 degrees F. Line two 6 inch oven proof pans (I use enameled cast iron ones) or an 8 inch pan you could use a springform pan with parchment paper. Dust the parchment paper with rice flour.
Combine the almonds, hazelnuts, candied peel, figs, rice flour, zest and spices together in a bowl and stir until combined the ingredients are dusted with the rice flour.
Measure the sugar, honey, and butter into a large dutch oven and cook over low heat just until butter melts. Take the dutch oven off the heat and working fairly quickly, add the fruit nut mixture and stir until well combined. Spoon the mixture into the prepared pans, and press until as smooth and even as possible. The easiest way to do this is to place another smaller pot or pan on top of the mixture and press. Dust the top with more rice flour.
Transfer to the oven and bake for 30 minutes, until set. Transfer to a wire rack and let cool completely in the pan. Remove the from the pan, brush the rice flour from the panforte using a pastry brush. To serve slice into thin wedges.
Amy Sherman is a San Francisco–based writer, recipe developer, restaurant reviewer and all around culinary enthusiast. She blogs for Epicurious , Bay Area Bites and Cooking with Amy.