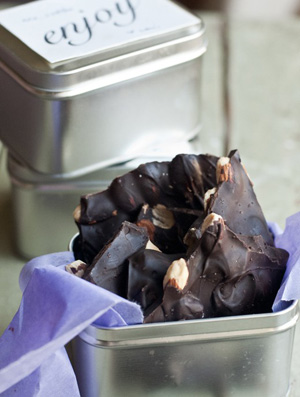 I honestly love this time of year. It's a time to share, give, and do what I love – creating tasty treats for others. Each year I pull out many of my favorite, archived recipes and always manage to add a few new ones that have quickly become family favorites.
Bark is an essential "holiday must have" mainly because it is quick and easy, while being versatile at the same time. The key to good bark is tempering your chocolate. I am fortunate to have this tempering machine, but if you don't have one, follow these instructions for full proof tempering.
Different combos make a good bark. Lately, I like toasted, raw almonds, cocoa nibs, and Celtic sea salt. Another great combo (especially for this time of year) is dried apricots, pistachio nuts, white chocolate chunks. Crushed candy canes are another household favorite. The best way to make bark is on a silpat pad. If you don't have one, use parchment.
Place all of your flavors (nuts, dried fruit, etc) on to your cookie sheet lined with either a silpat or parchment and once chocolate is tempered, pour chocolate over your ingredients.
If dusting with some sort of salt, wait a few minutes for it to set slightly and then sprinkle with your salt of choice. Let set completely before breaking into "bark".
Susan Salzman writes The Urban Baker blog to explore her dedication to good food in the hope of adding beauty to the lives of her family and friends.