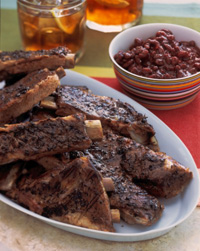 I grew up in the deep south, a small town called Hawkinsville, GA, population 3500. Probably the best thing I have ever eaten in my life is the BBQ we had on special occasions on our farm. I know, you can get BBQ everyday. Yes, I have been to those famous BBQ joints in Memphis and those in North Carolina. Not impressed; it's all about the sauce and good BBQ needs little sauce. My dad employed an old man named Clayton since I was a child until he died a few years ago. Great BBQ is an art, like the glass blowers in Murano, Italy or a small farmer in France making cheese. There is no recipe, just talent and experience.

We have a big "pit" on our farm just for barbecuing a whole hog. Being an animal lover, I would never look at the poor animal but would convince myself he had a good life because I probably petted and kissed him at some point in our acquaintance. Clayton would come over at dusk and set up his camp. He would build a fire, drink some cheap beer and tend to the hog all night. He would baste him, turn him until the sun came up. I could not wait until the meal, always served with old family recipes...baked beans with molasses and bacon, potato salad, cole slaw with a hint of sweetness and pecan pie, made with pecans from our orchard next door.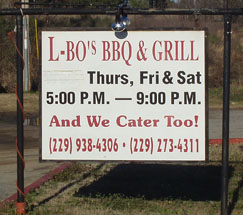 It's very rare that I find a BBQ restaurant that even begins to bring back these memories. I went to a family reunion in North Carolina this past summer. My beloved grandmother has one living sister, Aunt Marion, who is the spitting image of my grandmother. A true southern cook with an infectious laugh! She told me her oldest daughter, Sandra and her husband Lamar had opened a BBQ restaurant in Cordele, GA, 30 minutes from the farm off I-75. It's only open Thurs, Fri, and Sat nights. Good BBQ can not be massed produced everyday, it's got to be more of a hobby. I couldn't wait to talk to cousin Sandra, much less go there.

I went home a few weeks ago, with Sandra and Lamar's restaurant on my list of things to do. It's located in an old bait and tackle store by the lake. Called "L Bo's" (short for Lamar Bowen), I guessed it was an old liquor store as it still has a drive up window. The ribs are put on at 2pm and slow cooked. They fry fresh catfish from the nearby lake and use old family recipes for the sides, including Aunt Marion's famous chicken salad.

I ordered the ribs and pulled pork BBQ plate which comes with 2 sides. I chose the Brunswick stew and potato salad. But wait the small tossed salad with homemade ranch dressing sounded good and I really wanted to try the baked beans and it had been ages since I had any cheese grits. I struggled to decide which two and ended up ordering five as they are only $1.50 a piece . I savored every moment, taking my time and wishing I could eat more. I'm almost embarrassed to say but I managed to find room for dessert, the Chocolate Delight!
I told cousin Sandra that I wanted to place an order to go, but I was too late. It was Saturday night and everyone in the surrounding counties had the same idea. It was all sold out and even though I was family I was out of luck.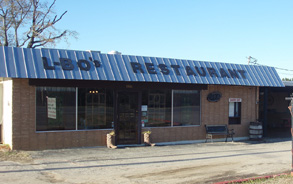 L-Bo's BBQ and Grill
1030 US Highway 280 W
Cordele, GA 31015
(229) 273-4311

Brown Sugar Baked Beans

1 med onion, diced
3 tablespoons prepared yellow mustard
1/3 cup light brown sugar
2 tablespoons maple syrup
4 tablespoons ketchup
1 tablespoon Worcestershire
1/2 pound bacon strips
2 (16 oz) cans Bush's original baked beans

Preheat oven to 350° F.

Mix together first 6 ingredients in a 8x10 casserole dish. Add beans and mix well. Top
with slices of bacon. Bake, covered for 1 hour until not runny.
Cheese Grits
6 cups water
1 teaspoon salt
1 1/4 cups Stone ground grits
1 cup sharp Cheddar cheese
1 cup Monterey Jack cheese
1/2 cup half-and-half
1 tablespoon butter
1/4 teaspoon pepper
Bring 5 cups water and salt to a boil in a medium saucepan over medium-high heat. Gradually whisk in grits; bring to a boil. Reduce heat to medium-low, and simmer, stirring occasionally, 45 minutes or until thickened. Stir in Cheddar cheese and remaining ingredients until cheese is melted and mixture is blended.
Serve immediately.
Potato Salad

4 cups of red potatoes ~Washed, trimmed and cut up if large ~ pour into pot and fill
with water to cover. Add to this:
2 tablespoons of Salt
½ tablespoon of Black Pepper
½ tablespoon of Morton Seasoning Salt
½ tablespoon of Worcestershire Sauce

Boil about 20 minutes or til done, drain well ~ add to this while hot!

½ cup diced Red Pepper
½ cup diced Celery
½ cup Mayonnaise mixed with ½ cup Sour Cream.
You may need more mayo mix as potatoes will soak up the mixture as they cool.

Place into your favorite dish lined with Curley lettuce and garnished with a ring of Red
Pepper and Celery leaves.
Aunt Marion's Chicken Salad
4 cups of grilled chicken, pulled and chopped lightly
1 cup chopped red peppers
1 cup chopped celery
2 boiled eggs, mashed fine
1 medium tart apple, in small chunks
1 1/2 cups Kraft mayonnaise
1 1/2 tsp salt
1 tsp pepper
1 tsp sugar

Stir all ingredients, add more mayo if needed. Serve on a bed of lettuce with
carrots, tomatoes and red peppers on the side with wheat crackers.
Laura grew up in a small southern town in Georgia on a cotton and pecan farm where life centered around family, friends and good food. She has lived in Atlanta for 20 years and has been a Flight Attendant for a major airline for 18 years, traveling the world in search for the next best meal.