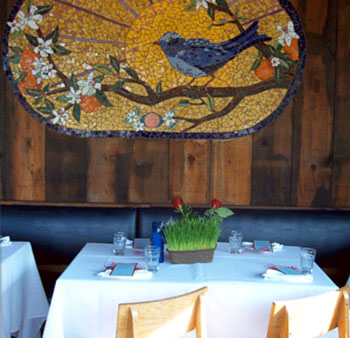 It has been weeks since I ate breakfast at Ria's Bluebird, but the place and the food keep nudging me. If you're in Atlanta, the drive to Ria's is towards downtown, to an industrial area that's being transformed into a happening neighborhood. The huge Oakland Cemetery is across the street from the restaurant, and cars and trucks are zooming down Memorial Drive. There must be a synonym for funky, but right now none comes to mind.
Ria's Bluebird is, funky, hip seemingly old and perfectly au courant. The New York Times called Ria's pancakes "the world's best." As someone with the firm belief that Dupar's in Los Angeles serves the world's best pancakes, Ria's are plenty good enough to share that title, and its menu is deeper and more interesting than Dupar's.
There, I said it. Sorry, Dupar's, but the planet can accommodate two "world's best pancakes" places. Go to Atlanta and see for yourself.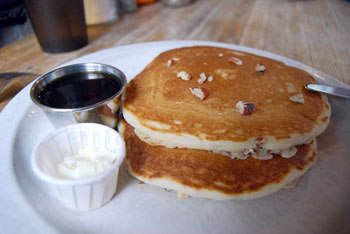 At Ria's selections such as sweet potato pancakes, creamy, peppery grits, chunky apple jam for your toast or biscuits, buttery hot maple syrup, a BBQ Brisket breakfast plate made in the smoker that's in the parking lot, and country-fried tempeh with house gravy make picking only one breakfast difficult.
I haven't ventured towards the tempeh, but I bet it's good, or it wouldn't be on this menu. Ria's got it all going on. There's also a coffee and tea bar with beans and leaves from near and far and a nice, comfortable vibe with a roadhouse or diner feel. Breakfast was good, really good.
It is a quick drive from Ria's to Auburn Avenue, the Martin Luther King Center and the Ebenezer Baptist Church. You can go from a syrupy high to a sad remembering of how things were and how far we still have to go. It makes for a good day's outing for the stomach and the soul.
Ria's Bluebird
421 Memorial Drive SE
Atlanta, GA
(404) 521-3737