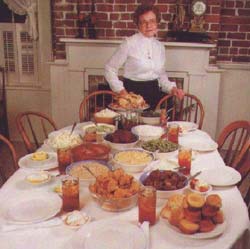 Just as you would seek out a noodle shop in Tokyo, Japan, or enjoy a mole in Oaxaca, Mexico, a trip to Savannah, Georgia has to include at least one meal of classic Southern cooking. And although Lady and Son, Paula Dean's tourist Mecca, gets most of the press, a more authentic experience is down Jones Street.
Mrs. Wilkes has passed away, but her family and staff on Jones Street are carrying on her tradition. You still sit at big round, oak tables with strangers. You still take your own dirty plate, silverware, and glass to the kitchen door, bussing your place at the table. And you still will be treated to the bounty of good, simple, flavorful, southern style food. Although Mrs. Wilkes Boarding House has been renamed Wilkes Dining Room, all the food is still served boarding house style in bowls and platters on the tables. There is no menu. And no one leaves the table hungry.
Here's what was on the table at a recent visit: fried chicken, beef stew, sausage and cabbage, barbecue pork, mashed potatoes, sweet potato puree, creamed corn, green beans, lima beans, baked beans, black eyed peas, bread stuffing, okra and tomatoes, rice, coleslaw, marinated cucumbers, and a root vegetable that was probably turnips but tasted like candy. There were also cornbread muffins and really good biscuits with butter and cane syrup, a local specialty. Dessert is individual servings of banana pudding that our whole table said they couldn't possibly eat, but everyone did.

Mrs. Wilkes is open only for lunch, so go easy on breakfast and show up early. There is always a line of people waiting for a seat at those big, oak tables. You never know who your dining partners will be or what's for lunch. But you can be sure it will be delicious.


Wilkes Dining Room
107 Jones Street
Savannah, GA. 31401
912 232-5997
Open 11AM to 2 PM, Monday thru Friday
Lou Jane Temple is a working chef and author of nine culinary mysteries (St. Martin's and Berkley) and one cookbook (Stewart, Tabori & Chang).