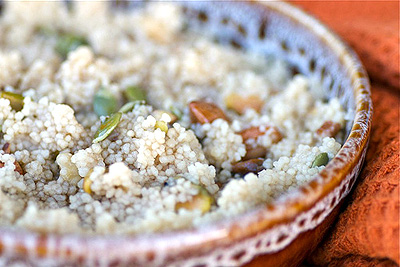 I blame my mom. Growing up eating her hearty Italian pasta dinners has made nearly all other grains seem insubstantial. Rice is good, but you have to eat more of it to get full. Wheatberries are filling, but they take too long to cook. Couscous is, well, wimpy. That's right, couscous is wimpy. How can anyone get full on a dinner of delicate, fluffy couscous? I can't. That's why I have relegated it to breakfast.

For breakfast, couscous works. It's a welcome change from oatmeal and is just as versatile. It can be made with water or milk and tastes great with add-ins like nuts, dried fruits, or fresh berries. Of course, a drizzle of melted butter, maple syrup, or honey only makes it better.

This Warm and Nutty Breakfast Couscous is packed with belly-filling good carbs and lean protein. It's crunchy, chewy, sweet, and filling. It's definitely not wimpy.
Warm and Nutty Breakfast Couscous
Serves 2

1 cup water
1/2 cup dry couscous
1/2 cup chopped mixed unsalted nuts, equal parts almond, pecans, pistachios, and walnuts
2 tablespoons unsalted pepitas* or sunflower seeds
2-3 pinches of cinnamon
3 tablespoons pure maple syrup

1. In a small pan, bring water to a boil. Add couscous. Remove from heat for 5 minutes and fluff with a fork. Add remaining ingredients and stir well. Drizzle each serving with a little extra maple syrup, if desired.

Shopping Note: Pepitas are flat, green Mexican pumpkin seeds found at Mexican markets, health food stores, and some major supermarkets. Unsalted pumpkin or sunflower seeds make good substitutes.
Susan Russo is a free lance food writer in San Diego, California. She publishes stories, recipes, and photos on her cooking blog, <Food Blogga and is a regular contributor to NPR's <Kitchen Window.