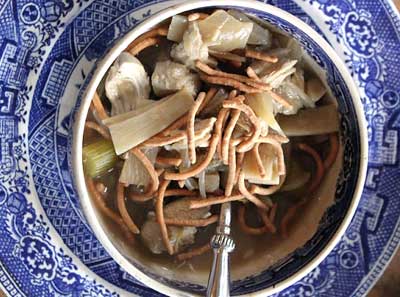 After graduating from Alabama Polytechnic Institute (a.k.a. Auburn) and marrying my grandmother, my grandfather joined the Air Force. Starting their married lives in Ashiya, Japan, on the southern island of Kyushu, Mimi and Granddaddy were much akin to many newlyweds.
They were setting up house, planning a family, learning to cook, so on and so forth, yet, being in post World War II Japan influenced these Southern newlyweds more than they would ever realize. One of those influences was in the kitchen, where Mimi began her culinary prowess in the land of bamboo shoots, bean sprouts, and soy sauce. This was the 1950's and upon return to the South, those Japanese and other Asian sways may still be found in her cooking today.
"Where we were in Japan, Southern Japan, we were on the same latitude lines as home, so the seasons, produce, and flora were much of the same as home… azaleas, camellias, etc. all grew and bloomed there." Mimi said. Besides that, many Southerners eat many things over rice i.e. Creole, red beans, gumbo, and stews, so that part of the cuisine was a tête-à-tête between the two cultures for sure.
Mimi had actually found her love of Asian cuisine in a tiny Chinese restaurant in Greensboro, North Carolina while attending Greensboro College. A Chinese soup served at this restaurant was called Chicken Chow Mein. Upon arrival in Japan, she discovered a version of the soup there, and lucky for us she did!
Harkening back to the fun they had in Japan, Mimi began making her version of Chicken Chow Mein for my mother and her siblings while they were growing up. "I needed a dish that was easy, inexpensive, and delicious but could feed a lot of people… I shopped in the Asian section of the A and P, and with a little memory and imagination, I concocted my version of Chicken Chow Mein…with a little help from recipes on the cans, too."
This dish a la Mimi is one of my favorites, for it is so simple to make, absolutely tasty, and can be stored in the freezer with ease for another time. It is seasonally neutral, and we eat it throughout the year. It is perfect on a gray winter day and just fine on a summer evening. When I'm ill, I of course want a bowl of Mimi's Chicken Chow Mein to ward off my ailments as any good chicken soup should do.
With any dish, the "debris," as a dear friend in Montgomery calls it, or condiments, sides and garnish, just make the dish that much better. Chow Mein noodles, a bed of fluffy white rice, and an additional dash of soy sauce are just perfect with Mimi's Japanese swayed soup. The crunch of the noodles and crispy veggies along with the smooth texture and depth of the broth and soy sauce are all just lovely together. A secret is not to overcook the celery and onion, keeping them a bit crisp still. This plays off the rice and chicken for a melody of textures as well as flavors. All in all, this is a home run in our family and I hope it can be for yours.
Douzo meshiagare or "enjoy your meal" in Japanese. From this Farmer's Mimi to you, try some of her Chicken Chow Mein for a meal that is sure to please.
Mimi's Chicken Chow Mein
2 cups of cooked, chopped chicken (boil two chicken breasts on medium heat in a quart of chicken broth with bone in, some rib meat and fat). Leftover chicken or a rotisserie chicken can be used as well. Remove from broth and retain broth for further cooking.
2 cups of largely chopped celery
2 cups of largely chopped onion
Cook celery and onions in chicken broth until slightly tender.
Add 1 can of drained bean sprouts
Add 1 can of drained, sliced water chestnuts
Add 1 can of drained bamboo shoots
Add the chopped chicken to broth and vegetables and stir.
Fill a lidded quart jar with water and 1/3 cup of self rising flour. Shake until flour has dissolved in the water and add to the chicken and vegetables. Season as desired.
Bring the chicken, vegetables, and added flour and water to a boil until it begins to thicken. Remove from heat and add 2 tablespoons of soy sauce. Serve over rice and garnish with Chow Mein noodles and additional soy for flavor. Enjoy!
James T. Farmer III was born and raised in Georgia, where he continues to live and work as a landscape designer. He shares his love of food, flowers and photography on his blog All Things Farmer.