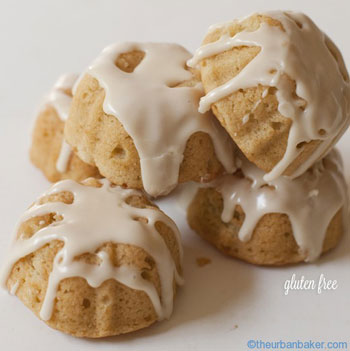 One of my favorite desserts growing up were these little square tea cakes from Martino's Bakery in Burbank. My dad would pick them up from time to time and surprise me with a little after dinner treat. Their flavor and their shape were distinct. They were moist, not too sweet, and oh so addicting. When I was pregnant with my first, I craved them; couldn't get enough. Weekly my dad would bring me a few and I would covet them and eat them all by myself, one by one.
For years I have been making this Caramel Cake. The first time I bit into it, it brought back so many childhood memories. It felt like I had come home. And it reminded me of my dad. Recreating many of our favorite family recipes and converting them into gluten free versions has become a weekend hobby.
Maple almond tea cakes are every bit as good, if not better, than the originals from my childhood. I made the first batch last week. Eli ate 90% of them. Today, he saw the photos on my computer and begged for more. I made him a deal; if he gathered all the ingredients I would make more. Never saw him move so fast!
Gluten Free Maple Almond Tea Cakes
original recipe here
yield: 16 mini bundts
Ingredients:
for the tea cakes:
4 ounces | 114 grams | 1/2 cup (one stick) unsalted, organic butter
6 1/2 ounces | 180 grams | 1 cup minus 2 tablespoons maple sugar
2 large, organic eggs
3 ounces | 80 grams | 1 1/4 + 1 tablespoon greek yogurt
3 ounces | 80 grams | 1/2 cup millet flour
2 1/2 ounces | 70 grams | 1/2 cup + 2 tablespoon almond meal
1 ounce | 30 grams | 3 tablespoons sweet rice flour
3/4 teaspoons baking powder
1/2 teaspoon xanthan gum
1/2 teaspoons salt
1/2 teaspoon pure vanilla extract
2 teaspoons pure maple syrup
for the glaze:
6 3/4 ounces | 189 grams | 1 1/2 cups powdered sugar
1 tablespoon whole milk
1 tablespoon pure maple syrup
Instructions:
for the cake:
Preheat oven to 350°F. spray 2 mini bundt pans and place on two parchment lined jelly roll pans. Set aside.
In a medium bowl, whisk all the dry ingredients. Set aside.
In the work bowl of an electric mixer, cream the butter, sugar until combined. Add the eggs, one at a time, scraping the sides of the bowl after each egg. Add the yogurt and mix until all ingredients are incorporated and you no longer see any white streaks in the batter. With the mixer on medium speed, slowly add the dry ingredients and mix well.
Using a 2 tablespoon ice cream scooper, place batter into prepared pan. Bake 24 – 28 minutes or until the tops are a golden brown and a toothpick inserted in the center of the cakes come clean. Let cool completely on wire racks before glazing.

For the glaze:
Sift confectioners' sugar into a medium sized bowl. Add milk and maple syrup and whisk to combine (eliminating bumps). Spoon glaze over cooled tea cakes set over a wire rack. Let set completely before eating.
Store in fridge for up to 3 days.
Susan Salzman writes The Urban Baker blog to explore her dedication to good food in the hope of adding beauty to the lives of her family and friends.