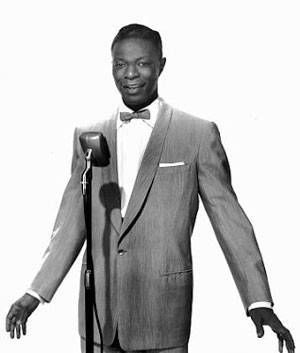 Nat King Cole holds some magical power over me. I was shopping the week before Thanksgiving when I heard it--
Chestnuts roasting on an open fire,

Jack Frost nipping on your nose,

Yuletide carols being sung by a choir,

And folks dressed up like Eskimos.

That most mellow of voices (along with Frank and Bing) transfixes me. I hear it, and I'm instantly struck with holiday cheer, which for me, means shopping for foods such as cranberries, pomegranates, and, of course, chestnuts.
Here's the thing with roasting chestnuts. The actual roasting and removing of the nut from its shell is a lot less romantic than it sounds. Every year growing up it was the same thing: We would enthusiastically purchase a big bag of fresh chestnuts, roast them, and then puncture our fingers in a desperate attempt to eke out the tiniest piece of chestnut we could find that wasn't studded with sharp shards of shell or tinged with mold.
Thank goodness someone came up with bottled chestnuts. My mom first bought them a few years ago and sent me some. I removed the bottle top and, in 5 seconds flat, was eating a chewy, moist, chestnut devoid of shell and mold. Bottled chestnuts can be found at most organic markets and Italian specialty markets. I also like Trader Joe's vacuumed-packed chestnuts.
I posted on chestnut pancakes with pancetta and creme fraiche a while back, and now it's time for a comforting bowl of soup.
The meaty, smoky chestnuts and fresh aromatic herbs add depth to an otherwise ordinary, creamy cauliflower soup. Use bottled, dried, or -- if you're masochistic-- freshly roasted chestnuts. For a richer soup, I suggest using cream or a mixture of cream and whole milk. For fewer calories, low-fat or skim milk works well.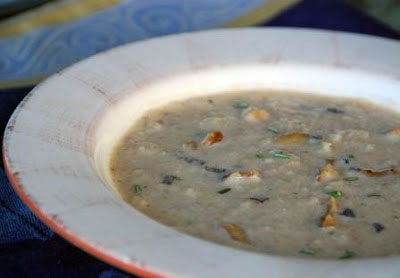 Creamy Cauliflower Chestnut Soup
Serves 4
2 tablespoons butter
1 tablespoons olive oil
2 shallots, diced (1/2 cup)
2 celery stalks, chopped
2 medium potatoes, diced (2-2 1/2 cups)
1 medium head cauliflower, florets only (4 1/2-5 cups)
2 bay leaves
4 cups water (or vegetable broth)
8 ounces of bottled chestnuts (about 20 chestnuts, or 1 cup)
1/2 teaspoon ground cinnamon
1/4 teaspoon ground nutmeg
1 tablespoon fresh chopped rosemary
1 tablespoon fresh chopped sage
1 1/2 cups regular milk (or half milk, half cream)
15-20 cranks of fresh black pepper
a generous amount of salt, to taste
1 tablespoon butter at end
more fresh herbs and chopped chestnuts for garnish
In a deep pot over medium heat, saute shallots and celery in butter and olive oil, for about 3-5 minutes. Add diced potatoes, cauliflower florets, bay leaves, and water or broth.
Bring to a boil, then reduce to low, and cook until potatoes and cauliflower are tender, about 15 minutes. Remove bay leaves.
Add chestnuts, cinnamon, nutmeg, rosemary, and sage. Turn off heat, and let cool 5-10 minutes before pureeing.
Working in batches, puree the soup in a blender until smooth and return to the pot over low heat. Add the milk and salt & pepper, and stir occasionally until the soup is thoroughly combined and heated, about 10 minutes.
Just prior to serving, stir in 1 tablespoon butter to the soup for added creaminess and depth of flavor.
Garnish individual bowls with fresh herbs and chopped chestnuts, if desired.
Susan Russo is a free lance food writer in San Diego, California. She publishes stories, recipes, and photos on her cooking blog, <Food Blogga and is a regular contributor to NPR's <Kitchen Window. She is also the author of  Recipes Every Man Should Know
and The Encyclopedia of Sandwiches
.