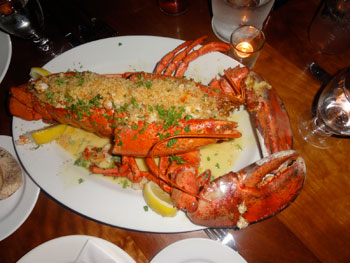 I am not certain, but I fear we foodies of Martha's Vineyard don't measure up to the truly high standards of obnoxious and perfectionist self-importance that other summer colony foodies get to display. (The Hamptons and the state of Maine come to mind.) I am embarrassed that there are only so many uppity remarks available to us if the lobster roll wasn't toasted in butter, and what can you say other than "more please" when devouring freshly shucked Katama oysters or Atria's wok fried whole lobster? Lazy and content, (and now that summer is officially over) we find ourselves with the end of summer blues, and boy, are they running.
Bluefish abound in our fish markets especially smoked bluefish. Now this is an area where we Vineyard foodies can almost strut our stuff: Looking at a piece of smoked bluefish produces the obvious foodie smirk. "Where did you get your fish?" If your answer isn't John's or Larsen's then it bloody well better be something akin to, "Oh I have a friend who lives in the attic over Karen's garage. He catches and smokes a few fish every week for friends…but they are not for sale." (I can relate to bluefish as their travel habits mimic ours: Found in Florida waters during winter, they make their way to Massachusetts by June, avoiding the Memorial Day crush of late May). Smoked blue fish served with honey mustard is the ubiquitous cocktail party spread at any Vineyard party, and, I really don't care where it comes from.
Seafood spreads and dips take one back to "early marriage" sensibilities - no room for foodie responses there: My favorite this season is Hot Jalapeno Crab dip, though I remain a sucker for Robert and Kelly Day's Baked Crab and Cheese delight. But, the one that fills me with early marriage nostalgia is the freshly caught Tuna Cream Cheese spread. OMG I could not resist the temptation to re-make my "first casserole" for dinner allowing, my darling husband Bill an opportunity to be gracious. (Tuna fish casserole? Oh… cool) How easy was this going to be!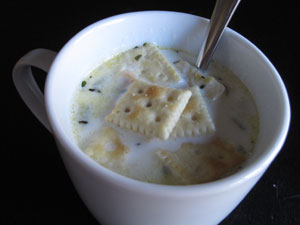 I bought the dip, chopped and sautéed the last of my Vidalia onions, cooked the green noodles, mixed them all together, and baked the casserole with a bit of butter and parmesan cheese. Yes, it was plain … and good. (Take that you self-important South Shore Snobs who might be sneering at my plebeian taste buds! … Just kidding!)
Fish chowders can also leave us foodies speechless. Lets start with the must-have broken up saltines for example. The best and freshest saltines used to be found at the greasy spoon in the old Vineyard Airport, which served the absolute perfect New England Clam Chowder. (Bill figured it was the falling ceiling plaster that gave it its flavor.) It became our destination restaurant of choice before they tore it down.
Any recipe that calls for a lot of cream and diced potatoes basically becomes like garlic to vampires; foodies shrink from the aroma, which probably explains why our island has so few of us, and why we lose our skills by Labor Day.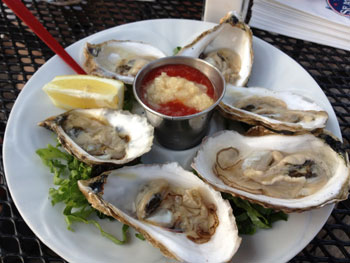 So while my end of summer Vineyard Blues are "packing up" to return south, so are we, and each meal becomes a sad farewell to summer's joys. I only eat smoked blue fish during summers in the Vineyard and it is impossible to find the remarkable Katama oysters (from our Edgartown waters) anywhere but on island. Sandy's prepared dips will loose their appeal as I begin to think of Florida's fabulous stone crab.
Morning Glory Farm sweet white corn and squash blossoms from our local Saturday outdoor market will no longer be available, and tomorrow I will order my last fish burger with double cheese. I guess it is time, as by the end of summer, fish burgers with extra cheese have become this foodie's end all! Waxing eloquent over a fish burger with extra cheese will not prepare me for the sophistication needed to comment on our first meal at the fabulous Marea when we return next week to New York.
Will "Oh Boy, Yummy" do? It will have to, but I will try to appear superior and erudite as I say it.
If you want to try smoking bluefish yourself, check out this blog byHungary Native, Martha's Vineyard.
MARTHA'S VINEYARD "DOWN ISLAND" SMOKED BLUEFISH PATE
Ingredients:
1/2 lb. Smoked Bluefish filet (skin and any bones removed and loosely chopped into small chunks)
1-2 tablespoons gently chopped red onion
4 oz. Cream Cheese
1/4 cup softened unsalted butter
Dab of honey mustard
1-2 tablespoons Lemon juice (or Worcestershire sauce to taste)
Pepper to taste
Optional:
Hot sauce
Cognac or Scotch whisky
Preparation:
Stir the honey mustard into the softened butter making an even mixture.
Place the crumbled fish, cream cheese, butter/mustard mixture and minced onions into a food processor and pulse until it has a rough but creamy consistency. Add remaining ingredients and pulsate again until well mixed but still showing bits of chopped fish.
(I like a rough "country style" pate but one could certainly pulse this mixture into a creamy "up island" consistency.)
Serve with Rice Crackers, Sourdough Melba toast pieces or any cracker of choice…
Nancy Ellison, award winning photojournalist and celebrity portraitist, has authored fourteen books of photographs, including "Romeo and Juliet: The Love Story in Dance" and "Starlet". Her latest book is "Wagner's Eternal Ring".