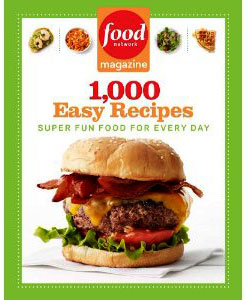 With grilling season about to begin in earnest, I was looking for a cookbook that could help freshen up our usual party fare. Sure you can buy salsa and hummus and already pre-marinated meat, but where's the fun – and bragging rights – in that? And though I love true BBQ, there is no grill master in our household. So as much as I yearn for tender, long-smoked ribs or sweet & saucy chicken, what I really needed was a book with simple, impressive, quick recipes to get the party started without days of effort.
Food Network Magazine 1,000 Easy Recipes
definitely fits the bill. It covers everything from Breakfast through Dessert (even Cocktails) with clear instructions – some are so short they could be tweeted – utilizing easy-to-find, inexpnsive ingredients. The book is strewn with a fair share of lovely photographs, usually of the more colorful, "labor-intensive" recipes. Seriously though, I don't think many of them take more than a half an hour of prep or cook time. The first recipe I made was Hash-Brown Eggs. I'm a Breakfast whore. It wasn't complicated – I had everything on-hand already – but man did it hit the spot.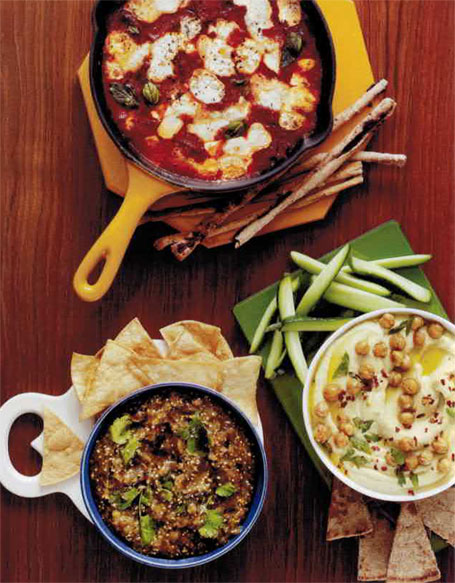 The Crostini (63 recipes) and Dips (60 recipes) Chapter's alone could keep you busy for months trying every permutation. They aren't re-inventing the wheel with their Crostini ideas, it's just nice to see so many choices in one place with both meat, vegetarian and even sweet, dessert-style options.
While the Dips section includes many of the usual suspects - hummus, guacamole, salsa - they have enough of a twist (and several variations of each) to make them worth trying to make instead of buying off a shelf. Have already tried the White Bean Dip and Avocado-Feta with great results.
Next on my list: The Roasted Garlic-Bacon Dip, Pizza Dip, Baked Ricotta, Goat Cheese Dip and Hot Chorizo Dip. Yes, I'm obsessed with dip. Who isn't?
Tired of the same old burger. They have 64 variations, including ones using ground chicken, pork, lamb and turkey, along with the usual beef suspects. Don't eat meat? Well you can use salmon, tuna, crab, portobello mushrooms or beans instead.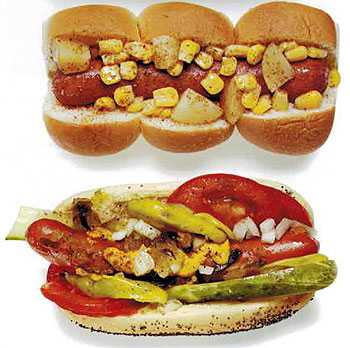 Hot Dog lovers will flip. The combinations they came up with are inventive in the extreme. Every nationality/region seems to be represented: Chicago, Coney Island, German, Greek, Japanese, Korean and Thai. Plus taco and, of course, chili cheese. Those are just the more famous. There are about 25 others to choose from.
With chapters for Tea Sandwiches, Nachos & Potato Skins (so, so bad for you though they look so, so good), Kebabs, Paninis, Salads & Sides and even Cold & Hot drinks there may not be enough days in the summer to conquer every recipe you want to try. They have even helpfully crafted 4-recipe menus for just about every food-centric situation you can think of from the Super Bowl to Movie Night to a Farmer's Market Lunch.
My only complaint is that the No-Bake Desserts chapter takes simplicity a bit too far. Many of the desserts are mere common sense. Does anybody need a recipe for Ice Cream sandwiches that tells them to put ice cream between two cookies and then freeze? Sure they give you cool flavor-combinations, but still. The four S'More recipes (Elvis, Cinnamon Toast, Mint-Chocolate Chip and Caramel Apple) makes up for it. As does the plethora of brownie and cookie choices which should satisfy everyone's need for a sweet.
This book isn't going to make you a better cook. It doesn't claim to be haute cuisine or even good for you. Assuredly you could make some simple choices to make many of its' recipes not as calorie busting if that's your thing. I entertain a lot and thought I had seen every way to make certain classic bites, and was pleasantly surprised by the inventiveness of many staple recipes and a bunch of new creations. In the end, it delivers on the promise of its sub-title: Super Fun Food for Every Day.
Roasted Garlic-Bacon Dip
Cut the tops off 2 heads of garlic, drizzle with olive oil, wrap in foil and roast at 400°F until tender, 45 minutes. Cool, then squeeze out the garlic; mix with 1 1/2 cups sour cream, 3/4 cup mayonnaise and some chopped chives and scallions. Add Worcestershire sauce, salt and pepper; site in 6 slices chopped cooked bacon.

Credit: From Food Network Magazine 1,000 Easy Recipes by Food Network Magazine. Copyright ©2012 Food Network Magazine, LLC. Published by Hyperion. Available wherever books are sold. All Rights Reserved.
Lisa Dinsmore is a writer, web programmer, movie and wine lover. She currently runs two review websites to share her passions: www.crazy4cinema.com and www.dailywinedispatch.com. She is also the Managing Editor of One for the Table.