Then there's the matter of a few weeks ago when the lovely Melissa Clark professed her fishlove in the NYTimes. And it was her recipe of Anchovy Toast that has been a regular dinner for me lately. Thank you, Melissa!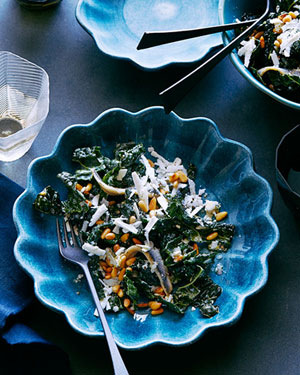 Anyway, stay with me here. I promise I'll make a point.
When my friends at Food & Wine sent me a copy of Best New Chefs All-Star Cookbook
I knew I'd hit the jackpot with amazing recipes. The only problem was, well, where do I start? A random flipping through the pages took me to Nancy Silverton's Kale Salad with Ricotta Salata, Pine Nuts and Anchovies and my mind was instantly made up for me.
I've given kale a slight ribbing lately (see my quick story about it over at Food & Wine), but this time around I was earnest, eager and ready. Why?
Because of those fantastic alici, the vinegary pickly white anchovies that rock my world a few times over. Slightly milder and fresher in flavor than the salt-packed variety, they always lend a sweet, tangy taste to dishes and salads. And this is a full-flavored salad that boldly satisfies. And because it's Nancy. Who doesn't love her?
Oh, and about the book? It's a treasure. It's filled with 25 years' worth of Food & Wine's Best New Chefs, highlighting recipes from each year. I went for 1990, and I'm pretty sure you'll love this and the book, too.
Kale Salad with Ricotta Salata, Pine Nuts and Anchovies
1/4 cup pine nuts
1 small shallot, minced
Finely grated zest from 1 lemon
1/4 cup fresh lemon juice
1 tablespoon Champagne or white wine vinegar
1 garlic clove, grated
Pinch of crushed red pepper
1/2 cup extra-virgin olive oil
3 ounces ricotta salata cheese, coarsely grated (3/4 cup)
Kosher salt
Freshly ground black pepper
1 bunch kale, preferably Tuscan (6 ounces)—stemmed, leaves torn into bite-size pieces (8 cups) 8 marinated alici (white anchovies), drained
1. In a small skillet, toast the pine nuts over moderately low heat, stirring them frequently, until lightly golden, about 10 minutes. Transfer to a small bowl.
2. In a medium bowl, combine the shallot, lemon zest, lemon juice, vinegar, garlic and crushed red pepper. Whisk in the olive oil until combined. Stir in 1/2 cup of the ricotta salata and season with salt and pepper.
3. In a large bowl, toss the kale with half of the vinaigrette; add more vinaigrette if desired. Transfer half of the kale to a serving platter and scatter with 2 tablespoons of the remaining ricotta salata. Top with 4 anchovies and half of the toasted pine nuts. Repeat with the remaining kale, ricotta salata, anchovies and pine nuts and serve.
Recipe kindly reprinted from the Food & Wine Best New Chefs All-Star Cookbook. Photo by Matt Armendariz for the blog.