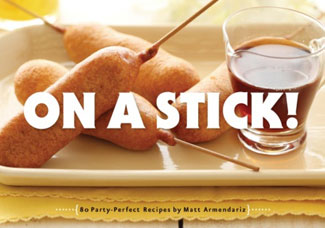 With the holiday party season about to hit full swing we though we'd give you a hand with your preparations. Whether you're a first-time host, experienced party thrower or a guest who can't stand to show up empty-handed, you need the perfect cookbook for entertaining – On a Stick!
by Matt Armendariz.

He covers every course from cocktails (Jello Shots and Sangria Pops) to dessert, delivering 80 delicious, fork and plate-free recipes your guests will quickly devour. That is if you can make them look as good as he does. Not only a chef, Armendariz is a food photographer par excellence, so each recipe comes with a gorgeous photo for you to attempt to imitate, which shouldn't be too hard. Some of the nibbles have more ingredients than others, but all of the recipes are clear and easy to follow.

He's a comfort food junkie and these recipes reflect that. Can you say Deep-Fried Mac N' Cheese? But, hey, when has anything you're ever eaten that comes on a stick been particularly good for you? This book is about eating tasty, full-flavored food and having fun doing it.
There are a few vegetarian options, but why would you serve those when you can make Deep-Fried Mozzerella, Corn Dogs or Bacon-Wrapped Shrimp? Or for dessert, whip up some S'mores with homemade marshmallows or Cake Pops with red-and-green sprinkles?
No matter what you decide to try, you'll impress your guests and with a minimum of fuss. Leave the calorie counting to after the New Year.

Since I don't want to spend too much time in the kitchen these are My Holiday Party Picks from On a Stick!
:

Chinese Meatballs with Sweet-and-Sour Chili Sauce
Makes 12 Meatballs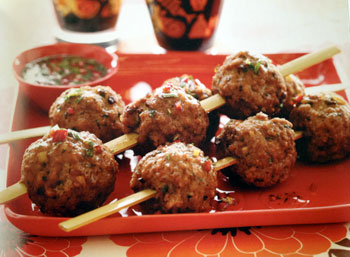 12 Wooden Cocktail picks
1 quart vegetable oil

Meatballs:
3/4 lb. lean ground pork or turkey
2 tablespoons low-sodium soy sauce
1 tablespoon oyster sauce
1 tablespoon minced garlic
2 teaspoons peeled and minced fresh ginger
1 teaspoon ground cumin
1/2 teaspoon ground cinnamon
1/2 bunch cilantro, minced
1 scallion, thinly sliced
Salt and pepper, to taste

Chili Sauce:
1 cup rice wine vinegar
1 cup sugar
2 tablespoons minced lemongrass
1/2 bunch mint, minced
2 tablespoons cilantro, minced
1 tablespoon minced garlic
1 tablespoon seeded and minced red jalapeño
1 teaspoon peeled and minced ginger

Preheat oil in a large, heavy pot over medium-high heat.

Mix all meatball ingredients in a large bowl, using your hands to thoroughly combine, until mixture begins to get sticky. Form into 12 small, even balls.

Once the oil reached 350F, drop in half the meatballs and fry about 5 minutes; drain on a paper towel. Repeat with remaining meatballs. Thread a cocktail pic through each one.

For the chill sauce: Stir vinegar, sugar and lemongrass in a saucepan over medium heat and cook until sugar dissolves and liquid reduces by one-third. Strain into a bowl and cool completely. Stir in mint, cilantro, garlic, jalapeño and ginger. Serve warm or at room temperature.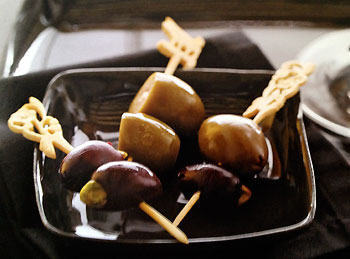 Stuffed Olives
1 1/2 cups kalamata olives, pitted
1 cup shelled pistachios
1/4 cup goat cheese, softened
1 1/2 cups green olives, pitted

Stuff each kalamata olive with a pistachio

Fill a corner of a plastic sandwich bag with the goat cheese and twist closed. Cut off just the tp of the corner of the bag, creating a tiny opening. Squeeze a little cheese into each green olive.

-Feel free to experiment with different types of olives and other stuffings like garlic cloves, other cheese like chunks of blue or feta or cubes of salami.


These would make a fun party-favor or hostess gift, especially if there are going to be children about. Would be great with candy canes and dark chocolate too.

CHOCOLATE-TIPPED PEPPERMINT STICKS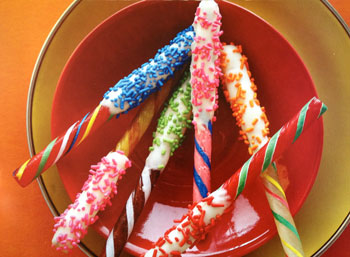 8 multicolored peppermint sticks
1 cup white chocolate chips
Colored sprinkles

Line a baking sheet with parchment paper.

Melt white chocolate in a double boiler over medium heat, stirring until smooth. One at a time, dip peppermint sticks partway into white chocolate and then roll in sprinkles.

Lay sticks on prepared baking sheet and let set, about 30 minutes, before serving.
-All recipes and photos © 2011 Matt Armendariz. On a Stick! published by Quirk Books.