Amy Ephron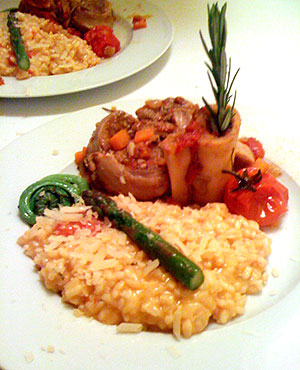 Have you ever tried to make something once, (twice, three times, with three different recipes from three different cookbooks) and it never quite came out the way it was supposed to. And your husband, who's a better cook than you are (or at least better at actually following the recipe) tries the same from yet another cookbook and then another (at least we're persistent) and it never works, never quite tastes the same tender, delicious way it does in practically any Italian restaurant on any corner in any city in the world.
So, you put it in the category of "Don't try this at home." Osso Bucco. It's never quite tender, never quite fall off the bones delicious, Italian, melt in your mouth restaurant perfect!
But, a couple of months ago, I was at the butcher in the Farmer's Market on Fairfax and they had these perfectly lovely cuts of Veal Shank, really cute, and so (what was I thinking), I bought them for the freezer. And last week, when there was nothing in the house, I defrosted them.
Alan did say to me, when he came home from work and asked what was for dinner and I announced, "Osso Bucco.
"Really," he said with a smirk, "What are you thinking, you know that never works."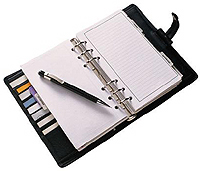 Four people asked me what I wanted for my birthday last week and I gave each of them the same answer, "A new Filofax." All four of them said the same thing. "No, you don't. Nobody wants a Filofax any more. It's so old-fashioned. Don't be ridiculous. iPhone." My daughter Maia was the harshest. She simply said, "Oh, Mom! iPhone." It made me feel old-fashioned. It made me feel old.
For the record, I have an iPhone but despite the fact that four assistants over the last three years have religiously promised to transfer all my names and phone numbers into my computer and my iPhone, it hasn't quite happened yet. And I never seem to have the time.
But I like my Filofax (even though it does sort of look like a truck ran over it.) It feels like a friend. I like it that it has names and addresses and phone numbers hand-printed into it. (Arguably, a few of them are dead, but I've learned not to notice. And I can't quite bring myself to cross the names out. That would seem too final.) I use it in meetings to take notes. Sometimes, I'll have a thought in the car or a random sentence for something I'm working on and I'll pull over and jot it down into my Filofax. There are a few haikus that will probably never be printed anywhere else. I can gauge from them how sad I was on a given day. (Haikus are usually sad. The more comedic ones have found their way into my computer.)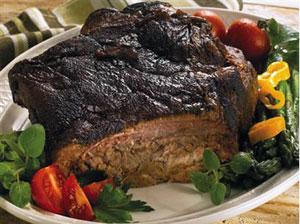 Confession: I love food that comes in the mail.
I, also love having something in the freezer just in case we decide on a whim to have eight people for dinner tomorrow night. Or tonight for that matter, but this only works if you decide this early enough in the day to defrost whatever it is you have in the freezer just in case you're entertaining on a whim.
A few weeks ago, I was sent samples from Edwards & Sons Virginia Traditions BBQ. It was summer and I was really excited to get them, especially since the samples included an entire pork roast butt (completely suitable for a dinner party of eight or more).
I don't write about things that are sent to me unless I love them. Those "crabcakes" from Baltimore come to mind, the ones that sort of resembled a baseball. We tried everything – we even put them in a tomato sauce and put them on top of spaghetti – no luck. A crabcake should not resemble a meatball!
I admit it – I have a soft spot for hotel bars partly because the first time my present husband declared himself to me was at a hotel bar – albeit it was coming on the heels of "I think you have another girlfriend (true) and if you want to keep seeing me, you'd better tell her good-bye...." In fairness, we'd only been dating for a week and we hadn't kissed yet. And my version of the story is way more dramatic than his. In my version, I exit the table and he runs after me and says, "Wait, wait...I think I'm falling in love with you." In his version, the dialogue is the same, but he claims he didn't run after me in the patio of the bar at The Peninsula in Beverly Hills and dramatically stop my exit, he simply said it at the table. (I'm right, by the way....)
Neither of us dispute the second part – that the first time we kissed was in the driveway of the Peninsula (about three minutes after the declaration) as we were both waiting for our own cars and the possibility that we might never see each other again was hanging in the air. The valets all started laughing and smiling, and in my writer's mind, there was also applause (this is potentially debatable) but the valets were pretty sweet since basically it was sort of old people making out and could have elicited a slightly different reaction, like yucch, and if this is "too much information" for my children, I apologize about that....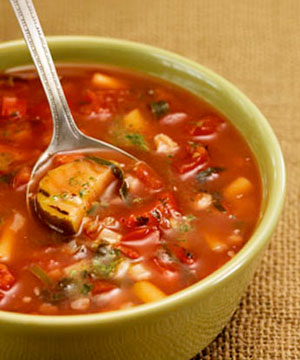 I'd flown to New York for too short a time and then extended my stay because I had too many things to do and then flew home. Crowded/full flights both ways, a little delay, and by the time I reached L.A., I was flat on my back. Jet lag. No. Fever.
And for me a completely curious thing - since I think the cure for the stomach flu is a chili dog or a hamburger please with French fries - absolutely no appetite. None. I was nervous about that.
I didn't eat anything for two days – don't discuss my metabolism, two hours is a long time for me.
But by the third day, I still didn't feel like I could eat anything.
Unaccustomed to any processed food, maybe blame it on the "cheese plate" if you can call it that that comes packaged on the plane if they put enough on and you can in fact purchase one, I felt only the freshest thing would do. Not even chicken soup. (I have a theory by the way that chicken soup is not a curative but quite the opposite, but that's another story.)
All I wanted was some kind of broth, no, something slightly more substantial. Home-made vegetable soup. The easiest thing in the world.