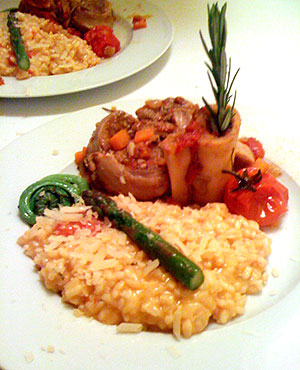 Have you ever tried to make something once, (twice, three times, with three different recipes from three different cookbooks) and it never quite came out the way it was supposed to. And your husband, who's a better cook than you are (or at least better at actually following the recipe) tries the same from yet another cookbook and then another (at least we're persistent) and it never works, never quite tastes the same tender, delicious way it does in practically any Italian restaurant on any corner in any city in the world.
So, you put it in the category of "Don't try this at home." Osso Bucco. It's never quite tender, never quite fall off the bones delicious, Italian, melt in your mouth restaurant perfect!
But, a couple of months ago, I was at the butcher in the Farmer's Market on Fairfax and they had these perfectly lovely cuts of Veal Shank, really cute, and so (what was I thinking), I bought them for the freezer. And last week, when there was nothing in the house, I defrosted them.
Alan did say to me, when he came home from work and asked what was for dinner and I announced, "Osso Bucco.
"Really," he said with a smirk, "What are you thinking, you know that never works."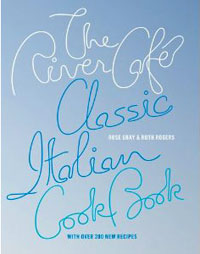 "I know," I said. "They were so cute, I couldn't help it."
I trolled for a recipe. Struck out the first two times – we'd already tried them but I'd just been sent a copy of The River Cafe's Classic Italian Cookbook and in it was a recipe that wasn't quite conventional, basically poaching the Osso Bucco on tomatoes, and I thought, Rosie's never wrong, I think I'll try it...
And it was absolutely perfect!
Now, if I could only convince Alan that we aren't on a diet the next time I make it and talk him into his Polenta as an accompaniment....we would have a perfect meal that you actually can make at home.
VEAL SHIN WITH TOMATOES/Ossobuco Alla Milanese
This dish is served with risotto alla Milanese, one of the only times it is acceptable to have risotto accompanying a main course.
For 6
6 pieces of veal shin, 2-3cm thick
Sea salt and freshly ground black pepper
50g plain flour, sifted
2 tablespoons olive oil
120g butter
1 small red onion, peeled and finely chopped
2 garlic cloves, peeled and chopped
1 celery heart, finely chopped
½ bottle of white wine
4 sprigs of thyme
1 x 400g tin of plum tomatoes, drained of juice, coarsely chopped
2 bay leaves
1 x gremolata recipe
Preheat the oven to 150 degrees C. Choose a heavy-bottomed lidded ovenproof pan, large enough to hold the pieces of veal in one layer. Season the veal and dust with sifted flour, shaking off the excess. Heat the oil in the pan and brown the meat over a moderately high heat, adding more oil as needed. Remove the pan and set aside. Wipe the pan thoroughly with kitchen paper. Lower the heat, add the butter to the pan and gently fry the onion, garlic and celery for 10-15 minutes, until very soft. Pour in the wine, bring to a boil and simmer until reduced by half.
Carefully place the ossobucco back in the pan on top of the vegetables, making sure the bones are placed upright so that the marrow cannot fall out during cooking. Add the thyme, tomatoes and bay leaves. The liquid in the pan should come halfway up the pieces of veal – if it doesn't, add more wine. Bring just to boiling, then cover with greaseproof paper and the lid, and cook in the lower part of the oven, checking and adjusting the temperature so that the liquid is at a gentle simmer. The total cooking time should be at 2-2 ½ hours, after which time the meat should fall from the bone and be tender enough to eat with only a fork. Combine the gremolata ingredients. Serve the veal with the sauce and vegetables from the pan and sprinkle with the gremolata.
GREMOLATA
2 lemons, zest finely grated
1 garlic clove, peeled and very finely chopped
3 tablespoons chopped fresh flat-leave parsley
Recipe printed by permission