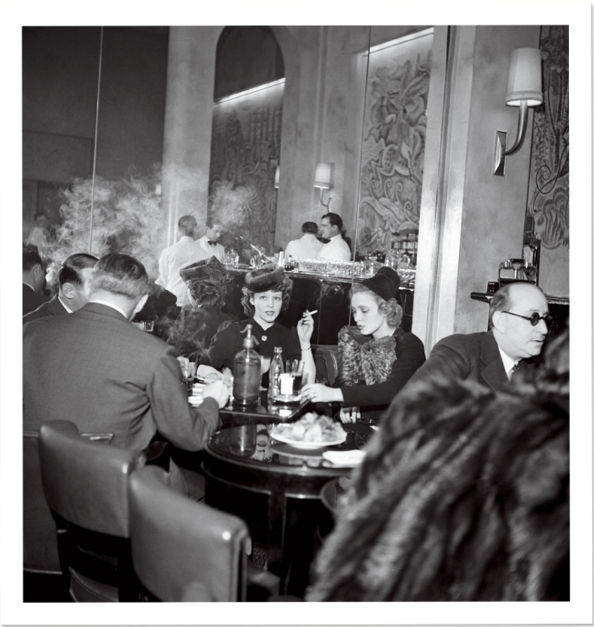 I admit it – I have a soft spot for hotel bars partly because the first time my present husband declared himself to me was at a hotel bar – albeit it was coming on the heels of "I think you have another girlfriend (true) and if you want to keep seeing me, you'd better tell her good-bye...." In fairness, we'd only been dating for a week and we hadn't kissed yet. And my version of the story is way more dramatic than his. In my version, I exit the table and he runs after me and says, "Wait, wait...I think I'm falling in love with you." In his version, the dialogue is the same, but he claims he didn't run after me in the patio of the bar at The Peninsula in Beverly Hills and dramatically stop my exit, he simply said it at the table. (I'm right, by the way....)
Neither of us dispute the second part – that the first time we kissed was in the driveway of the Peninsula (about three minutes after the declaration) as we were both waiting for our own cars and the possibility that we might never see each other again was hanging in the air. The valets all started laughing and smiling, and in my writer's mind, there was also applause (this is potentially debatable) but the valets were pretty sweet since basically it was sort of old people making out and could have elicited a slightly different reaction, like yucch, and if this is "too much information" for my children, I apologize about that....
But I do think a hotel bar is a great place for a date and (even if you're married) it's sometimes nice to have a date with your husband. Just an hour and a half at cocktail hour or after a movie for a drink and an appetizer or two.
My favorite hotel bars: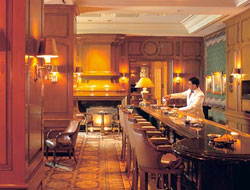 The Peninsula in Beverly Hills
Sit in the garden and order a cocktail and their amazing potstickers. Somebody's always celebrating something, there's often a rock star off in the corner and at table #2, somebody's probably falling in love.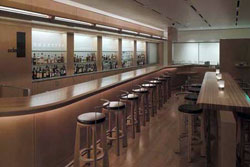 The Bar at Cut at the Beverly Wilshire
The French fries are great. The Kobi bar burgers are insane. And it's California, so no one will think it's strange if you order a tequila gimlet with Patron (which is a great drink, by the way).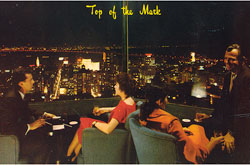 The Top of the Mark in San Francisco
It's not just the view of the city. It's a really special room, dignified and elegant. 100 martinis – one with lychee, a lemon drop and, I imagine, if you wanted to, they'd let you invent your own. It's also a really sweet place to go for Sunday brunch where the over the top buffet almost rivals Las Vegas.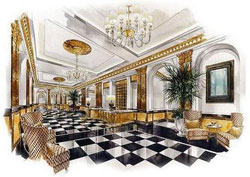 The Pierre in New York
The bar at the Pierre has its own character, as though the other patrons are out of another time, women with fox stoles around their neck, dark haired men with old-fashioned mustaches, someone playing the piano and the female singer also seems out of another era, an intense crooner with dark hair, pale, skin, and a smoky lilt to her voice. It's New York. It's always been there. And the service is beyond perfect. (Breakfast, which is served in the bar, is pretty great, too. The poached eggs are perfect which is rare for a hotel and it's ideal if you need a quiet, cozy, private place for a meeting or a leisurely visit with an old friend.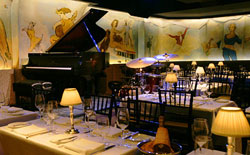 The Bemelman's Bar at the Carlyle in New York City
One of my favorite things to do in New York is to sneak into the Bemelman's bar in the morning (when it isn't open) and have a private viewing of the amazing Bemelman's paintings on the walls.....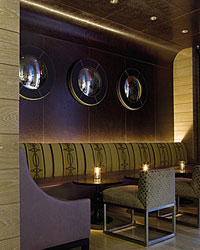 The Four Seasons in Washington, D.C.
I know, Washington isn't usually thought of as a "date" city, especially not now, but there's something weirdly private about the banquettes and if you like the person you're with, and it's late at night, it's like being in a world of your own.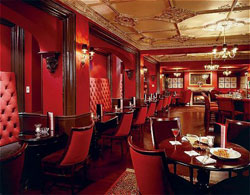 The Hay Adams in Washington D.C.
Okay, it's not exactly sexy but it's the most amazing room, dark, paneled, right across from the White House and half the men in suits just came off the Senate floor and you have the feeling that the walls have secrets and there are deals being made all around you. It almost makes you want to order a whiskey.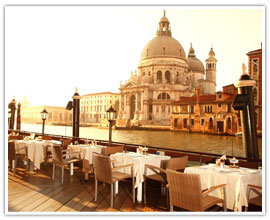 The Gritti Palace in Venice
There's a view of the canal right from the bar. The banquettes are tiny and cozy. Red wine and a plate of antipasta and nowhere else to be, at least until dinner time....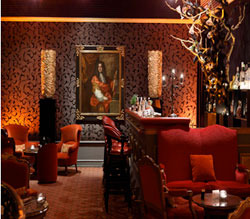 The Ritz in Paris
The Paris Ritz is presently closed for renovation and will re-open in Fall 2014
Just the fact of it makes you want to put on a dress and high heels, and order champagne, a Kir Royale or a Cosmopolitan.
And in my fantasy (or my over-active imagination), I come home on Saturday (that would be the 13th) and there's a red envelope on the desk (already an impossibility since my husband will be out of town) and I open it and in it is a ticket to Paris and a tiny note that says, "Meet me at the Ritz."
Tell us about your favorite hotel bar.