Washington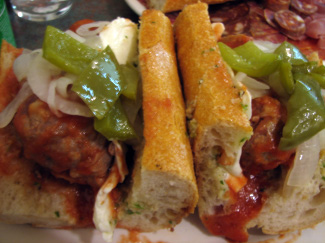 Have you been to Seattle? If you have, perhaps you've experienced what I have--that everyone there is awfully nice. I don't mean to generalize but from all of my visits over the years including a stint working there, it's true.

My visit to Salumi in Seattle is a perfect example. I had a terrific lunch with Molly of Orangette that consisted of a selection of salami each intriguingly flavored with smoked paprika or fennel or a mix of spices, prosciutto and the most outrageous meatball sandwich ever. Really.
Imagine a crunchy roll, perked up with a slathering of garlic and parsley spread, obscenely stuffed with big fat and fluffy meatballs with shreds of prosciutto in them. Top that with sauteed peppers and onions, thick slabs of fresh succulent mozzarella, and doused with homemade tomato sauce. Heaven!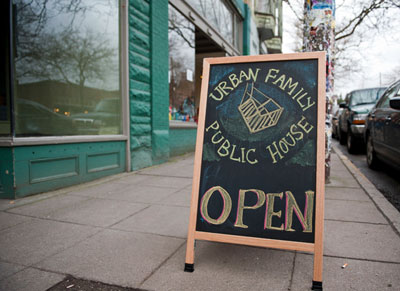 About a week or so ago, the husband, pup, and I went to Seattle to see my family and spend some time in the (rare) Seattle sunshine. We went to the Ballard Farmer's Market, a plethora of fresh produce, handmade jewelry, talented street musicians, and just about anything you would want to see. The Ballard Farmer's Market is the quintessential example of why I love Seattle down to my very core. If a stranger ever asked me for the perfect Sunday morning activity, I would tell them to first, a latte at Caffe Vita and then stroll along the street, past the boutiques, thehotcakes shop, and the antique stores to the farmer's market. Oh yes, and follow it up with a cupcake.
As we ended our foray into the market, after making about three loops past the Danish pastries, the bunches of vibrant flowers, and the hand crafted necklaces, we stumbled across a chalkboard sign inviting us to eat and relax on a deck... with our dog. Now, I know that Seattle is down with the doggy friends, we've been to Norm's and have wanted to check out Shorty's in Belltown, if it wasn't for our mutual fear of the clown decor. But nevertheless, the opportunity to sit back, savor the sunshine, and grab a bite with our four legged friend is something we will not pass up.
And that's how we found the Urban Family Public House. Snugly tucked in beside Staple & Fancy on Ballard Avenue, the pub was the perfect setting for some quiet conversation, a filling and tasty sandwich, and of course, a cold IPA.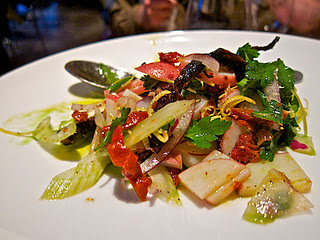 On a recent food tour of Spokane and Northern Idaho, enjoying the beautiful scenery with clear running rivers and crystal blue lakes, I discovered a handful of restaurants that are living up to the promise of farm-to-table.
In Spokane, our group of fifteen sat down at a long table at Italia Trattoria. Chef and co-owner Anna Vogel talked about the abundance of small farms within a hundred mile radius that supply the restaurant with the majority of its produce, cheeses, poultry, eggs and meat.
She and partner, Bethe Bowman, were attracted to Spokane's small town, cosmopolitan feeling. A small enough version of Seattle where their restaurant can, as she said with a smile, "change the way Spokane eats."
If I lived in Spokane, she would certainly change the way I eat because I would come as often as I could.