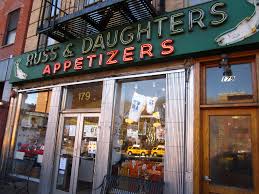 If you have been to Russ and Daughters you know that they have 5 kinds of salmon, the best smoked fish, many flavors of cream cheese and then you have to pick a bagel, toasted or not: lots of choices and combinations. I had worked out the fine details of what I would order. I had one shot at it as we were on a tight eating schedule. Not every minute over a 5 day span, a few minutes here and there. I could study all I wanted but until I saw what the various salmon looked like on that day it was only a guess.
We flew into JFK, checked into our hotel and it was still only 9:00AM. Next stop, Russ and Daughters. A subway ride south combined with a brisk walk as our phone's GPS showed us the way. It started raining but we had an umbrella, then it started sleeting - that was fine, we are made of hearty Maine stock. All of a sudden it started snowing the biggest flakes we have ever seen and it reduced NYC to the feel of a small town. That is until the snow thunder started.
The first loud rumble of snow thunder above our heads scared the daylights out of us. Then we embraced how special and rare this was. Heavy snow was painting everything a thick white with a thunderous concert playing our welcoming symphony to the Big Apple. Thank you, Mother Nature for the bigger than necessary welcome. We were less than a block from the smoked salmon bagel of our dreams and we couldn't see the storefront through the whipping snowstorm.
First impressions. Neighborhood is rundown, just a little - nothing personal. Their signage had a vintage look though it probably wasn't vintage. The outside window display was typically faded and the place was a tad small, I mean narrower than I expected. Opening the door, wow, it smelled like a loaded smoked salmon bagel.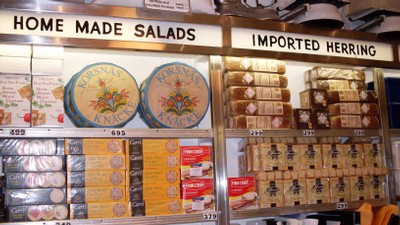 The first thing my eyes were drawn to in this Mecca of smoked fish and herring was the biggest whole pecans at the nut counter on the right, the chocolate babka and the halva. An exotic looking, dark haired woman stood behind the narrow counter and smiled as everyone walked past her to take a number and get in line on the opposite side of the store.
If the store were a ship it would have capsized. I felt badly for the nut and dried fruit woman. She smiled like she was on a parade float but she never weighed out a single thing in the half hour we were there.
The tour: First thing on your right is the float maiden with the big smile and glass cases with the best of best roasted nut, jumbo dried fruit and sweets. Keep walking to the right and on the side wall is a large open refrigerator case filled with things containerized and wrapped ready to take away without having waiting in line on the left. The display was barely touched but everything looked fresh and well tended. Maybe later in the day this is more of an option but no interest at this hour. On the left side of the store is where the 'goods' are. Two long stainless steel cases filled with cream cheeses, toppings, smears and spreads, sable, white fish, chubs and sturgeon.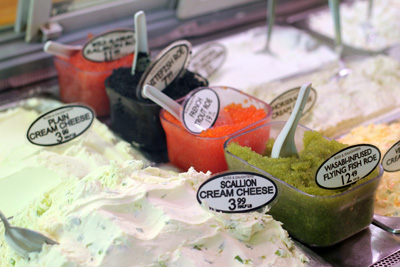 The other case filled with salads, various herring, chopped chicken liver, matzah balls, red cabbage and potato salad. In between the long cases is the smaller case filled with the crown jewels - 5 different kinds of Salmon. This is what their reputation is built on and once you take a look it will be clear that they deserve all the accolades for their effort since 1914.
As of Thursday I knew exactly what I was going to order: a decision had been made. Sesame bagel, toasted, loin cut smoked salmon, plain full fat cream cheese, tomato slices, onions, and capers - done. And then I walked in and that was long forgotten when I saw the Gaspe Nova smoked salmon with the belly section untouched. I feared that I was second-guessing myself but what was the worst that could happen? As I eavesdropped on a conversations I heard, "Don't w-o-r-r-y, EVERYTHING is good here."
A lean, well-heeled, older man was talking with a man behind the counter like he was a regular customer. I watched him for valuable clues. I made my way to him and asked him, "you look like a salmon expert, may I ask which one are you ordering?" I am no expert, but the Gaspe Nova is my favorite, and I always ask for the belly. Bingo, we agreed on that.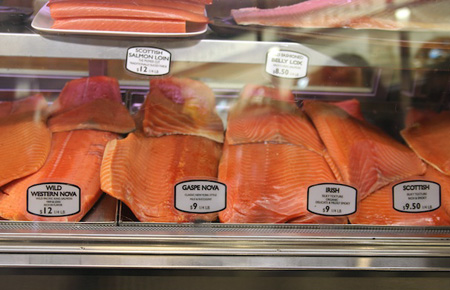 He smiled and I retreated back into the masses where my friend Barbara was working the crowd - doing casual interviews just like her mother was known to do. She was telling everyone that we were from Maine and we were happy as 'clams' to be here. Clams, she said, clams in a Jewish appetizer store and everyone went silent.
A kind woman corrected her in a nice way and the noise level returned. Barbara told me she would have what I was having; after all everything was good here she had heard. Pumpernickel bagel, toasted, caviar cream cheese, Gaspe Nova belly salmon, sliced tomatoes, onions, capers, okay? All in one breath…."perfect", she said, with a cat-like smile.
When it was almost time for our number to come up I asked the man that was finishing up with the smoked salmon 'expert' how we could get him to wait on us when it was time. "Don't worry about the number, I will wait on you next."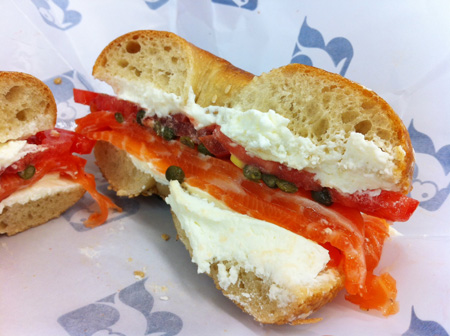 He made us two of the most incredible smoked salmon on bagels in modern history and also on my shopping list was chopped chicken liver salad, pickled belly lox in cream sauce with onions and a big container of herring in cream sauce for later.
We blew him a kiss goodbye and headed out into the snow with our shopping bag full of loot. It was a bit cold, gray and wet for a picnic on the streets of Manhattan. Except when one's hands are wrapped around a pumpernickel bagel, slathered with caviar cream cheese, topped with Gaspe smoked belly salmon, leaned against a ionic column next to a open construction hole with sewage pipes from the 1800's, the sun shines brightly in your mind with each bite.
That is, until a few slice of essential onions suddenly dropped out of my bagel and fell to the ground. We both looked sadly at my thin slices of onions for several second and decide there is no way that one would ever pick it up, 5 second rule or not.
Brenda Athanus runs a small gourmet food shop in Belgrade Lakes, Maine with her sister Tanya called the Green Spot.
The Green Spot
This email address is being protected from spambots. You need JavaScript enabled to view it.
207.441.9327